What to do when you cannot extend volume in Windows 10?
Most of the computer users encountered the problem that a disk drive is running out of space, especially for the system C drive. Hard disk drive is small in the past, so there could not be too much disk space for C drive. Nowadays, many people use SSD for Operating System and applications because of the higher performance, however, SSD is still too expensive to buy one with large size. Actually, C drive runs low on disk space even if you use a very large hard disk, because Windows Updates, applications and many other kinds of files write into C drive continuously.

Microsoft added advanced functions to shrink and extend volume from Windows Vista and Windows 10 inherited these functions. So many people try to extend volume when it becomes full.
If there is adjacent Unallocated space, it is very easy to accomplish:
Right click Windows icon on bottom left corner and click Disk Management.
Right click this volume and select Extend Volume.
Finish the Extend Volume Wizard.
In a short time, you can expand this partition with Unallocated space.
However, many people feedback they cannot extend volume in Windows 10 Disk Management, because Extend Volume is grayed out.
Why cannot extend C drive in Windows 10 DM
Before expanding a partition, you should shrink a volume to get Unallocated space, however, Extend Volume is disabled when you right click C drive after shrinking D. From Microsoft explanation, to expand a partition with Extend Volume function, there must be adjacent Unallocated space on the right side. This is the most common reason why you cannot extend volume in Windows 10.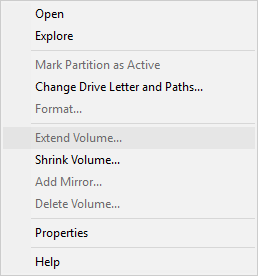 What to do when Extend Volume is greyed out
In this situation, you just need to move partition. Move volume D rightwards and then the Unallocated space will be next behind C drive, so Extend Volume becomes available. To move partition, of course you cannot accomplish in Windows 10 Disk Management, but it is very easily using free partition manager such as NIUBI Partition Editor.
Downloadthe free edition, it is 100% free for home users, fully working without limitation. 100% clean without ads or bundles.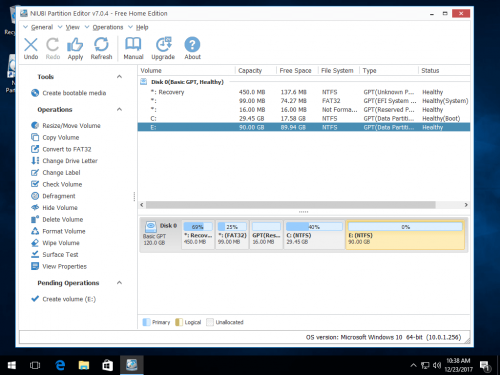 1. Right click drive D and select "Resize/Move Volume". In the pop-up window, drag the middle position rightwards to move it.

Unallocated space will be moved to behind C drive, you may either expand C drive under Windows 10 Disk Management or continue running this free partition software.
2. Right click C drive and select "Resize/Move Volume" again, in the pop-up window, drag the right border rightwards to hold the Unallocated space.

NIUBI Partition Editor Free Edition is the fatest partition management software for Windows 10/8/7/Vista/XP (32 & 64 bit). It provides basic partition management to create, delete, format partition, change drive letter, etc. Advanced management to resize/move existing partition without data loss, copy, hide, set active, convert, defrag, check partition and much more.
You may also upgrade to Professional Edition, which is integrated unique 1 Second Roll-Back technology to ensure 100% data safety while resizing volumes. You can create bootable CD/DVD/USB disc, too.