Why Extend Volume grayed out in Windows 10 and how to fix
From Windows Vista, Microsoft added advanced Shrink Volume and Extend Volume in Disk Management snap-in, with which you can decrease and increase the size of an existing volume without reinstalling. Windows 10 inherited these functions, so you can resize volume in some part. However, many people feedback Extend Volume is grayed out in Windows 10 Disk Management when expanding a volume. Recently, some people ask me how to fix this issue, so in this article I'll introduce how to fix Extend Volume greyed out issue, but firstly, you should know why Extend Volume would be grayed out in Windows 10.

Situations Extend Volume is greyed out
Extend Volume grayed out could be seen in several situations. To better explain, I want to divide into several parts.
1. Extend volume directly
This is the most common situation. Many people want to extend volume directly without doing anything else, of course it is impossible.

2. Shrink and Extend
What about shrinking the adjacent volume D to get free space?

However, Extend Volume is still gred out when you right click C drive.
3. Delete Volume to get Unallocated space
What about deleting volume D to get Unallocated space?
However, Extend Volume is disabled, too.

4. Delete Extended partition
Have you found the difference between C and D? C drive is Primary partition, but D is Logical partition. Both D and E consists the Extended partition. The disk space shrank from a volume displays as Free instead of Unallocated. To expand C drive, you have to delete the entire Extended partition, but first, you need to delete all Logical partitions one by one.

Delete the Extended partition:

Now Extend Volume becomes available when right clicking C drive.

Reasons why Extend Volume grayed out in Windows 10
You may use FAT32 file system. From Microsoft explanation, only NTFS and RAW format partition can be extended.
There is no adjacent Unallocated space. Only when the Unallocated space is adjacent and on the right side of C drive, you can expand C drive with the Unallocated space.
If the adjacent drive D is in the Logical Partition, you cannot extend C drive by simply deleting D. You should delete all Logical partitions in the Extended Partition and then delete the entire Extended Partition.
It seems a little complicated, but if you can move partition on Windows 10, you can solve this problem easily.
Fix Extend Volume grayed out with free partition software
Luckily, you can solve this problem easily by free partition manager such as NIUBI Partition Editor Free.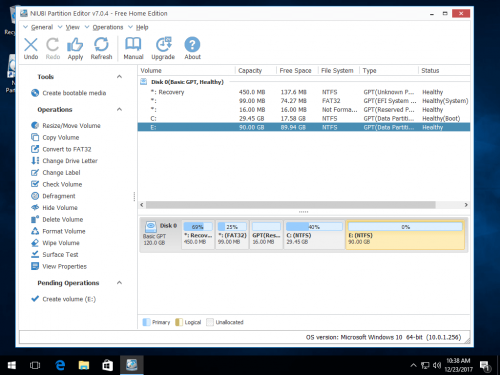 Download
to install, right click drive D and select "
Resize/Move Volume
". In the pop-up window, drag the
middle
position rightwards to move it.

After that, the Unallocated space will be moved to behind C drive.
You may either expand C drive under Windows 10 Disk Management or continue running the free partition software.
Right click C drive and select "Resize/Move Volume" again, in the pop-up window, drag the right border rightwards to hold the Unallocated space.

NIUBI Partition Editor Free Edition provides basic partition management to create, delete, format partition, change drive letter, etc. Advanced management to resize/move existing partition without data loss, copy, hide, set active, convert, defrag, check partition and much more. Unique file-moving algorithm helps resize partition 30% – 300% faster than any other tools, which is strictly tested. Learn More