This article explains why cannot extend partition in Windows 10 Disk Management and what to do if unable to extend volume with this native tool.
Microsoft provides many built-in utilities to accomplish some element task. Generally speaking, these tools has good compatibility but are not excellent. For example, to help manage disk partition, there is Diskpart command and graphic Disk Management.
Both tools has the ability to extend allocated partition without losing data, however, they work under very restricted conditions. In most cases, they are unable to extend partition in Windows 10 (both 32 & 64 bit).
In this article, I'll show you the possible reasons and corresponding solutions. Diskpart works in command prompt and it is not good to many users. In addition, it has the same limitations, so here I only show you via Disk Management.
Reason - why can't extend volume in Windows 10 DM
Windows 10 use either GPT or MBR stye hard disk, in daily usage, if you just read and write files to the computer, you won't find any difference. But in fact, there are many difference, here we only talk about resizing, shrinking and extending disk partition related.
To check your disk type: Press Windows and X on the keyboard and select Disk Management, right click Disk 0 (or any other) and select Properties. Switch to Volumes tab in the pop-up window.
Reason 1: (on both GPT and MBR disk)
This is the most command reason especially when shrinking D to expand C drive.
Shrink Volume can only make Unallocated space on the right side when shrinking a partition.
Extend Volume can only combine Unallocated space to adjacent partition on its left side.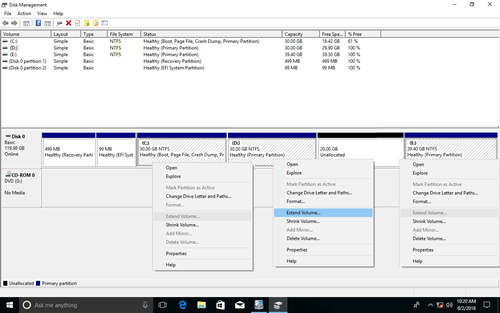 As you see, after shrinking volume D, Extend Volume is disabled for both C and E drive. Because, C is non adjacent and E is on the right side of the Unallocated space.
In this situation, you may either move Unallocated space next to C drive, or shrink D to make Unallocated on the left side directly with other tools.
Reason 2: (on both GPT and MBR disk)
Extend Volume can only extend the partition that formatted as NTFS or without file system (RAW).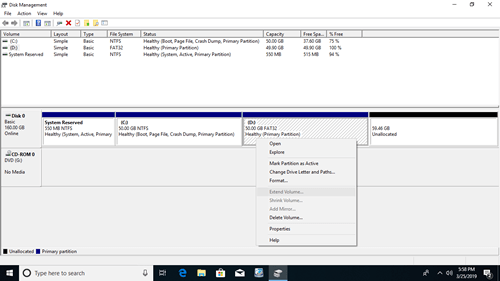 As you see, there is adjacent 59.46GB Unallocated space on the right side, but Extend Volume is still unavailable to drive D, because it is formatted as FAT32.
Reason 3: (on MBR disk only)
In GPT hard disk, all partitions are created as Primary working as an independent unit. But in MBR disk, the strategy to organize partition is different. There are only 4 entries in the Master Boot Record, so you can only create maximum 4 Primary partitions, or 3 Primary partitions plus an Extended partition.
The fifth partition must be created as Logical. All Logical partitions must be together in the Extended partition. Extended partition works like a container and it has extended entries for the Logical partitions.
After deleting any Primary partition, the disk space will be converted to Unallocated, but Logical partition will be converted to Free space. This kind of space can't be combined to any Primary partitions via Disk Management. Likewise, Unallocated space cannot be merged into any Logical partitions.
To show you this limitation, I deleted volume D and then E, system partition C still cannot be extended.
To enable Extend Volume for C drive in this situation, there is an addition step: right click the 109.46GB Free space and delete it.
What to do if unable to extend partition in Windows 10
About reason 1, if you want to extend C drive, move Unallocated space to the left side and then combine it. If you want to drive E, simply merge the Unallocated space directly.
How to extend C drive:
Step 1: Right click drive D and select "Resize/Move Volume", drag middle position rightwards in the pop-up window.
Step 2: Right click drive C and select "Resize/Move Volume" again, drag right border towards right in the pop-up window.
How to extend drive E:
Right click drive E: and select "Resize/Move Volume", drag the left border leftwards in the pop-up window.
In a word: right click a partition (no matter it is NTFS or FAT32, Primary or Logical) and select "Resize/Move Volume", drag a border towards the other side, then you can shrink this partition or extend it by merging adjacent Unallocated/Free space. Drag the middle position towards the other side, then you can move this partition and Unallocated space.
Take care of data while shrinking and extending partitions
There is potential data loss risk while resizing and moving partitions with 3rd party software, so back up and select the reliable software. Better than other software, NIUBI Partition Editor has unique 1 Second Rollback technology and advanced file-moving algorithm to help resize and move partition much more safely and faster.