This article introduces how Windows 10 Diskpart extend volume command works, how to run DiskPart to expand C drive and other volumes, as well as its shortages.
What is Windows 10 diskpart command
DiskPart is a Windows built-in tool running from command prompt. You can do many disk and partition management operations such as create, delete, format, convert, shrink, extend volume, etc.
Press Windows and R on keyboard to launch Run, type diskpart and press Enter, then diskpart command prompt window will be open.
Input "?" and press Enter, you'll see all available commands.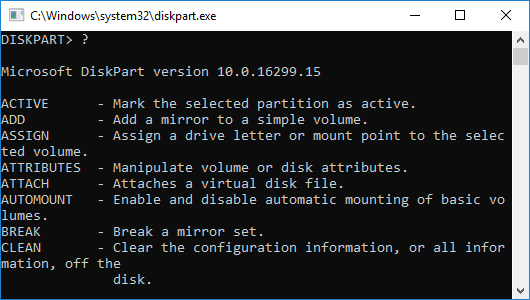 How to extend C drive with Windows 10 diskpart
Unlike Disk Management, Diskpart cmd lists all partitions without graphic configuration, so you won't know which partitions are in the same disk. Furthermore, Unallocated space won't be shown, but it is very important to extend a partition.
To better understand how diskpart extend command works, I suggest open the GUI Disk Management (Press Windows and X on keyboard).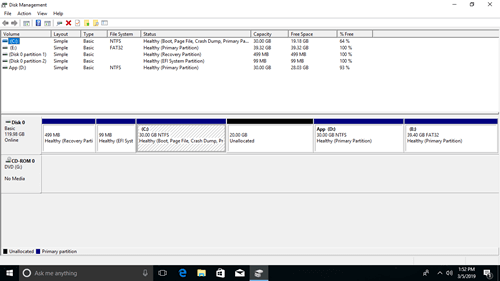 From the screenshot:
I have 2 system reserved partitions and drive C:, D: and E: in Disk 0.
There is a 20GB Unallocated space between drive C and D.
Steps to extend C drive with Diskpart in Windows 10:
Step:1 In diskpart command prompt window, type list volume and press Enter.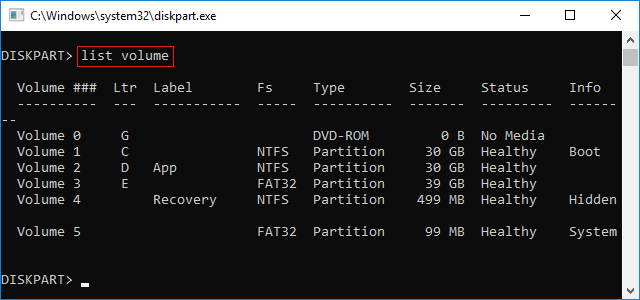 Step:2 Type select volume 1 and press Enter.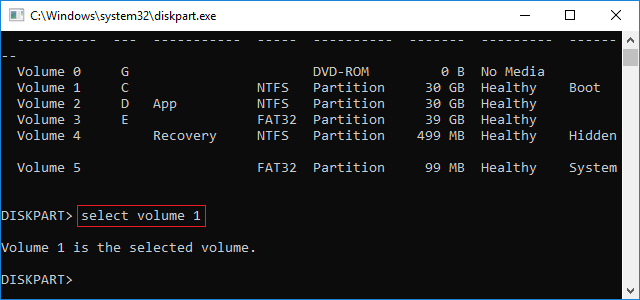 Step:3 Type extend and press Enter.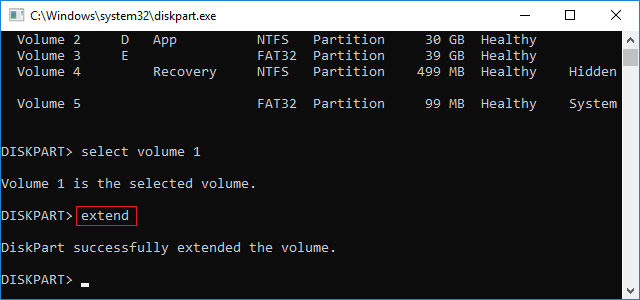 Diskpart reports successfully extended the volume. Check again in Disk Management, yes, C drive is extended from 30GB to 50GB.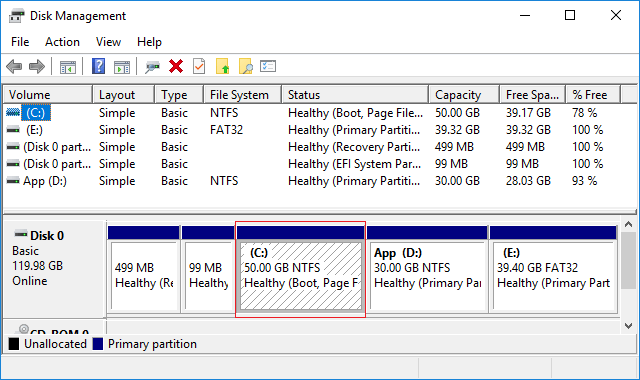 How to extend partition D with Diskpart
All steps are the same with above except in step 2, type select volume 2 instead.
This time diskpart reports error "The size of the extent is less than the minimum."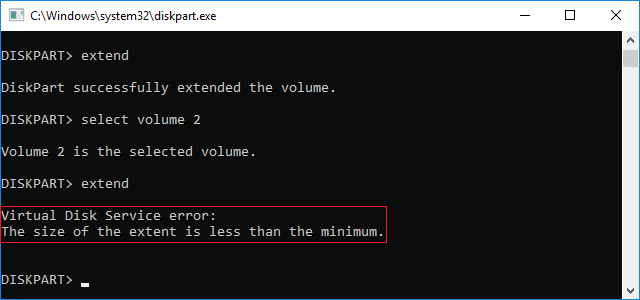 If I retry extending volume E, diskpart reports another error "The volume cannot be extended because the file system does not support it."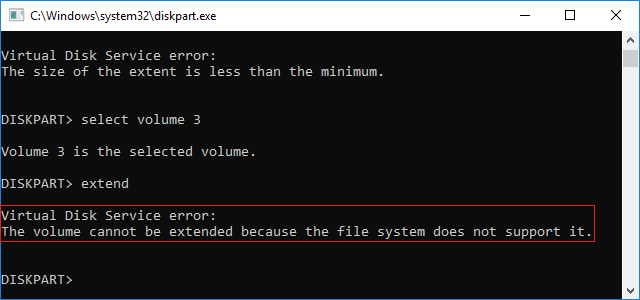 Shortages of Windows 10 Diskpart cmd
Although the same with GUI Disk Management tool, Diskpart cmd has the ability to extend a partition, but in fact, most of hard drives can't be extended. If you want to extend volume with Windows 10 diskpart command, it is not a good idea, because this built-in tool has many shortages, including:
Diskpart shrink command can only shrink a partition towards left and produce Unallocated space on the right side.
Extend command can only expand the partition with contiguous Unallocated space on the right side, all other partitions cannot be extended.
Only NTFS partition is supported, FAT32 and other types of partitions can't be extended.
Unallocated space deleted from a Logical partition can't be extended to any Primary partitions, and vice versa.
So, you'd better run professional partition software, which can help you shrink, move, extend and merge partitions. You just need to drag and drop on the disk map in graphical interface. Follow the detailed step to extend partition on Windows 10.