C drive is running out of space on Windows 10
The same with previous Windows Operating System, the most common issue in Windows 10 is C drive running out of space. When C drive becomes full, it will be shown as red instead of blue in File Explorer. It is easy to understand, Windows Updates, services, applications and many other kinds of files created in C drive every day, sooner or later C drive will runs out of free space. Then what to do in this situation? In this article I'll introduce the fastest way by resizing partitions. That is to say, change size of the existing partitions, take free space from other volumes and add into C drive. This is also the easiest way to fix C drive running out of space issue on Windows 10.

Fix C drive out of space by resizing
Download
the
free partition manager
software NIUBI Partition Editor Free and you'll see the disk partitions.
Step 1: Right click D drive and select Resize/Move Volume.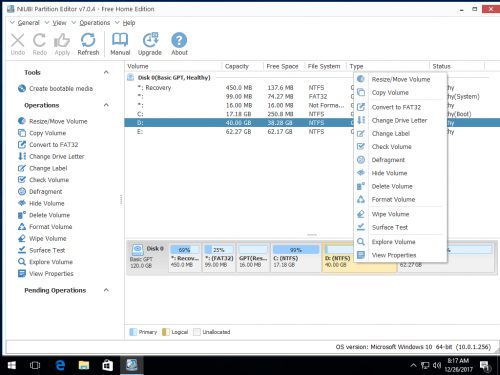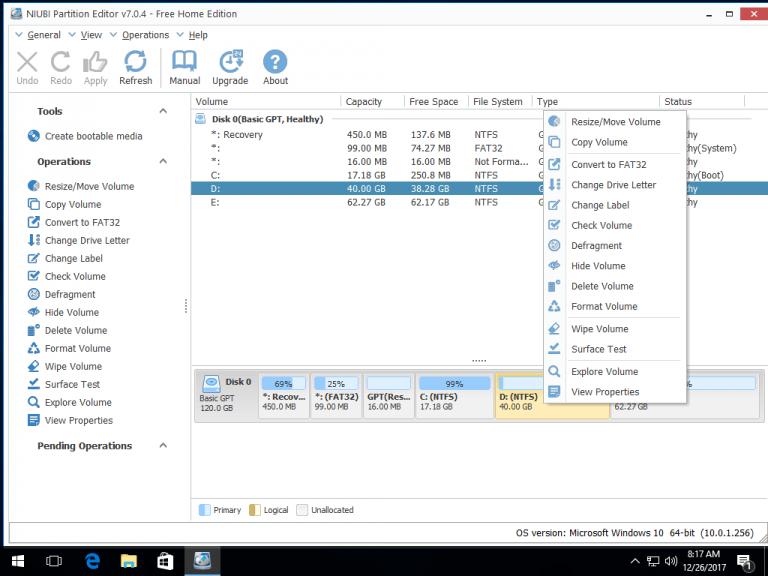 In the pop-up window, drag left border rightwards to take free space out from D.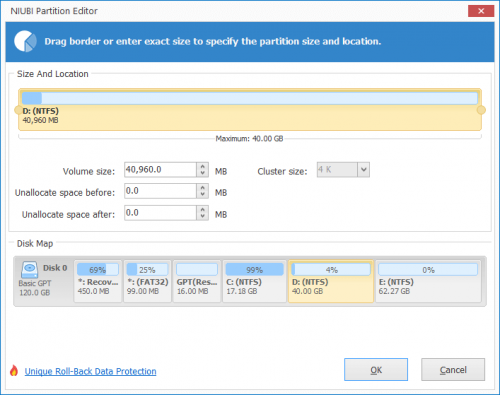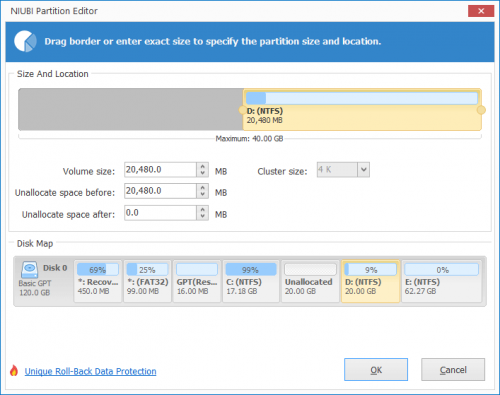 Click OK and back to the main window, as you see 20GB Unallocated space generated behind C drive.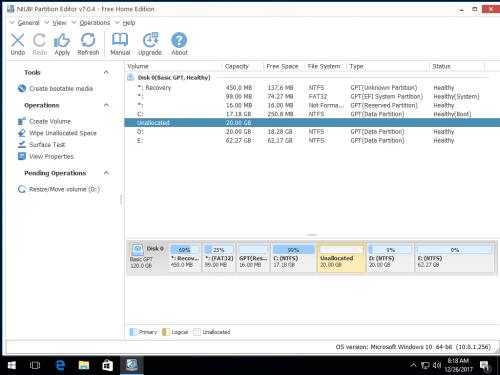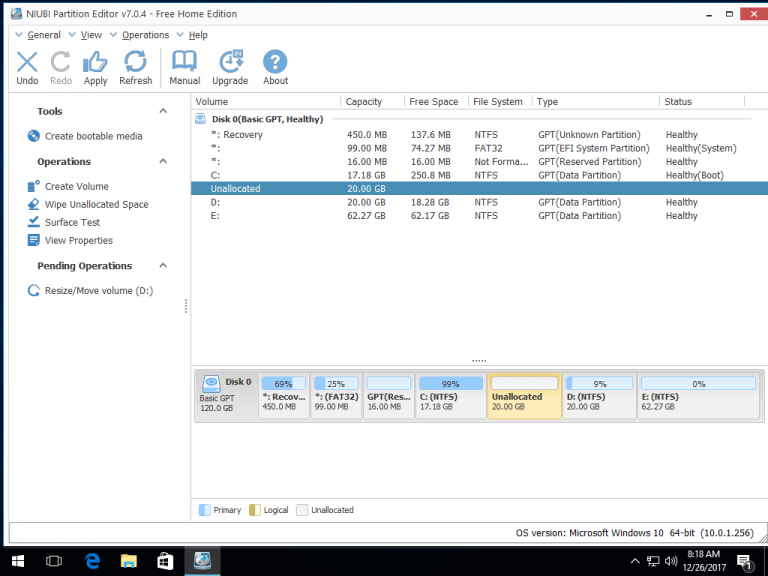 Step 2: Right click C drive and select "Resize/Move Volume" again.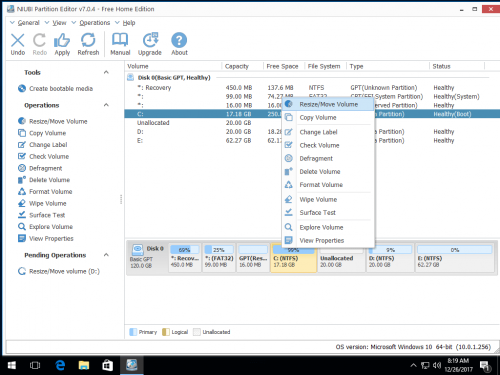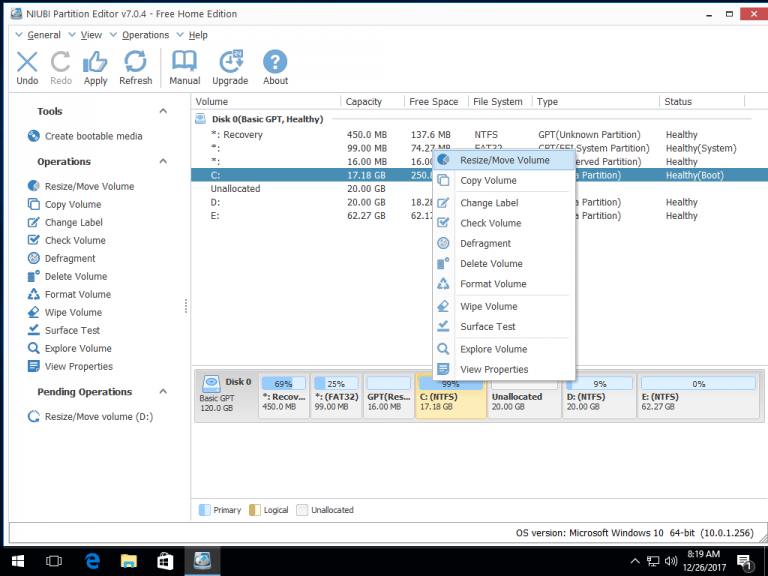 In the pop-up window, drag the right border rightwards to hold the Unallocated space.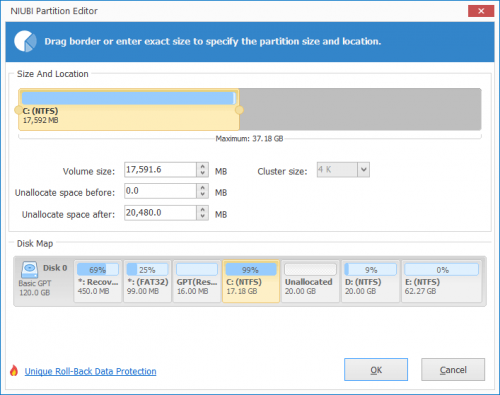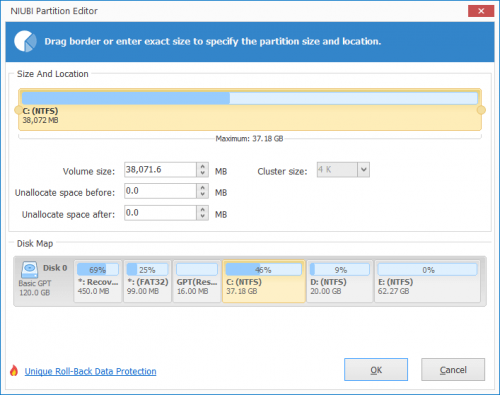 Step 3: Click OK and back to the main window, C drive increased to 37.18GB by transferring 20GB free space from volume D. Click Apply on top left to execute, done.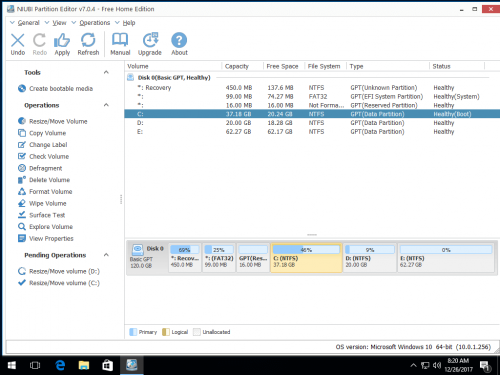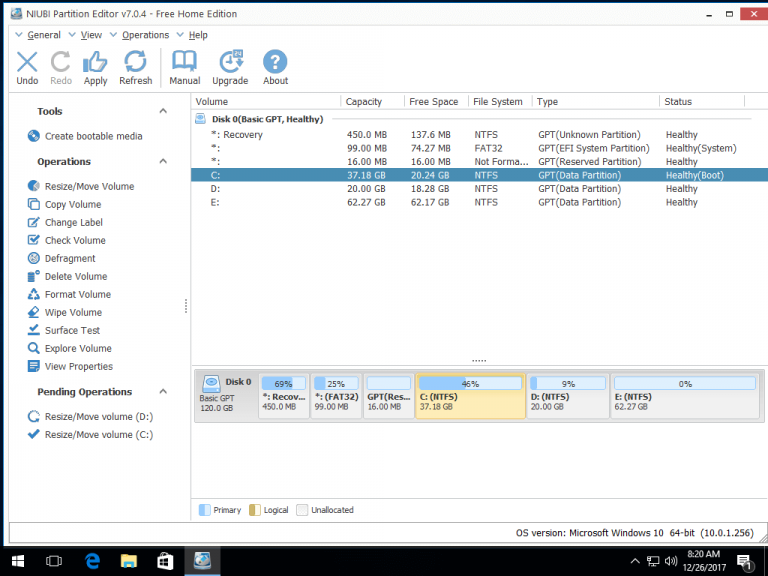 By transferring free space from other volume, you can increase C drive space, so C drive out of space on Windows 10 can by solved easily.
Pay attention to data safety
NIUBI Partition Editor is the ONLY partitioning software that integrated Roll-Back protection technology to ensure 100% data safety. It is able to roll back the computer to the right status before resizing automatically and in a flash, even if power failure or other hardware issue occurred during resize, so Operating System and all data always keep intact. It is tremendous innovation in disk management field. Furthermore, its unique file-moving algorithm helps resize partition 30% – 300% faster than any other tools, which is strictly tested.Learn More
Cleanup disk regularly
As I said in the beginning, many kinds of files write into C drive continuously, to permanently solve C drive running out of space on Windows 10, you'd better expand C drive as large as possible. Run Windows 10 built-in Disk Cleanup utility to free up space every month.
Additionally, you'd better create separate partition for applications, do not put everything into C drive. Change the default file output path to other volumes, especially for the applications that create projects, images and videos.