This article introduces free disk partition software for Windows 10. Resize, copy, convert and manage disk partition fast and easily.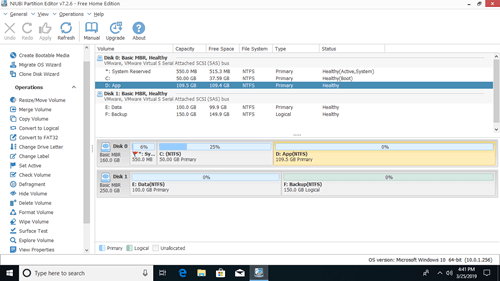 All types of files are saved into hard disk, no matter you use traditional mechanical disk, SSD or even RAID arrays. So you'd better take care of this important component. A reliable disk partition software is also important for your Windows 10 desktop or laptop, although you may not use it frequently. It helps accomplish many tasks, for example:
Shrink and create new volume for a new computer.
Extend a volume when it is running out of space.
Move a volume to other place.
Clone a small disk to a larger one without reinstalling Operating System and programs.
Scan bad sectors in the hard disk.
Convert disk and partition type for special purpose.
There are free partition software for Windows 10 personal computer. Unlike other tools that lock some features or bundle advertisements or plugins, NIUBI Partition Editor free edition is 100% clean and free.
Free partition software overview
Download NIUBI and you'll see 4 blocks in the main window.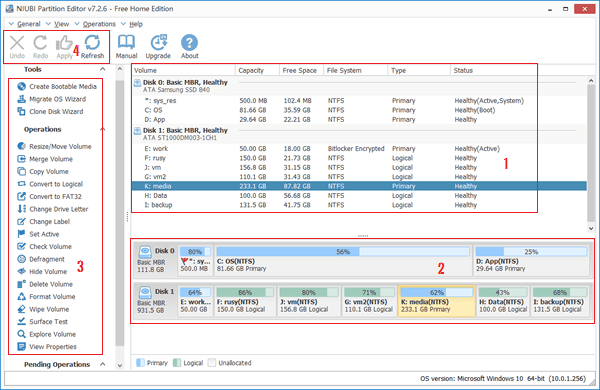 Disk model and single partitions with detailed parameters such as Capacity, Free space, File System, Type.
All hard disks with partition structure.
Available operations to selected disk or partition, unavailable operations are hidden automatically.
Refresh disk partition info, undo to cancel pending operations, redo to repeat, or click Apply to modify real disk partitions.
This free partition software is compatible with Windows 10, 8, 7, Vista, XP (32 & 64 bit). Supports all types of local and removable hard disk, all types of hardware RAID arrays, VMware/Hyper-V and USB disk/cards.
To operate, you just need to click, drag and drop in the pop-up windows. If you do not understand how to use, simply click the link on top menu bar to open online manual.
What does partition editor free do
To Unallocated space:
Create one or more volumes
Wipe data in it
Surface test (scan bad sectors)
View properties (detailed parameters)
To whole disk:
Initialize
Change status to offline or online
Set read-only attribute
Wipe disk (cannot be recovered)
Surface test
View properties
Clone disk to migrate data and OS
Convert MBR disk to GPT
Delete all partitions
Cleanup disk
To single partition:
Resize volume (shrink and extend)
Move location
Merge two adjacent volumes by 1 step
Copy to Unallocated space
Convert to Logical or Primary partition
Convert NTFS to FAT32
Change drive letter (such as D:)
Change label (add a name or modify)
Set as Active
Check file system integrity
Defrag to improve performance
Hide from File Explorer
Delete (files can be recovered)
Format volume to use as new
Wipe (erase data permanently)
Surface test
Explore (view files/folders with directory)
View properties
Unique features of partition editor free
GUI and functions of these free partition software are similar, but better than other disk partition tool including commercial version, NIUBI Partition Editor Free is safer and faster because of some unique technologies, for example:
1 Second Rollback - automatically reverts computer to original status in a flash if encounter any error.
Virtual Mode - avoid incorrect operations by listing all as pending for preview, real disk partitions won't be changed until click Apply to confirm.
Cancel-at-well - cancel incorrect but executing operations without causing damage.
Hot-Resize - shrink and extend most of partition without rebooting computer.
Advanced file-moving algorithm - resize and move partition 30% to 300% faster.
When you change disk partition especially shrinking, moving, extending and converting, all parameters of disk, associated partitions and files must be modified absolutely correct. A slight error could cause system, partition and data damage, so it is very important to back up and use reliable partitioning software.
Download free disk partition software
Nobody likes to see any risk in the downloaded setup file. Check with virustotal, the setup is 100% clean.

Softpedia and Informer also shows as 100% clean.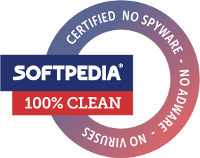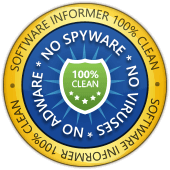 This free partition software has free email and online chat support (24/7).