This article introduces disk partition tool for Windows 10 (32 & 64 bit). Manage disk partition with native Disk Management and free partition editor.
Hard disk drive is an important component to a computer, it is used to store all kinds of files temporarily or permanently. Nowadays, many people insert at least two hard disks for Windows 10 laptop or desktop. One SSD for Operating System and programs for better performance. One traditional mechanical disk is used to save data and files.
No matter you use laptop or desktop, SSD, traditional disk or even RAID arrays, you need reliable disk partition tool especially to the computers that are new or have been used for a long time.
Command disk partition tool - Diskpart
DiskPart is a Windows built-in tool running from command prompt. You can do many disk and partition management operations such as create, delete, format, convert, shrink, extend volume, etc.
Press Windows and R on keyboard to launch Run, type diskpart and press Enter, then diskpart command prompt window will be open.
Input "?" and press Enter, you'll see all available commands.
To most of Windows 10 users, Diskpart is not the right partition tool, because:
The command interface is not user friendly.
It costs a long time to learn how to use each command.
Some commands have limitations, for example: you cannot extend a volume by shrinking another one.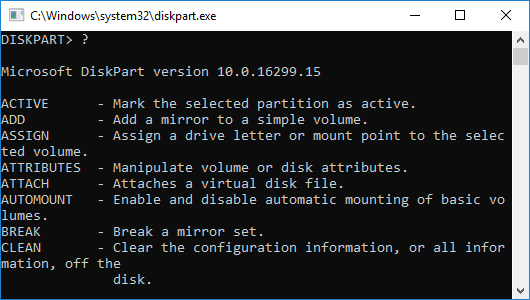 Another built-in disk partition tool - Disk Management
Disk Management is another Windows built-in utility first introduced in Windows XP. It has same ability with Diskpart command but works with graphical interface.
It displays all hard disks with partition structure, detailed parameters of each partition including type, file system, status, capacity, free space, usage percentage, etc.
Windows 10 Disk Management is inherited from the version of Windows Vista, which improved the ability by adding new Shrink and Extend Volume function.
However, all functions and interface keep the same, no further improvement for so many years.
Disk Management is much easier to use, but the same with Diskpart, some functions have shortages. In addition, this disk partition lack some useful features.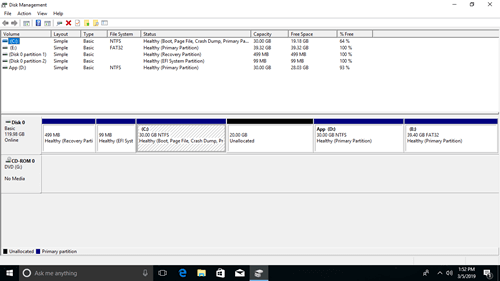 3rd party free partition tool - NIUBI Partition Editor
The same with other Windows native utilities, Diskpart and Disk Management tool has some basic ability, but they are not excellent. To manage disk and partitions better, you'd better run third party professional software.
However, there is one important point you should know. Unlike read-only program, disk partition software will modify the parameters more or less. An unreliable partition tool is very likely cause system, partition and data damage.
Better than other Windows disk partition tools, NIUBI Partition Editor provides unique technologies to ensure everything intact, for example:
1 Second Rollback - automatically reverts computer to original status in a flash if encounter any error.
Virtual Mode - avoid incorrect operations by listing all as pending for preview, real disk partitions won't be modified until click Apply to confirm.
Cancel-at-well - cancel incorrect but executing operations without causing damage.
In addition, unlike other free disk partition software that bundles advertisements, plugins, other unknown software, NIUBI PE free edition is 100% clean and free to home users.
Download it and you'll see 4 blocks in the main window.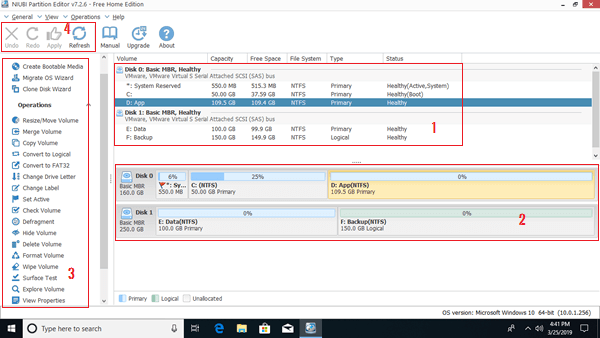 Single partitions with detailed parameters.
All hard disks with partition structure.
Available operations to selected disk or partition, unavailable operations are hidden automatically.
Refresh to load newest disk partition info, undo to cancel pending operations, redo to repeat, or click Apply to modify real disk partitions.
After right clicking any disk or partition and select a function, you'll see associated instructions. If you do not understand how to operate, there is a link to online manual on the top. The vendor provides fast and free support (including online chat) even to all free edition users.