This article introduces how to clone hard disk in Windows Server 2008 R2 to migrate Operating System and data, how to transfer/copy partition to other disk.
How to transfer/copy single partition
To data partitions, you can transfer files by simply copying and pasting. However, it costs much hardware resources such as CPU and RAM. It also costs a long time if there are large amount of files in this partition. If this computer is not well built, it may stuck while transferring too many files.
To some special partitions such as system partition C, programs partition D and other drive for exchange etc. You cannot transfer files by simply copy and paste. Instead, you need to copy this partition.
There are two ways to copy disk partition on Windows Server 2008, sector to sector clone and file system level copy. It is very slow to copy and validate each sector. NIUBI Partition Editor uses the better file system based copying method. Because of the advanced moving algorithm, it is also much faster than other tools.
Download NIUBI Partition Editor and you'll see all disk partitions with structure and other information.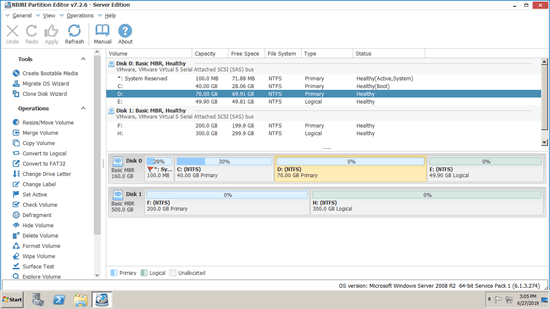 Copying system partition C cannot ensure target disk bootable, you need to clone entire disk instead, then jump to next section. Follow the steps below to copy any other data partitions (here is D:).
Steps to copy partition on Windows Server 2008 R2:
Step 1: Right click drive F or H on other Disk 1 and select "Resize/Move Volume", shrink this partition to make Unallocated space.
To do this, you may either drag the border towards the other one in the pop-up window, or enter an amount in the box directly. (1024MB=1GB).
Step 2: Right click drive D: and select Copy Volume, select this Unallocated space in pop-up window and click Next.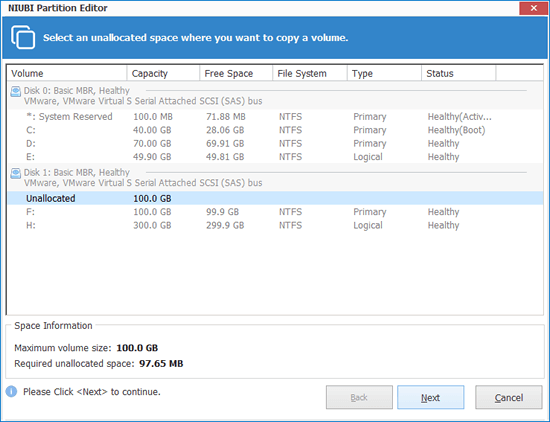 Step 3: Edit the target partition in next window. Drag the border towards right, then you can expand this partition. Original drive D is Primary, you'd better select the same type for target partition.
Step 4: Right click drive D: and select Change Drive Letter, select any one in the pop-up window (except D:).
Drive D is cloned and moved from Disk 0 to Disk 1. NIUBI is designed to work in virtual mode first, you need to click Apply to take effect.
Video guide to clone and migrate partition for Windows 2008 server: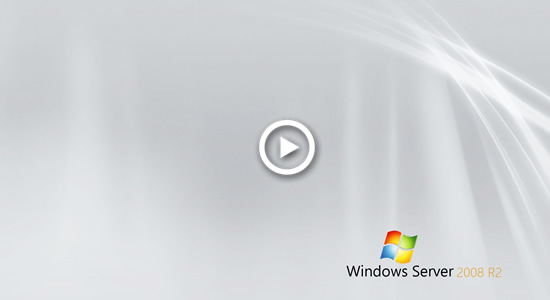 How to copy/clone disk on Windows Server 2008
The same with partition copy, NIUBI Partition Editor use file system level copy, so it is very fast. The target disk should be equal or larger than original disk. All partitions in target disk will be deleted, so remember to transfer files to other place before cloning disk.
Steps to clone/copy disk on Windows Server 2008 R2:
Step 1: Right click the front of Disk 0 and select Clone Disk, or click Clone Disk Wizard below Tools on top left.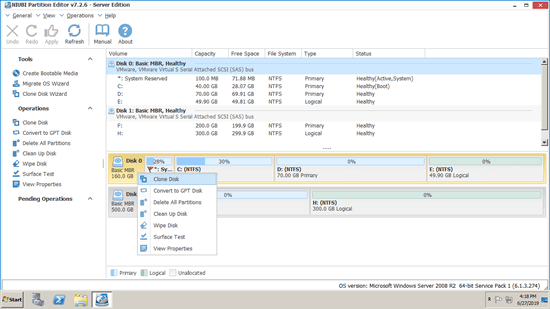 How to copy RAID, VMware, Hyper-V virtual disk
If you use VMware or Hyper-V for server 2008, you can increase C drive and other partition without copying to other disk. Both Virtual machines have their own tools to increase virtual disk size. Additional disk space will be shown as Unallocated on the end of original disk.
If you want to clone VMDK/VHD virtual disk to another one, there is no difference.
To hardware RAID arrays, you can copy RAID virtual disk to a physical disk or to another RAID array.
Besides cloning disk partition on Windows Server 2008, NIUBI Partition Editor helps shrink, extend, move, merge, convert, hide, defrag, wipe, scan partition and much more.