This article introduces what to do when system C: drive is running out of space in Windows Server 2012 R2. Clean up disk and add more free space from other partitions.
System C: drive runs out of space in Windows 2012 server sooner or later, because many types of files save into it continuously. This is most common issue in both Windows PC and server. To fix this issue, there are two ways:
Reclaim disk space by freeing up disk to delete junk files.
Add more free space from other data volumes.
This article introduces both methods with detailed steps.
1.

Fix C drive out of space issue by cleaning up disk

There are many types and large amount of unnecessary and junk files in the system partition C, especially if you install and use all programs with default settings.

By deleting the temp, cache, log, brower-produced, Updates and other types of junk files, you can reclaim the disk space that occupied by these files. It is useful if you never or have not free up disk for a long time.

Windows Server 2012 has native Disk Cleanup utility to help you accomplish this task. It is able to delete common types of junk files fast, easily and safely.

Steps to fix out of space issue in Windows Server 2012 by cleanup:
Press

Windows

and

R

on your keyboard, type

cleanmgr

and press

Enter

.
Select

C:

(or other) drive in the drop-down list and click

OK

.
Select the files that you want to remove in next window.
Confirm deleting.
Repeat to clean system files (if there is such option).
If you receive error that there is no cleanmgar, it mean this utility is not enabled. Follow the step to install/enable Disk Cleanup on Server 2012.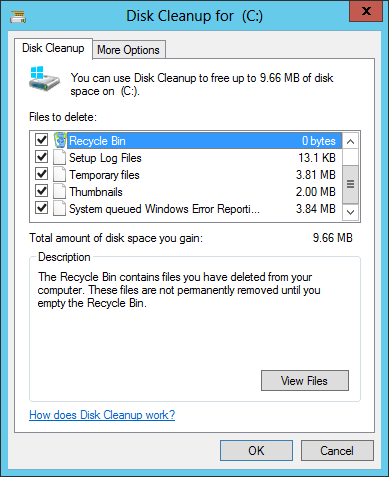 If you cannot get plenty of free space for C drive by cleaning up, you'd better add more from other partitions.
2

Fix out of space issue by adding more unused space

All hard drive partitions are allocated while installing OS or getting from OEM manufactures, but you can change partition size with some tools. Among these software, NIUBI Partition Editor is much safer and faster because of its innovative technologies such as:
Virtual Mode

- all operations will be listed as pending for preview, real disk partitions won't be modified until click Apply to confirm.

Cancel-at-well

- if you applied wrong operations, it doesn't matter, you can also cancel the ongoing operations without causing damage.

1 Second Rollback

- if encounter any error while resizing partition, it automatically reverts server to original status in a flash.
Advanced

file-moving algorithm

- resize and extend hard drive 30% to 300% faster, saving much time especially when there are large amount of files.
Other data volumes can be shrunk, then part of unused space will be converted to Unallocated, this space can moved and combined to system C: drive. To accomplish this task, you just need to drag and drop on the disk map. Operating System, the settings of programs and Windows services, as well as anything else keep the same with before.
Download NIUBI Partition Editor and follow the steps in the video to add more space to C drive: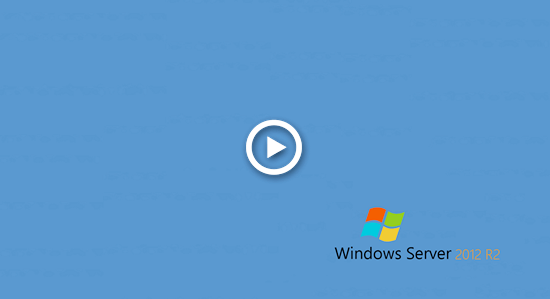 By this method, you can solve the problem fast and easily. The larger C drive, the less probability to encounter C drive running out of space in Windows 2012 Server again.
There is no difference if you use local or Guest server, physical hard disk, or RAID array, VMware, Hyper-V virtual disk.
Copy and migrate if disk is small
In some servers, the disk for Operating System and programs has been running for a long time. It may be small or there is no available free space in entire disk. In that case, no software can add space to C drive from another separated disk. Instead, you need to copy to a larger disk, while cloning you can enlarge C drive and other partitions with extra disk space.
Follow the steps in the video: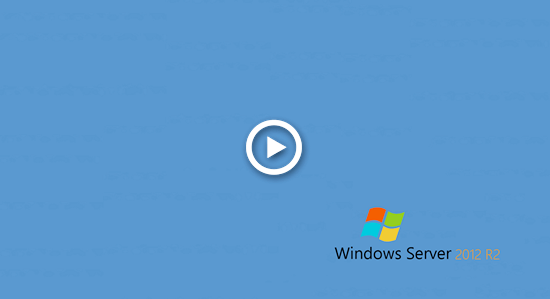 After copying complete, replace original disk or change BIOS and boot from the large disk.
In Summary
When system partition C runs out of space in Windows Server 2012 (R2), clean up disk to reclaim space. Add more free space from other partitions if C drive is small or you did not get enough free space after cleaning up disk.
Expand C drive as large as possible and run Disk Cleanup monthly to delete new generated junk files.