Looking PowerQuest/Norton Partition Magic for Windows 10, 8, 7? It doesn't support Windows XP SP3 and subsequent versions, this article introduces best free Partition Magic alternative.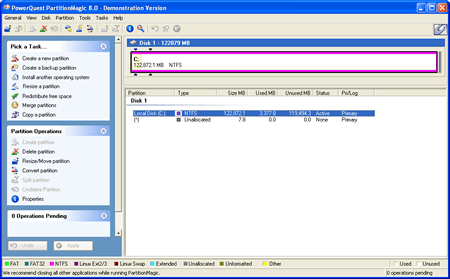 Is Partition Magic free?
From the first version of PowerQuest Partition Magic to the last version Norton Partition Magic 8.0.5, Partition Magic is NOT free. (PartitionMagic is developed by PowerQuest corporation, on December 5, 2003 Symantec acquired PowerQuest and changed the name to Norton PartitionMagic.)
On December 8, 2009, Symantec website officially states, "Sorry, we no longer offer Norton Partition Magic."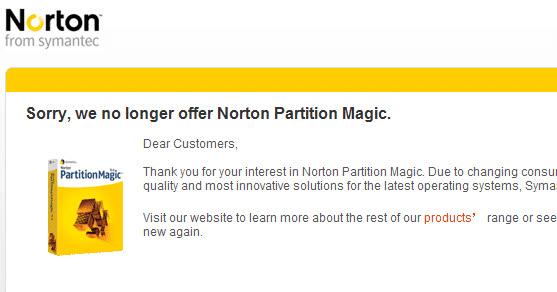 Forget PowerQuest/Norton PartitionMagic
On May 5, 2004, Norton PartitionMagic 8.0.5 was released under Symantec and no more release from then on. PartitionMagic 8.0.5 supports Windows XP, however, Symantec did not offer any update, so PartitionMagic does not support Windows XP SP2 or SP3.
As you see in my test Windows XP SP2, Partition Magic reports error 116 when launching it. If I click Yes to fix this error, it then reports fix successfully but more similar error pops up endlessly. If I click No, it reports "Error 117. Partition's drive letter cannot be identified".
I also tested the last version Partition Magic 8.0.5 in Windows 7/8/10, similar issue, it can't launch.
Some people may ask whether it is possible to build PartitionMagic portable, that means create bootable CD/DVD or USB disc to use without Operating System. After full searching by Google, I only found EXE format portable version.
Even if I missed something and there's a way to build such bootable media that doesn't rely on Operating System, Do not modify disk partitions. From Windows Vista, the boot manager is changed, new file system and disk type is added, so PartitionMagic does NOT support Windows Vista and all subsequent versions. If you modify disk partitions, Windows cannot boot, partition may be damaged.
It's time to forget PowerQuest/Norton Partition Magic and find better alternative.
Partition Magic free alternative
There are many disk partitioning software that works similarly with Partition Magic. To Windows 10, 8, 7, Vista, XP (all editions) computer, there are free partition magic alternative software. Among them all, NIUBI Partition Editor is recommended by many professionals and editors.
Download NIUBI Partition Editor Free and you'll see the main window with 5 blocks.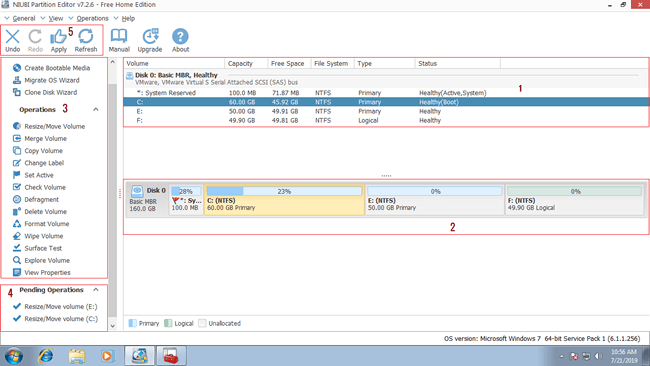 All single partitions with detailed information such as capacity, free space, file system, type and status.
All hard disks with graphical partition structure.
Available operations to the selected disk or partition, to keep clean, unavailable operations are hidden automatically.
The operations you do won't be executed immediately, instead, they'll be listed as pending. The ones marked as tick can be done in Windows.
Undo the unwanted pending operation, redo the cancelled or click Apply to execute.
Unlike other free partition magic software that lock many functionalities or integrate advertisements or add-ons, NIUBI Partition Editor Free is 100% free and clean. Except bootable media and 1 Second Rollback technology, it is absolutely the same with paid version. In addition, it provides the same free 24/7 online support.
What does NIUBI Partition Editor Free do?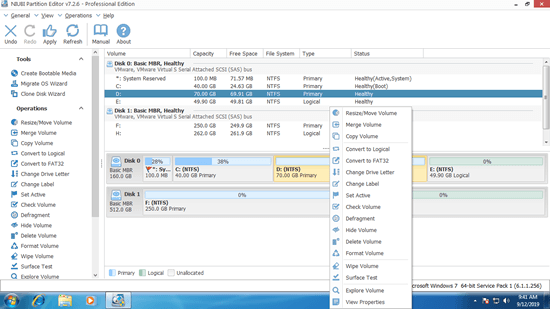 Available operations to a partition:
Resize volume (shrink and extend)
Move partition location
Merge two adjacent volumes by 1 step
Copy volume to Unallocated space
Convert partition between Logical and Primary
Convert NTFS to FAT32
Change drive letter (such as D:)
Change label (add or modify name of partition)
Set as Active
Check file system integrity
Defrag to improve performance
Hide from File Explorer
Delete (files can be recovered)
Format volume to use as new
Wipe (erase data permanently)
Surface test (scan bad sectors)
Explore (view files/folders with directory)
View properties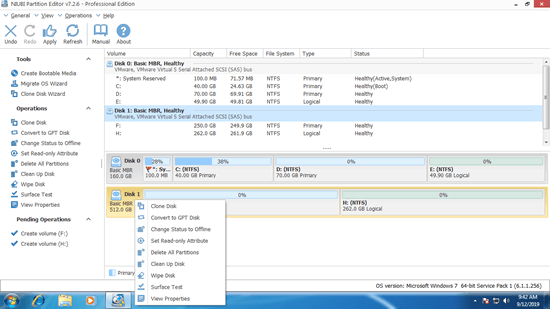 Available operations to whole disk:
Initialize brand new disk
Change status to offline or online
Set read-only attribute
Wipe disk (cannot be recovered)
Surface test
View properties
Clone disk to migrate data and OS
Convert MBR disk to GPT
Delete all partitions
Cleanup disk
Advantages of Partition Editor Free
Comparing with other disk partition software, NIUBI Partition Editor has advantages such as:
Virtual mode

technology - avoid incorrect operations by listing all as pending, real disk partitions won't be changed until click Apply to confirm.

Cancel-at-well

technology - if you applied any incorrect operations, you can cancel the ongoing operations without data loss.

1 Second Rollback

technology - if anything goes wrong while repartition hard drive, it automatically reverts computer to original status in a flash.

Hot-Resize

technology - help shrink and extend most of partitions without rebooting computer.
It is 

30% - 300% faster

because of its special file-moving algorithm.