Resize partition on Windows Server 2003 (R2) safely
This article introduces how to resize volume in Windows 2003 Server in few steps. NIUBI Partition Editor helps resize Server 2003 partition 100% safe, fast and easily.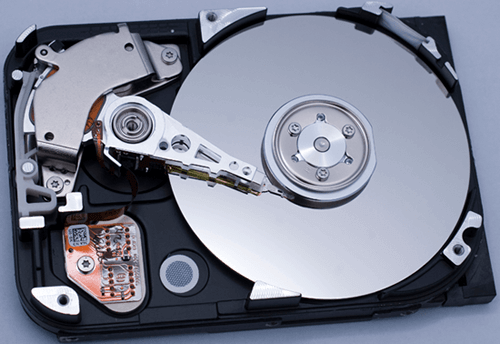 Low disk space on Windows Server 2003
The most common issue of Windows 2003 Server is low disk space. System C drive is running out of space and becomes full after a certain time. If there is no free space left in C drive, you cannot install Windows Updates and any applications. Furthermore, Operating System runs much slower, stuck, reboot or crash. The fastest and easiest way to solve this problem is resizing Server 2003 partition and transferring free space to C drive.
Some of my readers feedback similar experience: when contacting support from HP or DELL, they get similar answer – back up everything, delete all disk drives, recreate volumes and restore. Are you kidding me? If anyone do like this, the whole day may be wasted keeping server offline. Maybe the reason is because they have no proper tool and don't want to bring trouble to themselves, but who wants to start from scratch?
With proper server partitioning software, you can solve this problem within 1 hour to several minutes, but the precondition is using right tool.
The right tool to resize Server 2003 volume
Windows built-in utility?
Some people like to use Windows built-in utilities, maybe it is because they are safe. About partition resizing on Windows Server 2003, there is built-in tool – DiskPart, which runs from command prompt. However, it is not best tool to resize Windows 2003 volume, because it has many limitations:
To extend a volume, there must be adjacent Unallocated space on the right side. You cannot extend Server 2003 volume except deleting the adjacent partition.
All Windows services and applications runs from this partition stop working if you delete it.
You cannot extend C drive by simply deleting volume D, if D is a Logical partition.
System partition cannot be extended except running DiskPart from bootable CD.
Third-party partitioning software?
The reason why some people don't like to use 3rd-party software is because they worry about data safety. Yes, data safety is most important to a server and nobody likes to see data loss while partition resizing. This is absolutely correct, because some unreliable software is very likely to cause system failure, partition damage and data loss. Partition resizing is complicated, the software will modify all related parameters of disk, partition and files in File System. Besides software error, very large amount of files, low RAM memory, high CPU usage rate, power failure also could cause data loss.
There is only one software that can ensure 100% data safety – NIUBI Partition Editor. Its built-in Roll-Back protection technology can automatically roll back the server to the status before resizing in ONE second, if any software error or hardware issue occur while partition resizing, so Operating System and data always keep intact.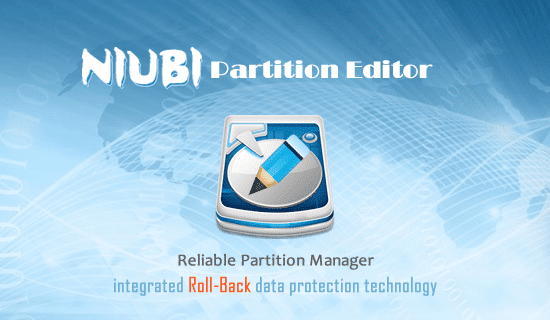 The benefits to resize Server 2003 partition with NIUBI

Besides Roll-Back protection technology, NIUBI Partition Editor has many other advantages such as:
Its unique file-moving algorithm helps resize partition at least 30% faster than other tools.
Hot Resize to extend NTFS volume in Windows and without rebooting server.
Virtual mode to preview, cancel or redo any operations before clicking Apply to execute.
Easy to use with simple GUI, anyone without such experience can resize partition without help.
How to resize partition in Windows 2003 server
Download
NIUBI Partition Editor and follow the steps below: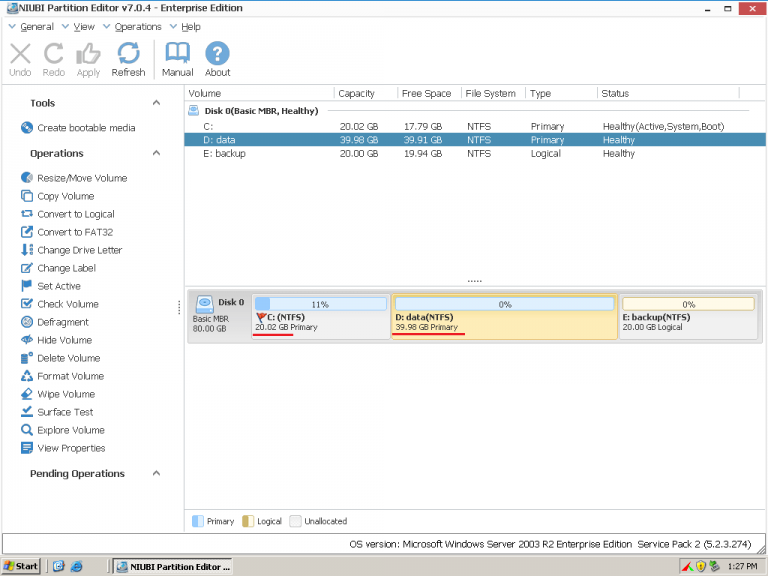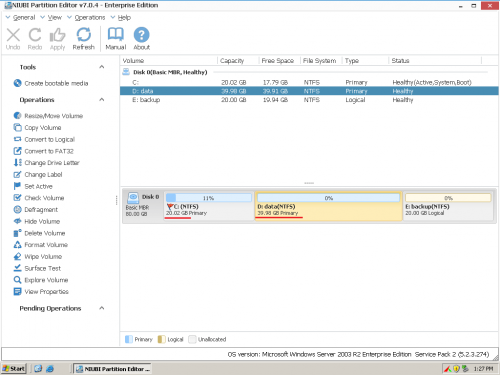 3 Steps to resize Server 2003 partition:
Step 1: Right click drive D and select "Resize/Move Volume". In the pop-up window, drag the left border rightwards to shrink it.

Unallocated space will be generated behind C drive.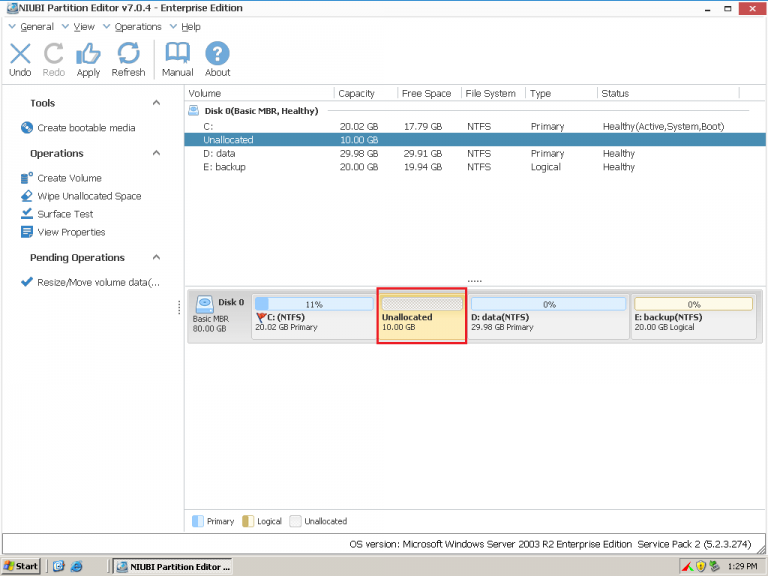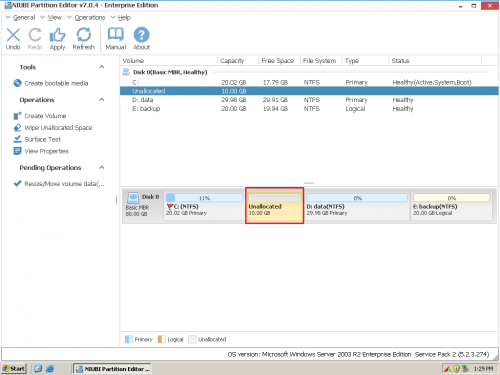 Step 2: Right click C and select "Resize/Move Volume" again. In the pop-up window, drag the right border rightwards to hold the Unallocated space.

Step 3: Click Apply on top left to execute, done. The 10GB free space that took from D added into C.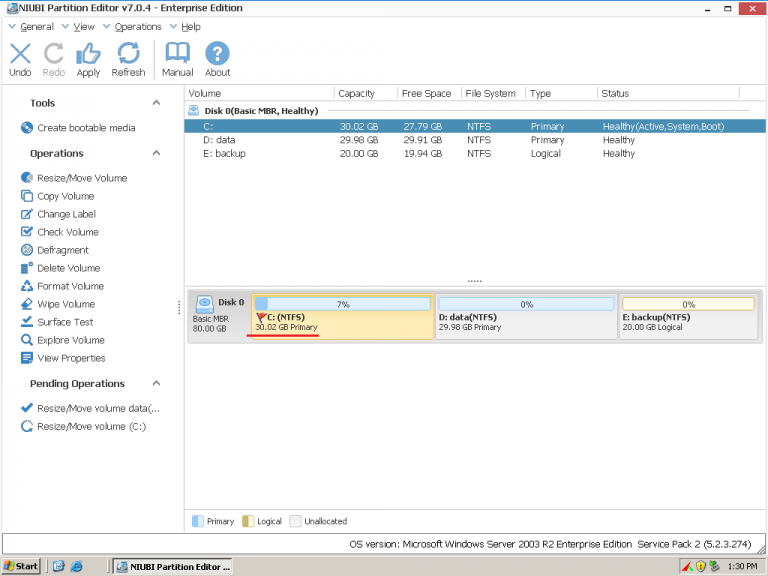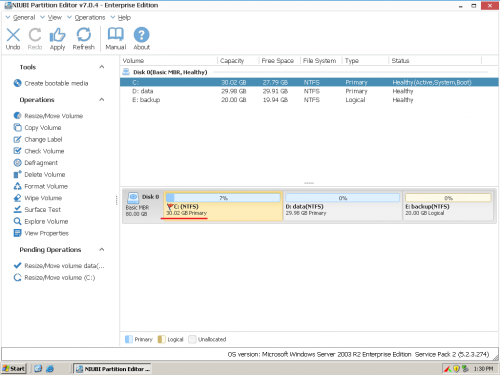 Note: all server partition software are commercial, so you need to buy a license. To see how registered version resize server partitions, watch the video:
If you manage many servers, Enterprise edition is the best choice, which can be installed to unlimited servers and PCs in a company (regardless of locations) to save time and cost.
If you are a technical service provider, Technician edition can be used to provide profitable service to unlimited companies and individuals.