Storage device is an indispensable component in a computer, no matter you use SSD, mechanical HDD or RAID array. Before saving files to a brand new hard disk, you need to initialize this disk, create partitions on it and then format partitions with a file system. After running Windows 11 computer for a period of time, you may find that the scheduled partition size is not good. For example: 1, system partition C is too small. 2, there's only one partition on a disk but you need more to save different kinds of files. 3, a hard disk is too small or getting full, so you need to migrate to a larger disk. To solve these problem and manage disk partitions better, you need reliable disk partition manager for Windows 11 computer. This article introduces native free partition manager in Windows 11 and best free partition software for Windows 11 laptop, desktop, tablet computer.
Native free partition manager in Windows 11
The same with previous Windows 10, there's a native free partition manager in Windows 11. Press Windows + X together on your keyboard and then you'll see Disk Management in the list. After opening this partition manager in Windows 11, right click each partition or front of a disk and then you'll see all operations, unavailable operations are grayed out.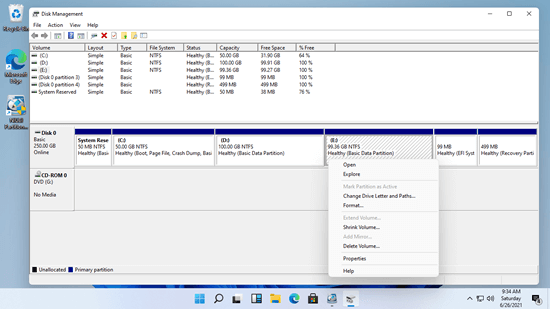 In Windows 11 Disk Management, you can initialize a brand new hard disk, create new volume with Unallocated space. Delete, format and change drive letter of an allocated partition.
This native free partition manager in Windows 11 can resize NTFS partition without losing data (not 100%). More precisely, it can shrink NTFS partition to create new volume, and extend NTFS partition by deleting its contiguous volume on the right. If you want to extend a partition by shrinking another one, Disk Management cannot help you.
To a hard disk, Windows 11 Disk Management can convert disk between MBR and GPT, but you must delete all volumes on this disk in advance. It can convert a basic disk to dynamic, but it cannot convert dynamic disk back to basic without losing data.
Comparing with native free partition manager in Windows 11, third party disk partition software is much more powerful. There's free partition software for Windows 11 laptop, desktop and tablet computer.
Best free partition software for Windows 11 computer
There are many free partition software for Windows 11/10/8/7/Vista/XP, then which is the best one? The GUI of the Windows disk partition software are different but the functions are similar. Because there's potential system/partition damage risk, data protection ability is most important to partition software. Better than other tools, NIUBI Partition Editor has more powerful data protection technology and other advantages.
1. Clean and safe
NIUBI Partition Editor free edition is 100% clean without any bundled advertisement or plugins. Unlike other free partition manager software that disable many abilities, NIUBI free edition is the same with commercial edition except lacking of 1-Second Rollback technology and bootable media builder.
2. Virtual Mode
Unlike Disk Management that apply changes immediately, NIUBI Partition Editor is designed to work in virtual mode first. You can preview, cancel and redo the pending operations. Real disk partitions won't be changed until you click Apply to confirm.
3. Cancel-at-well
This is an unique technology of NIUBI. If you have applied changes with other software, you cannot cancel the ongoing operations even if you did wrong. NIUBI can cancel the operations at any progress fast and safely.
4. 1-Second Rollback
This is another unique technology of NIUBI Partition Editor. If it detects any hardware issue or known software error, it is able to revert your computer to original status automatically and in a flash.
5. Much faster
When you do some operations such as shrinking a partition towards right or moving a partition, all files in this partition must be moved to new locations. It costs much time if there are large amount of files. Thanks to the special file-moving algorithm, NIUBI is 30% to 300% faster than other tools.
6. All-in-one toolkit
This free partition software supports Windows 11/10/8/7/Vista/XP (32/64) bit, it can manage local and removable HDD/SSD, all types of hardware RAID array, VMware/Hyper-V/Virtualbox virtual disk, USB flash drive and memory cards. Most of disk and partition management requirements can be fulfilled.
Download this free partition software in Windows 11 laptop/desktop/tablet computer, you'll see all storage devices with partition structure and other information on the right. Right click each partition or front of a disk, you'll see available operations.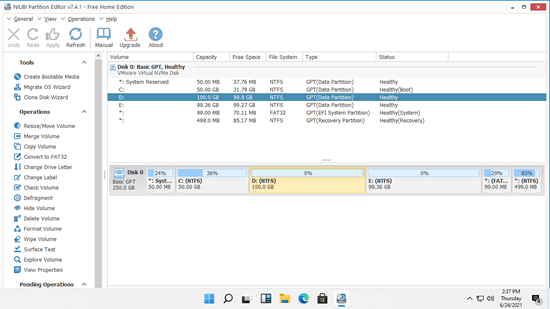 To single partition:
Resize volume (shrink and extend)
Move partition location
Merge two adjacent volumes by 1 step
Copy to Unallocated space
Convert to Logical or Primary partition
Convert NTFS to FAT32
Optimize file system
Change drive letter (such as D:)
Change label (add a name or modify)
Set Active partition
Check file system integrity
Defrag to improve performance
Hide from File Explorer
Delete (files can be recovered)
Format volume to use as new
Wipe (erase data permanently)
Surface test
Explore (view files/folders with directory)
View properties
To whole disk:
Initialize
Change status to offline or online
Set read-only attribute
Wipe disk (cannot be recovered)
Surface test
View properties
Clone disk to migrate data and OS
Convert MBR disk to GPT
Delete all partitions
Cleanup disk
To Unallocated space:
Create one or more volumes
Wipe data in it
Surface test (scan bad sectors)
View properties (detailed parameters)
Why not download to try this free partition software in Windows 11/10/8/7 laptop, desktop or tablet computer? Watch the video how to use this free partition manager on your computer.