The same with previous versions, Windows 11 computer also runs low on disk space, especially to system partition C. Many people ask whether it's possible to extend partition in Windows 11 laptop, desktop or tablet computer without starting over. Nobody likes to reinstall operating system and tons of programs. The answer is yes. To extend volume in Windows 11 computer, you may try either Windows native Disk Management tool or third party software. In this article, I'll introduce 3 ways to extend Windows 11 partition. This problem can be solved no matter how your disk partition is configured. You don't have to try all 3 methods, just select the corresponding method according to your own disk partition configuration.
Extend volume in Windows 11 Disk Management by deleting
The first method is not suggested, because you have to delete partition. This method is only used by the users that don't like to use third party software. In addition, this method only works when your disk partition configuration meet the requirements below:
There's a

contiguous

partition

on the right

of the drive that you want to extend, you must delete it to get contiguous usable space.
The partitions to be deleted and extended must be the

same

Primary or Logical drive.
In most of Windows 11 computers, users want to extend system partition C, and C drive is always Primary, that means:
There's a contiguous partition D (or E) on the same disk.
This contiguous drive D: (or E:) must be a

Primary

partition.
If there are no programs installed in this contiguous drive and you can delete it, it is easy to extend C drive partition.
How to extend system partition C in Windows 11 by deleting D:
Right click Windows logo on taskbar on the bottom, select Disk Management in the list.
Right click the contiguous partition D: (or E:) and select Delete Volume option.
Right click system partition C: and select Extend Volume option, simply click Next till Finish in next windows.
If your disk partition configuration doesn't meet the requirements or if you don't want to delete any partition, you have to run disk partition software. If you want to extend Windows 11 volume by shrinking another one, Disk Management cannot help you. Learn why cannot extend C drive by shrinking other volume.
Extend volume with free partition software by shrinking
You won't lose data by shrinking a partition, therefore it's better than deleting. Windows Disk Management has Shrink Volume function, but it can only make Unallocated space on the right while shrinking. This Unallocated space can't be extended to any other partition with Extend Volume function. Better than Disk Management, third party program can make Unallocated space on either left or right when shrinking a volume. The most important, it can move Unallocated space and extend to any partition on the same disk, no matter this partition is contiguous or not.
There are many disk partition software to help you shrink and extend partition in Windows 11 computer, but few are safe enough. In fact, even Windows Disk Management is not 100% safe, especially when there are both Primary and Logical partitions on a disk. Therefore, you'd better make a backup first and run safe partitioning software.
Better than other tools, NIUBI Partition Editor has powerful Virtual Mode, Cancel-at-well and 1-Second Rollback technologies to protect your system and data. It has free edition for Windows 11/10/8/7/Vista/XP home computer users.
Download NIUBI free edition, you'll see all disk partitions with structure and detailed information on the main window.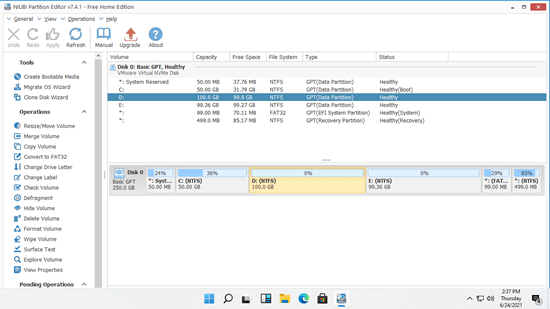 How to extend volume in Windows 11 laptop/desktop/tablet with NIUBI:
Right click a partition (here is D:) and select "Resize/Move Volume" option. In the pop-up window, drag either border towards the other side. The difference is, if you drag left border towards right, Unallocated space is made on the left.
If you want to extend system partition C, make Unallocated space on the left in step 1. Right click C drive and run Resize/Move Volume again, then drag right border towards right to combine Unallocated space. If you want to extend E drive, it is similar, just drag opposite border to opposite direction to shrink D and expand E.
Click Apply on top left to take effect.
If you want to shrink E drive to extend nonadjacent partition C, there's an additional step to move Unallocated space next to C drive.
Watch the video how to extend partition in Windows 11 by shrinking another one: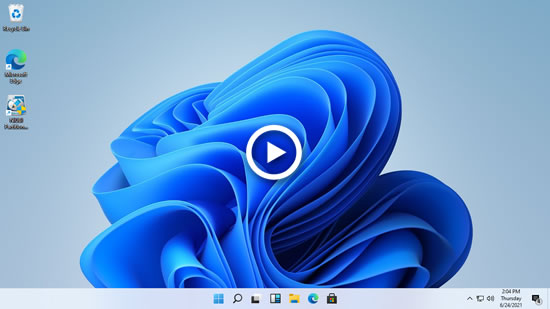 The steps to shrink and extend volume in Windows 11 computer are the same, no matter you use physical hard disk (SSD or traditional), any type of hardware RAID array, or even run Windows 11 in VMware/Hyper-V virtual machine.
Extend Windows 11 partition with a larger disk
If there's no or not enough free space on the same disk, you cannot extend partition by shrinking a volume on another separate disk. In that case, you can clone disk to a larger one and extend partition with extra disk space, follow the steps in the video: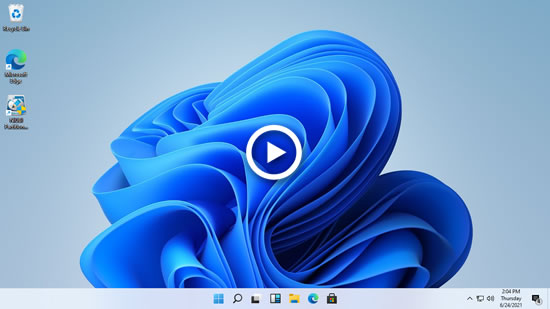 Besides shrinking and extending partitions in Windows 11/10/8/7/Vista/XP computer, NIUBI Partition Editor helps you do many other disk partition management operations such as move, merge, hide, convert, defrag, wipe, scan bad sectors.