This article introduces how to shrink system partition in Windows 10 (32/64 bit). Two ways to shrink system volume without reinstalling Operating System or losing data.
If you forget to edit and create new volumes when installing Windows 10, system partition C will occupy all available space of this hard disk. Of course it is not a good idea to keep this single volume and put everything into it. Then what to do? You can shrink partition without restarting from scratch?
In this article, I'll show you how to shrink system volume on Windows 10 with built-in Disk Management tool and free partition editor software.
Shrink system partition in Windows 10 DM
Unlike Diskpart cmd, Disk Management has graphical interface so it seems to be easier to shrink volume partitions.
Steps to shrink system C drive with Disk Management in Windows 10:
Press Windows and X on keyboard, and then select Disk Management from the list.
Right click C drive and select Shrink Volume.
Click Shrink to use default maximum space or enter an amount manually first.
As you see, there is a tip in the shrinking window: "You cannot shrink a volume beyond the point where any unmovable files are located."
In fact, this Shrink Volume function has some other limitations.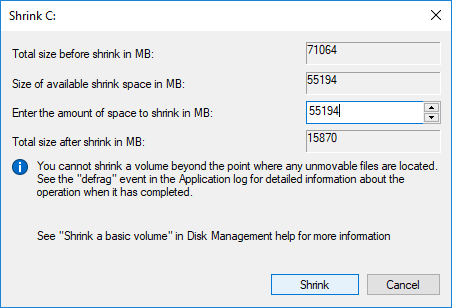 Scenarios that can't shrink system volume
If you opened the shrink volume window but did not click Shrink, during this time some large files such as Windows Updates are writing into C drive, you may receive error after clicking Shrink, because the free space is less than calculated.

In this case, you may repeat the shrinking operation.
If there are plenty of available free space but you can only enter little, it means that there are unmovable files in this partitions. Then you need 3rd party software to shrink.
If there is file system error, you can't shrink volume even if there is free space.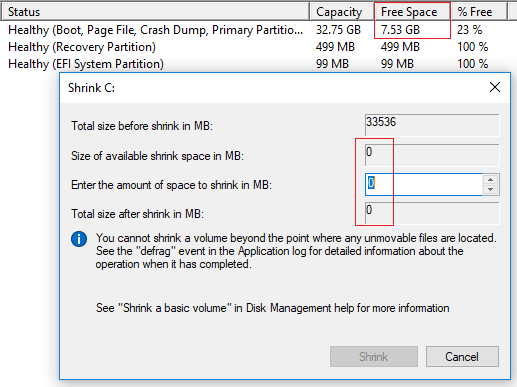 Few people encountered the issue above, but all Windows 10 users cannot shrink system partition to extend the data volumes with Disk Management.
Shrink system volume with partition editor
Comparing with Windows Disk Management, NIUBI Partition Editor can move the "unmovable" files, so it can shrink system volume to minimum size if you want. It can adjust partition size if free space is changed. It is also able to generate Unallocated space on either side when shrinking. There is free edition for home users. Better that other software, it is 100% clean.
Download NPE Free, you'll see all disk partition info on the right and available operations on the left.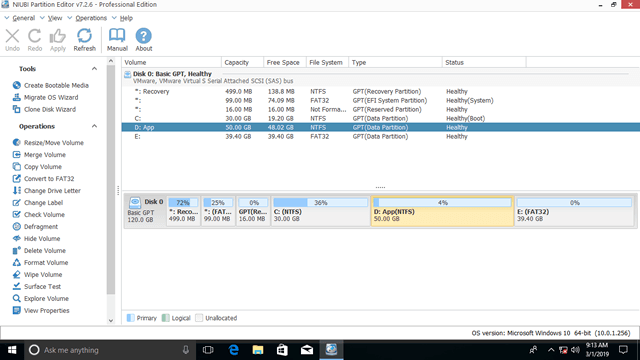 Right click C drive and select "Resize/Move Volume", you have two options in the pop-up window:
Drag left border towards right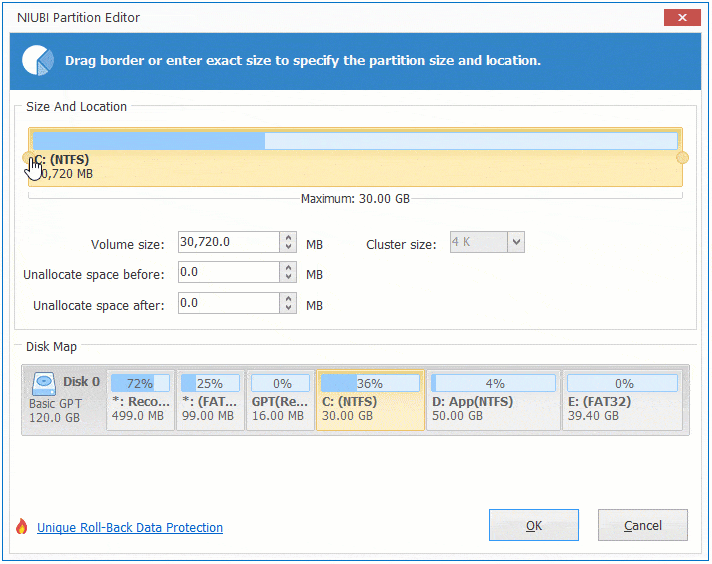 Then you can shrink system partition towards right and make Unallocated space on the left side.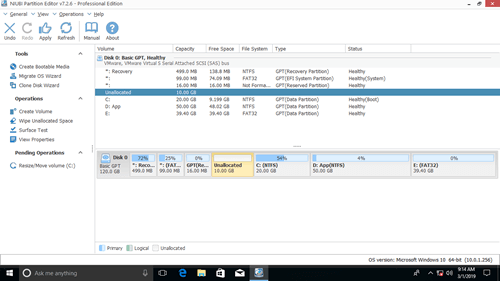 Follow the steps if you want to extend disk partition on Windows 10.
In Summary
To shrink system partition in Windows 10, you may try Shrink Volume function in the native Disk Management tool. However, because of the inherent limitations, sometimes you can only shrink little space or cannot shrink at all.
There are no such limitations with free partition editor and you can make Unallocated space on either side by simply dragging and dropping on the disk map.