This article introduces why system partition C is running out of space in Windows Server 2008 R2, and how to fix C drive out of space for Server 2008 easily.
Why system partition C runs out of space
C drive out of space is the most common issue in Windows 2008 server, no matter this server is built with physical disk or RAID array. Many people said that the system partition runs out of disk space without reason, but in fact, of course there are some reasons.
1.

Caused by virus

Some kind of virus may duplicate itself or other files continuously. However, it is extremely rare especially to a server. Only when there is plenty of free space in C drive, but it runs low on space in very short time, you may consider scanning the disk partitions.
2.

Windows error

In some servers, Windows may calculate free space wrong, but the same with first one, it is extremely rare to see.
3.

Filling up by junk files

There are many types of junk files produced every day, for example: temp, browser cache, logs, download, Windows Updates. There will be large amount of junk files produced for a long time if you do not clean up disk. These files can be removed from the server safely.
4.

Filling up by programs

Many people use default settings while installing programs, the more programs you installed, the less free space remaining. In addition, some programs also output production files to C drive by default. Few programs are intelligent to scan for other larger partitions and ask you to change output path.

When system C: drive is running out of space on Windows Server 2008, you'd better fix this issue as quick as possible. Otherwise, server would stuck, reboot unexpectedly or even crash.
Basic solution to fix C drive out of space issue
As I said above, there are many junk files produced in system partition C, you can reclaim disk space by deleting them. To accomplish this task, Windows Server 2008 has native Disk Cleanup tool. It is able to remove most common types of junk and unnecessary files safely.
Steps to fix Windows Server 2008 C drive out of space issue by cleaning up:
Press

Windows

and

R

together on keyboard, type cleanmgr and press

Enter

.
Select C: drive in the drop-down list.
Click the check-boxes in front of the files that you want to remove. (All files can be deleted safely)
Confirm and starting deleting.
Repeat to clean up system files.
If you receive error no cleanmgr, that means you have not enabled Disk Cleanup for this server, then follow the steps to install and enable Disk Cleanup on Server 2008.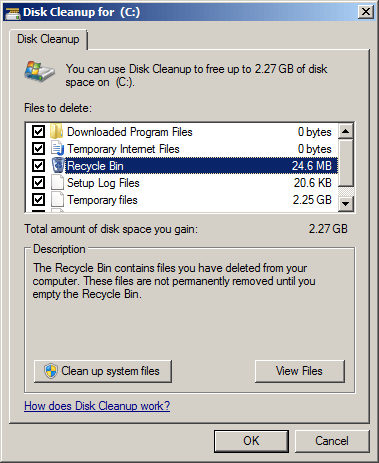 You may get several gigabyte free space if you have never free up disk space. If you did not get much free space, it is not suggested to fight for additional space by running third party optimization software or deleting files by yourself. Instead, you'd better add more free space to C drive from other partitions.
Additional method when C drive is running out of space
With disk partition software such as NIUBI Partition Editor, you can shrink data partition without losing data, then part of free unused space will be converted to Unallocated. This kind of space can be combined and converted to unused space in C drive.
By this method, there will be plenty of free space in C drive again without losing data. Operating System, programs and associated setting, as well as anything else keep the same with before.
Download NIUBI Partition Editor and follow the steps in the video to increase C drive space in Windows Server 2008: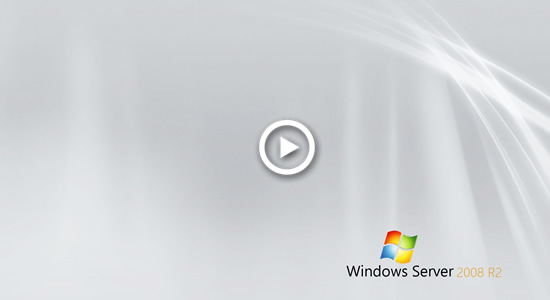 The larger C drive is extended, the less probability it runs out of space again. Better than other software, NIUBI has unique 1 Second Rollback, Virtual Mode and Cancel-at-well technologies to protect system and data.
Conclusion:
When system partition C is running out of space in Windows Server 2008 (R2), free up disk space with native Disk Cleanup utility. Add as more as possible free space to C drive with NIUBI Partition Editor. Run Disk Cleanup monthly to remove new generated junk files.