This article introduces how to increase C drive space in Windows Server 2008 R2 without losing data. Increase size of system C drive from D or other partition.
What will you do if C drive is getting full in Windows Server 2008? If you contact some OEM server manufacturers, they may told you to back up everything, recreate partitions and restore. It sounds reasonable, but if you do like that, your whole happy weekend will be wasted. The worst, server is offline during this period. In fact, you can increase size of system C drive in Windows Server 2008 fast and without losing data. This article introduces 3 ways with 2 tools to increase C drive free space.
Increase C drive space without software
Windows Server 2008 has native Diskpart command and GUI Disk Management tools, both have the ability to decrease and increase partition size. However, they only work under specific condition: before extending C: drive you must delete the contiguous partition on the right.
Increase C drive free space from D or other volume
To increase C: drive space for Windows 2008 server, the better choice is running server partitioning software such as NIUBI Partition Editor. You don't have to delete partition, because Unallocated space can be made on the left side. If you want to transfer free space from any nonadjacent partition (such as E:), Unallocated space can be moved to behind C drive. To accomplish these tasks, you just need to drag and drop on the disk map.
Download NIUBI Partition Editor, you'll see all disk partitions with structure and other information on the right, available operations to selected disk or partition are listed on the left or by right clicking.
In Disk 0, there is drive C, D, E and a system reserved partition, original size of partition C is 40GB.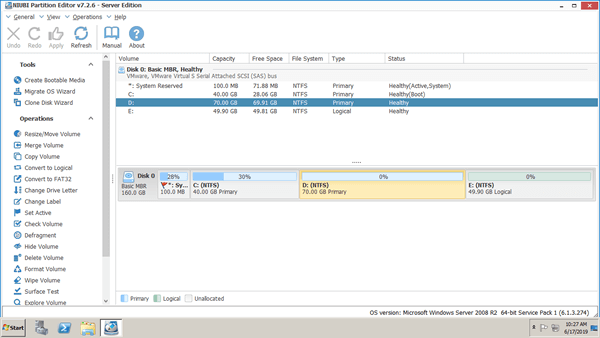 Steps to increase C: drive space in Windows Server 2008 R2:
Step 1: Right click drive D: and select "Resize/Move Volume", drag left border towards right in the pop-up window, or enter an amount in the box behind "Unallocated space before" (1024MB=1GB).
Step 2: Right click C: drive and select "Resize/Move Volume", drag right border towards right in the pop-up window..
Click Apply on top left to take effect.
As long as there's free unused space in other partition on the same disk, NIUBI can transfer into C drive, no matter these partitions are adjacent or not. Watch the video how to increase C: drive free space in Windows 2008 server from other volumes: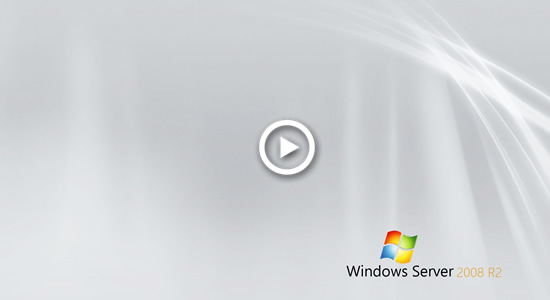 If you use any types of hardware RAID arrays or VMware/Hyper-V, just follow the steps in the video, there is no difference to resize and extend virtual disk partitions.
Increase size of partition C with other disk
If there is no available free space in entire disk, the method above is invalid. No software can increase C drive size by add free space from other separated disk. However, you can clone original disk to a larger one and increase C drive with additional disk space.
The separated disk means Disk 0, 1 (or other) that shown by NIUBI or Windows Disk Management.
Follow the steps in the video to increase C drive size in Windows Server 2008 with other disk: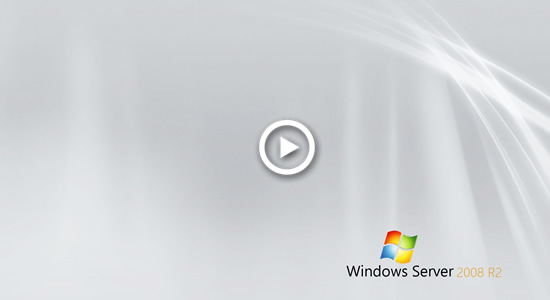 In Summary
To decrease data partition and increase C drive space in Windows Server 2008 R2, you need 3rd party software in most cases. To ensure Operating System and data safety, you'd better back up and select a reliable tool. Otherwise, there is risk of system damage and data loss. Better that other tools, NIUBI Partition Editor has powerful technologies to protect system and data.
Virtual Mode

- all operations will be listed as pending for preview, real disk partitions won't be modified until click Apply to confirm.

Cancel-at-well

- if you applied wrong operations, it doesn't matter, you can also cancel the ongoing operations without losing data.

1 Second Rollback

- if encounter any error while resizing partition, it automatically reverts server to original status in a flash.
It is also much faster because of the advanced file-moving algorithm.

Besides changing partition size, NIUBI Partition Editor helps you copy, convert, defrag, wipe, create, delete, format partition and much more. Local/removable hard disk with any interface, all types of hardware RAID with any controller, VMware/Hyper-V, USB disk and memory cards are all supported.