This article introduces why cannot extend volume with Diskpart command or in Windows Server 2012 R2 Disk Management, and what to do when unable to extend disk partition.
Why cannot extend partition via Server 2012 Diskpart
Many server administrators like to use command line tool. To extend partition in Windows Server 2012, Diskpart is one of the options, which is built-in tool integrated from Windows XP. However, it only works in special way. Many people receive error while extending partition with this native tool such as:
The volume cannot be extended because the file system does not support it.
There is not enough usable free space on specified disk(s) to extend the volume.
The size of the extend is less than the minimum.
Press Windows and R, type diskpart and press Enter, type help extend and you'll see the reasons why Diskpart cannot extend volume.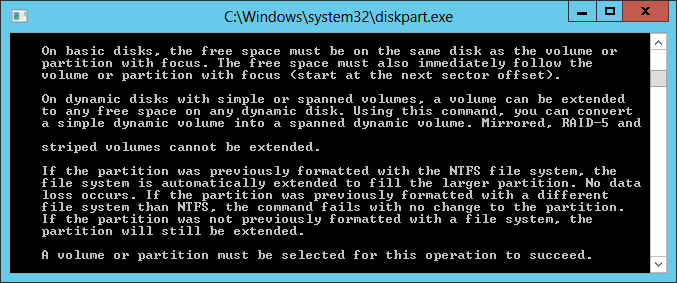 To be short:
On basic disk, there must be

adjacent

Unallocated space on the

right

side of the volume that you want to extend.
Only the partitions that are formatted as

NTFS

or without file (RAW) system can be extended.
In other words, Diskpart can only extend NTFS by deleting the adjacent partition on the right.
Diskpart command prompt window only show you single partitions with associated information, it doesn't show disk structure or any Unallocated space.
Why can't extend volume in Server 2012 Disk Management
The same with Diskpart, Disk Management can't extend a partition by shrinking other one.
There is an additional reason why Server 2012 Disk Management cannot extend partition.
What to do when unable to extend disk partition
If you cannot extend volume C because the Unallocated space is non-adjacent, you can move Unallocated space to the left and then combine to C drive.
Steps to fix cannot extend partition in Windows Server 2012:
Step 1: Download NIUBI Partition Editor, right click the contiguous partition (D:) and select "Resize/Move Volume", drag middle position towards right in the pop-up window:
Step 2: Right click drive C: and select "Resize/Move Volume" again, drag right border towards right in the pop-up window.
Step 3: Click Apply on top left to take effect.
If you want to merge Unallocated space to the right partition (E:) or extend any FAT32 partition, simply drag the border to combine (similar with STEP 2).
Watch the video how to fix Extend Volume disabled issue in Windows Server 2012: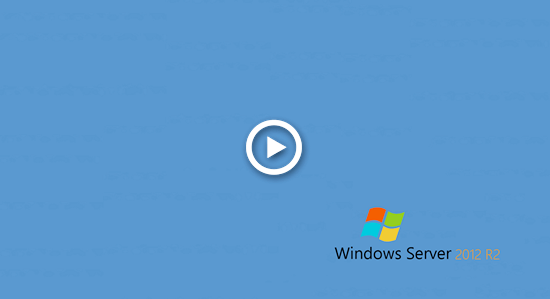 Besides shrinking, moving and extending partition, NIUBI Partition Editor helps merge, copy, convert, defrag, wipe, hide, scan partition and much more.