This article introduces how to shrink volume D: to extend C: drive in Windows Server 2012 without losing data. Move and transfer disk space from D to C.
Can't shrink D to expand C in Server 2012 DM
When system partition C is getting full, you may extend it with free unused space in other volumes. So, you can solve this problem without wasting a long time to recreate partitions and restore from backup.
There are Shrink Volume and Extend Volume functions in Server 2012 native Disk Management to resize partitions. However, if you want to extend C: drive by shrinking D with this tool, it is impossible.
Shrink D to extend C drive with NIUBI
Comparing with Server 2012 Disk Management, NIUBI Partition Editor is much more powerful:
Both NTFS and FAT32 partitions are support.
Unallocated space can be made on either side when shrinking a partition.
Partitions with contiguous Unallocated space can be extended by 1 step.
Unallocated space can be moved and combined to any nonadjacent partitions.
It also helps you merge, copy, convert, defrag, wipe, hide, scan partition, etc.
Download it and you'll see all disk partitions with structure and other information in the main window. Original C: drive is 40GB and D is 70GB.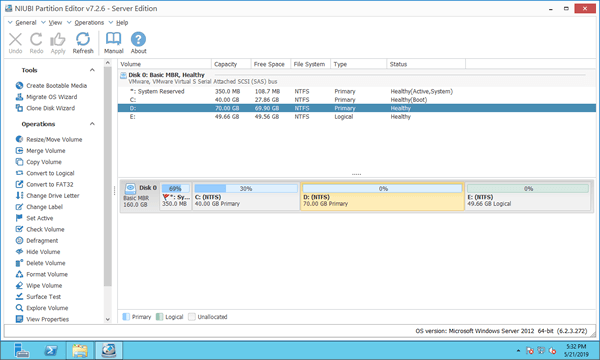 Available operations to selected disk or partition are listed on left side or by right click. To shrink and extend partitions, you just need to drag and drop on the disk map.
Steps to shrink partition D and expand C in Windows Server 2012:
Click Apply on top left to execute, done.
If the adjacent partition is E: in your server, the steps are exact the same with above, just replace D with E.
Better than other tools, NIUBI Partition Editor has unique technologies to protect system and data:
1 Second Rollback - automatically reverts server to original status in a flash if encounter any error.
Virtual Mode - avoid mistake by list operations as pending for preview and real disk partitions won't be changed until click Apply to confirm.
Cancel-at-well - if any wrong operations are executing, you can cancel them without causing damage.
While shrinking partition D, all files in it should be moved to new locations. It may costs long time if there are large amount of files in it. NIUBI is much faster because of its special file-moving algorithm.
Method when C and D are in different disk
If drive C is in Disk 0, but partition D is in Disk 1, or in other word there is no other partition in the same disk of C drive. No partitioning software can extend C drive with D or other partition from another separated disk. The separated disk here means Disk 0, 1, 2, etc. that shown by NIUBI, no matter they are physical disk or RAID array virtual disk.
In this case, you can clone disk to a larger one with NIUBI Partition Editor and then extend C drive with extra disk space.