This article introduces how to extend volume in Windows Server 2012 (R2) native Disk Management, its disadvantages and better method to extend disk partition.
Precondition to use extend volume
Many server administrators need to resize allocated partition after running the server for a period of time. Especially when system partition C is running out of space, nobody likes to reinstall Windows and programs. It also costs a long time to recreate partition and restore from backup.
Microsoft provides Shrink and Extend Volume function in native Disk Management tool to help change partition size. However, both functions have restrictions that cause you cannot shrink and extend partition in some situations.
To increase partition size with Extend Volume in Server 2012 Disk Management, your disk partition configuration must meet the requirements:
1.

Both partitions that you want to shrink and extend must be formatted as NTFS, other types of partitions are not supported.

2.

There must be adjacent Unallocated space on the right side of the drive that you want to expand.
After shrinking partition D, you can't extend volume C and E. Because Unallocated space can only be made on the right side of D, it is non adjacent to C drive and is on the left side of E drive.
As you see in my server, Extend Volume is disabled for these partitions.
3 In most of servers, programs or some Windows services are installed in drive D, so you cannot delete it to get adjacent Unallocated space. Furthermore, if D is a Logical partition, you still cannot extend volume C by deleting it.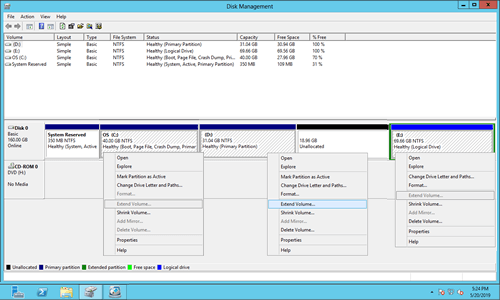 How to extend volume in Server 2012 DM
When your disk partition configuration meets the requirements and the right adjacent partition can be deleted, it is very easy to extend volume via Windows Server 2012 Disk Management. Steps:
Step 1: Open Disk Management (press Windows and X on keyboard), right click the partition (here is D:) and select "Extend Volume".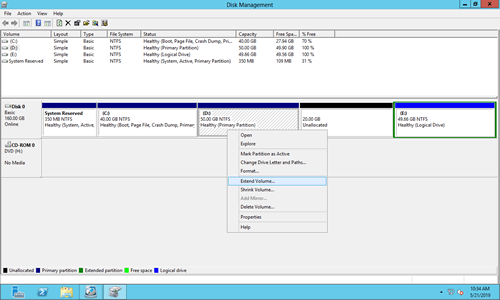 Step 2: Extend Volume Wizard window will be opened, simply click Next to continue.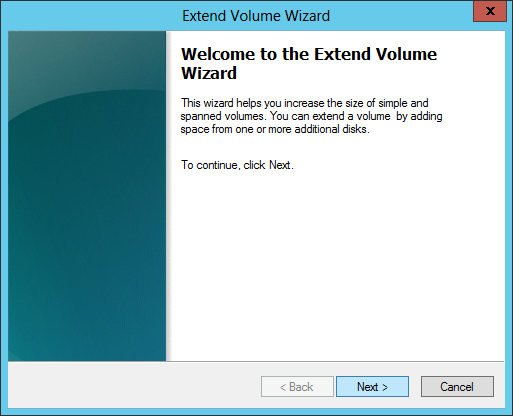 Step 3: Available disk and space is selected by default, click Next to continue or manually change it first.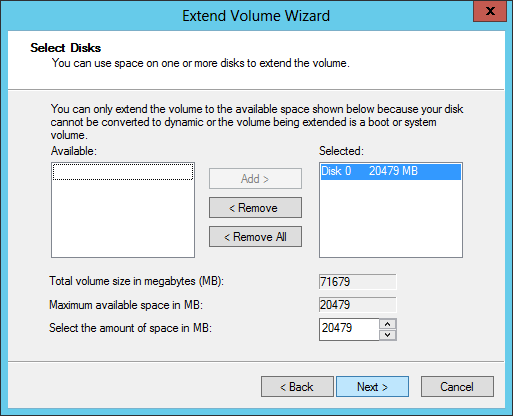 Step 4: Click Finish to confirm and start extending.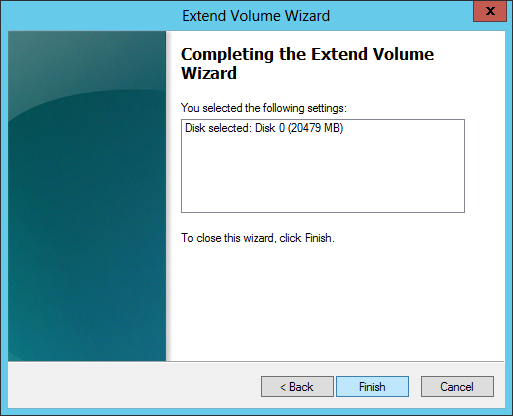 Better way to extend volume with partition editor
To extend volume in Windows 2012 server, NIUBI Partition Editor is better choice. Comparing with the native Disk Management tool, it has advantages such as:
Both NTFS and FAT32 partitions are supported (shrink and extend).
Unallocated space can be generated on either side when shrinking a volume.
Unallocated space can be combined to either contiguous partition by one step.
If Unallocated is non adjacent to the partition that you want to extend, NIUBI can move it to be adjacent.
It helps to many other disk partition operations such as clone, convert, merge, hide, wipe, scan, etc.
Comparing with other server partition software, NIUBI also has advantages such as:
1 Second Rollback - automatically reverts server to original status in a flash if encounter any error.
Virtual Mode - avoid mistake by list operations as pending for preview and real disk partitions won't be changed until click Apply to confirm.
Cancel-at-well - if any wrong operations are executing, you can cancel them without causing damage.
Hot-Resize - complete most of operations on the fly without rebooting server.
Unique moving algorithm - resize and extend partition much faster (30% to 300%).
Download NIUBI Partition Editor and follow the steps in the video to extend volume partition in Windows Server 2012 (R2).