This article introduces how to increase partition size on Windows Server 2012 R2. Increase size of system partition or data drive D, E without data loss.
After running the server for a period of time, it is very common that a drive runs out of space, especially to system partition C. In this situation, nobody likes to waste a long time to recreate partitions and restore from backup. It can't be better if you can increase partition size without losing data fast and easily.
Windows Server 2012 Disk Management has built-in Extend Volume function to help increase size of allocated partition. However, it only works by deleting other partition, so it is useless in most cases. Third party software is better choice, but you'd better back up first and run the safest tool. In this article, I'll show you detailed steps to increase partition size for Windows 2012 server. Select corresponding method according to your own disk partition structure.
1. Increase partition size in Server 2012 Disk Management
As I said above, before extending a partition with Disk Management, you must delete another one, there's Shrink Volume function, why not shrinking partition without losing data?
2. How to increase system partition size in Windows 2012 server
Comparing with Server 2012 Disk Management, third party partitioning software has many advantages such as:
Both NTFS and FAT32 partitions are supported to shrink and extend.
While shrinking a volume, Unallocated space can be generated on either side.
Unallocated space can be merged to either contiguous or non-adjacent partition on the same disk.
Has other ability to merge, copy, convert, wipe, hide partition, scan bad sectors, etc.
There are many software to help decrease and increase partition size in Windows Server 2012/2016/2019, but as I said above, you'd better select the safe one, because there's potential system damage and data loss risk. Better than other software, NIUBI Partition Editor has innovative technologies such as:
1 Second Rollback

- automatically reverts server to original status in a flash if any error happens while repartitioning.

Virtual Mode

- all operations will be listed as pending for preview, simply click Undo to cancel if you did something wrong.

Cancel-at-well

- if you applied incorrect operations, you can cancel the ongoing operations without causing damage.
Advanced

file-moving algorithm

- resize and move partition 30% to 300% faster.
Download NIUBI Partition Editor and you'll see all disk partitions with structure and other information. In my server 2012, there is C, D, E and system reserved partition in Disk 0. Original C: drive is 40GB and D: is 70GB.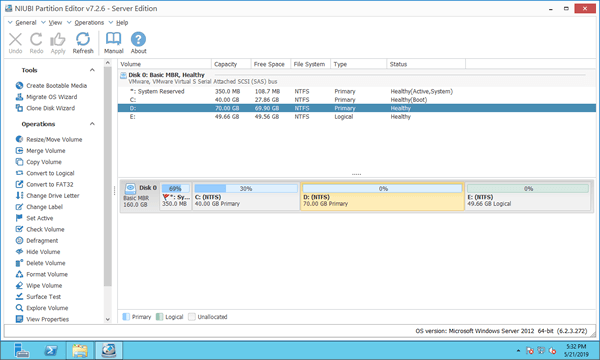 Steps to increase system partition size on Windows Server 2012 r2:
Step 2: Right click D: and select "Resize/Move Volume", drag left border towards right in the pop-up window. (Or enter an amount in the box behind Unallocated space before)
Step 2: Right click system partition C: and select "Resize/Move Volume" again, drag right border towards right to combine Unallocated space.
Step 3: Click Apply to take effect to real disk partitions.
Watch the video how to increase size of system partition C in Windows Server 2012: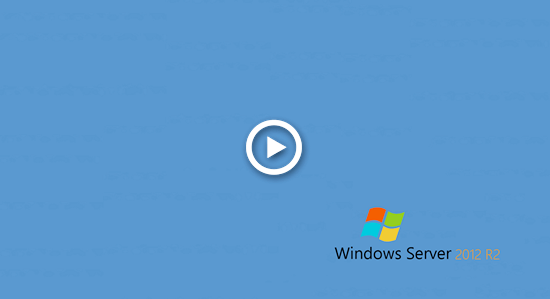 3. How to increase partition size of D (data drive)
When expanding a data volume for Windows 2012 server, there are 2 common options.
4. How to increase volume size with another disk
In some servers, system partition C is full but there is no other partition on the same disk, or the entire disk is small and you can't get free space from other partitions. Then you need to copy this disk to another larger one. No partitioning software can add space to C drive from another separate disk.
Note: Unlike data volume, C: drive is where Operating System running from, copying single C: drive cannot ensure Windows bootable.
How to increase partition size in Windows Server 2012 with another larger disk: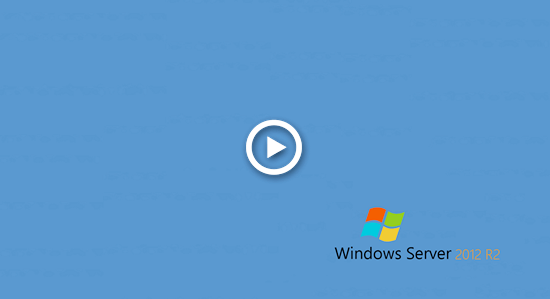 In Summary
Windows Disk Management is useless if you want to increase size of a partition by shrinking another one. NIUBI Partition Editor provides full solution to help accomplish this task fast and safely, no matter you want to increase system partition size or add disk space to any data volumes. Besides changing partition size, it helps you do many other operations.