This article introduces how to shrink system partition in Windows Server 2012 R2. Shrink C drive for Server 2012 to expand D or other volume without losing data.
Disk partitions have been allocated after installing Operating System, but sometimes you need to repartition hard drives. For example: you forgot to edit disk while installing Windows, so the system partition C occupied all disk space. Another typical example is that drive D runs out of space but there is plenty of free space in C drive.
In these situations, you can shrink system partition C to create new or expand other volumes without reinstalling OS. To shrink system C: drive on Windows Server 2012, there are two choices: native Disk Management and 3rd party disk partition software. This article introduces detailed steps with both tools.
Shrink system partition without software
Windows Server 2012 has Shrink Volume feature in the built-in Disk Management utility, which is able to shrink system partition and any data volumes without losing data. It is easy, fast and able to decrease partition on the fly without rebooting server, but meanwhile, it has some restrictions.
Steps to shrink C drive with Server 2012 Disk Management:
Press 

Windows

 and 

X

 on your keyboard, and then select Disk Management from the list.
Right click C drive and select 

Shrink Volume

.
Enter the amount of space and click 

Shrink

 to proceed.
In a short time, the system C drive will be shrunk.
If you just want to shrink system partition to create new volumes, you can achieve without any software in most cases. But Disk Management is not the best tool because of some limitations.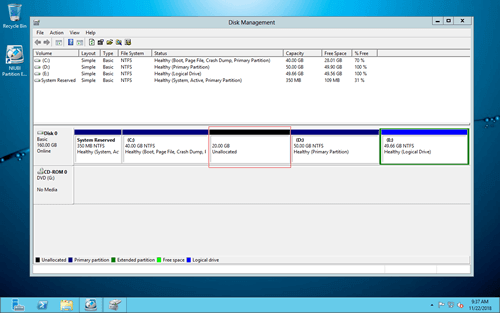 Limitation to shrink C drive in Disk Management
1.

Cannot shrink C drive beyond unmovable files

In the shrinking window, there is a tip - You cannot shrink a volume beyond the point where any unmovable files are located.

In my test server, D drive is blank with 50GB space, but in the shrinking window, Disk Management gives me only 19417MB (18.96GB) available space.

The "unmovable" files include Paging file, Hibernation and other large files. Most of such files are located in system C drive by default. Therefore, you may encounter such issue while shrinking C: drive.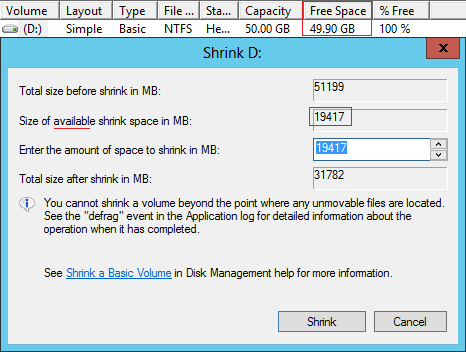 2.

Cannot extend other volume after shrinking partition C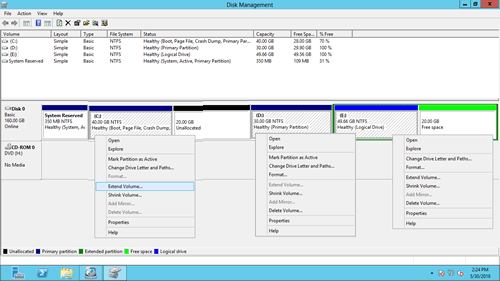 As you see in my server, Extend Volume is disabled for D: drive after shrinking both C: and E, this is because:
Unallocated space can only be made on the

right

after shrinking a drive with Disk Management.
Unallocated space can only be combined to the

left contiguous

drive with Extend Volume function.
Therefore, no matter you want to extend D: drive or the System Reserved partition, you cannot achieve by shrinking partition C via Disk Management.
Another native tool - Diskpart command has same restrictions.
How to shrink C drive and expand volume D
To shrink C drive volume in Windows Server 2012, NIUBI Partition Editor is better choice.
You just need to drag and drop on the disk map to resize partition.
Both NTFS and FAT32 partitions can be shrunk and extended.
Unmovable files can be moved, so you can shrink partition to minimum size if you want.
Unallocated space can be made on either side while shrinking a partition.
Unallocated space can be combined to either contiguous or any nonadjacent partitions in the same disk.
Download NIUBI Partition Editor and follow the steps in the video: