This article introduces how to resize partition on Windows Server 2012 R2 without losing data. 3 ways to resize volume for Server 2012 with detailed steps.
Partition size and number are allocated while installing Windows or from OEM manufacturers. Many 2012 servers have run several years, so original partition structure and size should be modified. For example: system partition C or the drive for exchange, database, backup is running out of space. Then you can resize partitions and add more space to C drive or other one that that is running low.
When resizing partition for Windows 2012 Server, the first thing you should concern is safety of both Windows and data. Nobody likes to see boot failure, partition damage or data loss.
Resize partition via Server 2012 Disk Management
Some people like to use Windows built-in tools, thinking they have best compatibility and security. If you want to resize server 2012 volumes, there is indeed a native tool - Disk Management, which has Shrink Volume and Extend Volume functions to decrease and increase partition size.
Steps to resize partition with Server 2012 Disk Management:
Press Windows and X on the keyboard, and then click Disk Management from the list.
To shrink a partition:
Right click a drive and select Shrink Volume.
Enter an amount of space and click Shrink.
To extend a partition:
Right click the partition with adjacent Unallocated space and click Extend Volume.
Simply click Next till Finish in the pop-up Extend Volume Wizard window.
It seems very easy to resize Server 2012 partitions, but you can't shrink D to expand C, because Disk Management has many restrictions:
It can only shrink a volume towards left and make Unallocated space on the right side.
Only the partition with adjacent Unallocated space on the right side can be extended.
Only NTFS partition can be shrank and extended, other types of partitions are not supported.
Other disadvantages include:
If there are unmovable files located, it can only shrink this partition with little space.
If partition D is Logical, C: drive still can't be extended after deleting it.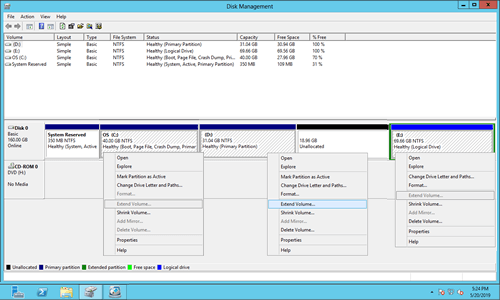 Resize volume with server partition software
With disk partition software, there are no such restrictions, you just need to drag and drop on the disk map to resize partitions. Comparing with other software, NIUBI Partition Editor is safer and faster because of its unique technologies:
1 Second Rollback

- automatically reverts server to original status in a flash if encounter any error.

Virtual Mode

- all operations will be listed as pending for preview, simply click Undo to cancel if you did something wrong.

Cancel-at-well

- if you applied incorrect operations, you can also cancel the ongoing operations without causing damage.
Advanced

file-moving algorithm

- resize and move partition 30% to 300% faster.
Download NIUBI Partition Editor and you'll see all disk partitions with structure and other information. There is C, D, E and system reserved partition in Disk 0. Original C: drive is 40GB and D: is 70GB.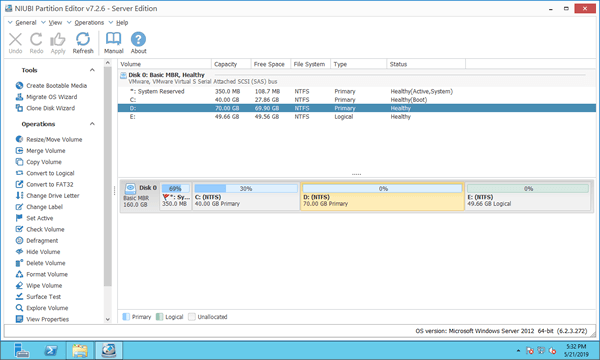 For example how to resize partition D to expand C in Windows Server 2012:
Step 1: Right click drive D: and select "Resize/Move Volume", drag left border towards right in the pop-up window. (or enter an amount manually)
Step 2: Right click system partition C: and select "Resize/Move Volume" again, drag right border towards right to combine Unallocated space.
NIUBI is designed to work in virtual mode first, the operations you do will be listed as pending on bottom left. Click Apply to take effect to real disk partitions.
As long as there is unused space in any other partitions of the same disk, you can transfer and add into C drive, no matter the partitions are contiguous or not, on left or right side.
Watch the video how to resize partition in Windows Server 2012 R2: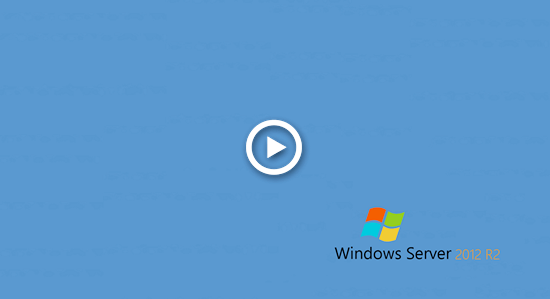 Resize partition with other disk
In most cases, follow the step above and you can resize physical and virtual partition for local and Guest server. If you use any types of hardware RAID arrays, there is no difference. Do not break RAID array or do any operations to RAID controller.
However, in some servers, there is no other partition or not plenty of unused space in the same disk. No partitioning software can shrink partition in Disk 1 to extend partition in Disk 0.
In that case, you can clone to a larger disk and extend partition with extra disk space. Follow the steps in the video: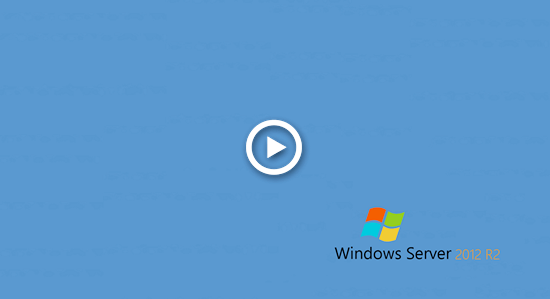 In Summary
Disk Management can only help decrease a partition to create new and increase a partition by deleting the adjacent one. To resize partition volume in Windows Server 2012, NIUBI Partition Editor is better choice. Beside resizing disk partition, it helps merge, copy, convert, defrag, hide, wipe partition, scan bad sectors and much more.