This article introduces why cannot merge Unallocated space to C drive with Disk Management, and how to fix this issue easily.
Applies to: Windows 10, Windows 8, Windows 7, Windows Vista, Windows XP, Windows Server 2019, Windows Server 2016, Windows Server 2012 (R2), Small Business Server 2011, Windows Server 2008 (R2) and Windows Server 2003 (R2).
Before using a brand new hard disk drive, you must initialize it. After that, all disk space is shown as Unallocated. You can create one or more partitions with this Unallocated space. After creating and formatting, you can save files to the partition(s). After you deleting a Primary partition, its disk space will be changed to Unallocated again. In Windows XP and Server 2003 native Disk Management tool, you can only get Unallocated space by deleting a partition or create new volume with it. From Windows 7 and Server 2008, you can get Unallocated space by shrinking a partition without losing data and extend an allocated partition by merging Unallocated space. It is an improvement if you want to change partition size. However, both Shrink and Extend functions have restrictions. Many people feedback that they cannot merge Unallocated space to C drive partition after shrinking D. In this article, I'll explain the reason and show you easy solution.
1. Why Disk Management cannot merge Unallocated space to C drive
Most of Windows PC/server users encountered the issue that system C: drive is getting full. Nobody likes to reinstall everything or waste a long time to back up, recreate partitions and restore everything, therefore, many people try to expand C drive. It is easy to shrink D or other partition to get Unallocated space via Disk Management, but you'll find that this Unallocated space can't be combined to C drive, because Extend Volume is always grayed out.
Why cannot merge Unallocated space to C drive via Disk Management:
Extend Volume function can only combine Unallocated space to the left contiguous partition. Furthermore, this partition must be formatted with NTFS file system.
Shrink Volume function can only shrink a NTFS partition towards left and make Unallocated space on the right.
As you see in the screenshot, Unallocated space that shrunk from D is nonadjacent to C: drive, of course Extend Volume doesn't work.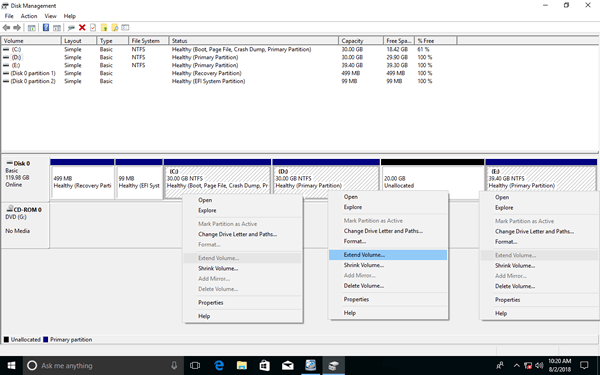 Then how to fix this issue? 1 of the solutions is deleting D: drive to enable Extend Volume. After deleting D, you'll get Unallocated space that is behind C drive. However, there are 3 points you should know:
Don't delete this partition if you installed programs or any Windows services in it.
If you can delete this partition, remember to transfer files to other place before deleting.
If the contiguous partition D is a Logical drive, you won't get Unallocated space after deleting it, therefore, you still cannot extend C drive.
If you don't want to or cannot delete partition, you have to run third party software. To Windows 10/8/7/Vista/XP home users, there's free partition editor software.
2. How to merge Unallocated space to C drive with free partition editor
Download NIUBI Partition Editor and you'll see the main window with disk partition structure and other information. There's 20GB Unallocated space which is shrunk from D: drive.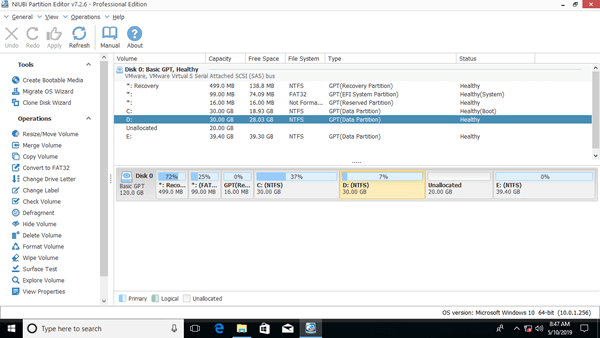 Steps to merge Unallocated space to C drive in Windows 10/8/7/Vista/XP with NIUBI:
Right click D: drive and select "Resize/Move Volume", drag the

middle

towards right in the pop-up window, then Unallocated space is moved to the left side.
Right click C: drive and select "Resize/Move Volume" again, drag

right border

towards right in the pop-up window, then Unallocated space is combined to C: drive.
Click

Apply

on top left to confirm and execute. (Real disk partitions won't be modified until click Apply to confirm.)
Follow the steps in the video: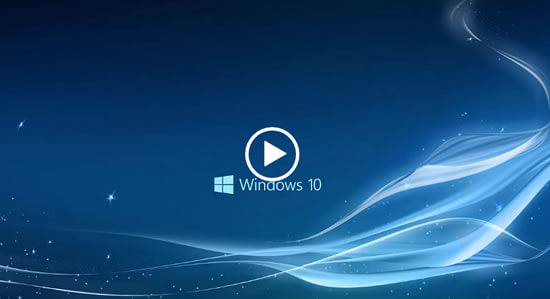 Better than other tools, NIUBI Partition Editor has Virtual Mode and Cancel-at-well technologies to avoid incorrect operations. Because of its advanced file-moving algorithm, it is 30% to 300% faster. This is very important especially to a server, because while moving Unallocated space, all files in D: drive will be moved to new locations, too. A good algorithm saves much time. In addition, the commercial editions have unique 1 Second Rollback technology to protect system and data. If anything goes wrong, it automatically reverts computer to original status.
3. Solution - cannot combine Unallocated space to C drive from another disk
In some personal computers and servers, there's not enough free space on the same disk. Some people shrunk a partition on another disk and want to combine to C drive. It is not possible with any partitioning software, because the size of a physical disk is fixed. If free or Unallocated space can be transferred to another disk, this disk could be changed from 500GB to 1TB. It is impossible, right?
When there's no available free space on the system disk, you have 2 options to extend C drive:
Move a data partition to another disk, delete it and combine its space to C drive.
Copy whole system disk to a larger one and extend C drive with extra disk space.
If you use virtual machine, it's much easier, follow the steps to expand virtual disk in Hyper-V or VMware, and then merge additional Unallocated space to C drive.
In Summary
No matter you use Windows 10/8/7 or Windows Server 2019/2016/2012/2008, the native Disk Management tool cannot merge Unallocated space to C drive after shrinking other partitions. To do this, you need third party software. Because of the powerful data protection and fast files moving ability, NIUBI Partition Editor is the best choice. Besides moving and merging Unallocated space, it helps you do many other disk partition management operations.