This article introduces how to free up disk space on Windows Server 2019, 8 ways to clean up Server 2019 disk to reclaim space.
The same with previous Windows version, disk drive in Server 2019 runs out of disk space, too. To data drives that used for backup or projects, you may transfer files and change files output location to other drives. But to system C drive, it is much more complicated. This article introduces how to free up disk space in Windows Server 2019 with Disk Cleanup and other methods, then you can reclaim disk space in C drive. In addition, you'd better increase C drive to larger size with free space in other drives.
Run Windows Server 2019 Disk Cleanup utility
The same with previous versions, Windows Server 2019 has built-in Disk Cleanup utility to help free up disk space. It can scan and delete most of unnecessary and junk files in your disk drive. I use Disk Cleanup from Windows XP whose GUI and steps keep the same over 10 years. I still like to use this tool, because it is easy and fast, the most important - safe.
How to free up disk space with Windows Server 2019 Disk Cleanup tool:
Press

Windows

and

R

together on your keyboard, type cleanmgr and press

Enter

.
Select C: drive in the drop-down box and click OK.
Click the check-boxes of the files that you want to delete.
Click OK and Disk Cleanup will begin to clear up junk files.
If you don't want to select files manually every time, follow the steps to clean up with command automatically.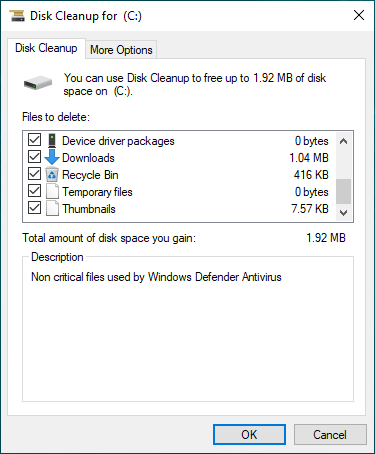 This is a new test server, so there are few junk files to clean up. To the servers that are running for a long time but never free up disk space, you'll get much more free space. However, few servers can reclaim over 10GB disk space.
Additional options to free up disk space in Windows Server 2019
If you want to free up more disk space in Windows Server 2019, you may try the additional options below:
1.
Delete Shadow Copies
If you enabled Shadow Copy, you can delete the previous copes.
Open Window File Explorer
Right click C drive and click Properties, and then switch to Shadow Copies.
Select the previous copies and click Delete Now.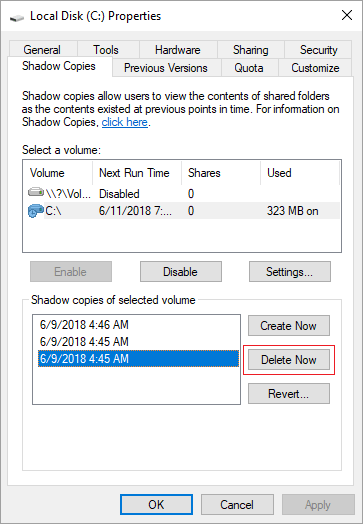 2.
Reset Recycle Bin
All files that deleted by pressing DEL without SHIFT key will go to Recycle Bin, where you can revert these files to original location manually if you deleted them by mistake. Recycle Bin use part of space of C drive by default, so more files in Recycle Bin means less free space in C drive.
You can change the location of Recycle Bin to other larger partition.
Right click Recycle Bin.
Select the drive for Recycle Bin.
Select Customer size and enter an amount.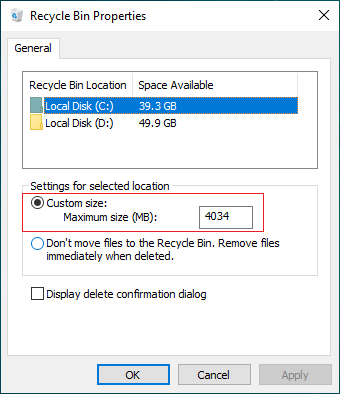 3.
Reset Page file
Page file uses part of disk space as virtual RAM and it is located in C drive by default. You can change it to other partition when C drive is running low. Steps:
Press Windows and R on keyboard to start Run.
Type sysdm.cpl ,3 and press Enter.
Click Settings under Performance in Advanced tab.
Click Change under Virtual Memory.
Uncheck Automatically manage paging file size for all drives on the top.
Select D: or other drive, enter amount of Initial size and Maximum size in Customer size radio box, and then click Set.
Select C: drive and select No paing file radio box, then click Set.
Click OK. (It may requires reboot to take affect)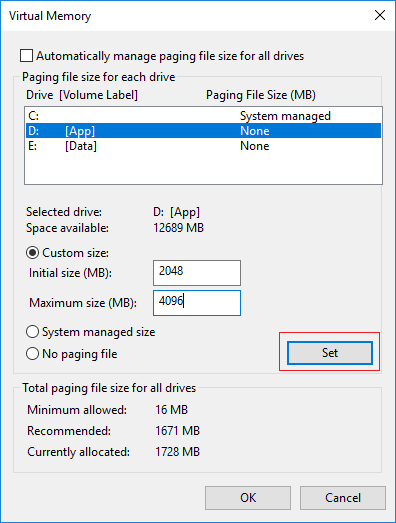 4.
Uninstall apps
You may uninstall some programs that you no longer use or that came preinstalled on your computer from the manufacturer. Steps:
Open Settings
Click Apps > Apps & features
Click the items that you want to remove and click Uninstall.
5.
Save files to new location
You can change the default save locations for apps, documents, music, pictures, and videos to other place, so these types of new files will be saved to other partitions.
Open Settings.
Click System> Storage.
Under "More storage settings", click Change where new content is saved.
Click the drop-down menu to select new location.
6.
Change output location
All programs are installed to C drive by default and many of them output files there, too. The programs for videos and projects, as well as some Windows services output many large files, so you'd better change the default output location to other large drives.
7.
Turn on Storage Sense
Storage Sense can free up disk space automatically when a drive is running out of space. It can delete temporary files and files in Recycle Bin and the Downloads folder. To enable Storage Sense in Windows Server 2019:
Open Settings
Go to System > Storage
Switch Off to On under Storage Sense on the right side.
Increase C drive free space
Disk partitions are allocated while installing Windows or by OEM manufacturer, but you can change partition size without losing data.
Download NIUBI Partition Editor and follow the steps in the video: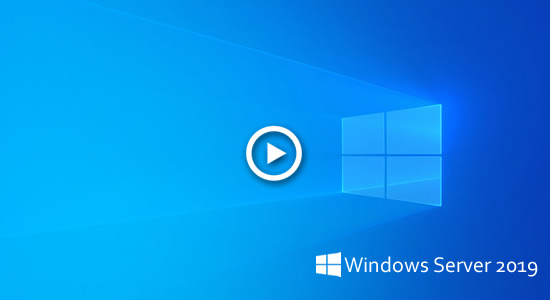 This software is designed to work in virtual mode first, real disk partitions won't be changed until click

Apply

to confirm.
If you use any types of hardware raid arrays, do not break array or do any operation to controller, simply follow the steps in the video.
If entire disk is full, follow the steps to copy to a larger one, while copying disk, you can add additional space to C drive.
Besides shrinking and extending partitions, NIUBI Partition Editor helps do many other operations.