This article introduces how to shrink volume in Windows Server 2019 without losing data, 2 ways to shrink partition on Windows Server 2019 with detailed steps.
All disk partitions are allocated while installing Operating System or from server OEM manufacturer, but sometimes you need to shrink allocated partition. The typical example is that some people forget to create and edit partition while installing Windows, so all disk space are occupied by C drive except some small system reserved partitions. What to do in this situation? You can shrink partition in Windows Server 2019 without reinstalling.
If you want to create more drives to save different types of files. You can shrink large hard drive to release Unallocated space, and then you can create new volumes with this space. This article shows 2 methods to shrink volume on Windows Server 2019.
How to shrink partition with Server 2019 Disk Management
The same with previous versions, Windows Server 2019 Disk Management has built-in Shrink Volume functionality, which is able to shrink NTFS partition without losing data. However, comparing with server partition software, this native tool has many limitations, so it is not the best tool. I'll talk about the limitations in next section, firstly, let's see how it works.
Steps to shrink partition with Windows Server 2019 Disk Management:
Press

Windows

and

X

together on your keyboard, select Disk Management in the list.
Right click a NTFS partition and select Shrink Volume.
Enter an amount of space and click Shrink. If you do not enter an amount manually, the

maximum

available free space will be used.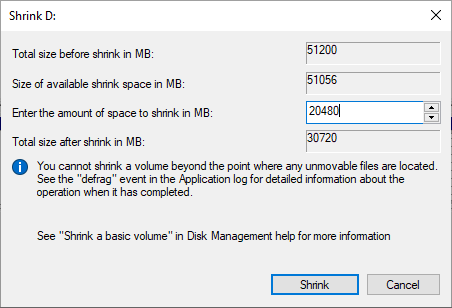 In a short while, this drive will be shrunk and some Unallocated space will be generated on the right of this drive.
Limitations of Windows Server 2019 Shrink Volume function
As I said above, Server 2019 Disk Management has many limitations while shrinking partition, here I'll show you one by one.
1. Only NTFS partition is supported
Disk Management can only shrink NTFS partition, FAT32 and other other types of partitions are not supported. When you right click a FAT32 partition, Shrink Volume is greyed out.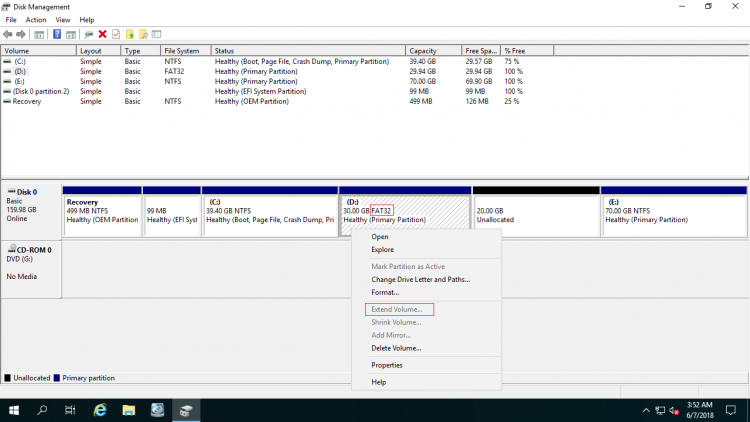 2. Only support shrinking towards left
When you shrinking volume with Server 2019 Disk Management, you can only shrink this drive towards left and generate Unallocated space on the right side. It does not give option to select.
3. Cannot shrink volume beyond limit
Do you notice the tips in the shrinking window -"You cannot shrink a volume beyond the point where any unmovable files are located."?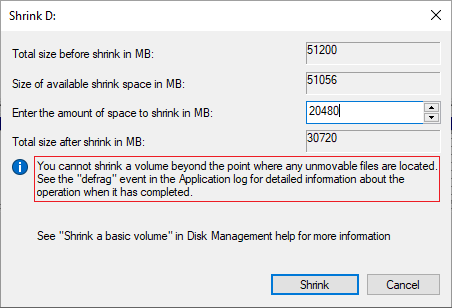 For example: C drive is made up of 4 blocks 1, 2, 3 and 4. If the unmovable files are located in block 3, you cannot shrink volume to block 2 or 1 even though there is free space.

This is the reason why many people feedback that they cannot shrink volume beyond half limit. They can only shrink little space even though there is plenty of free space in this drive. These "unmovable" files include Paging file, hibernation and other large files.
Better way to shrink volume with server partition editor
Comparing with Server 2019 built-in Disk Management tool, NIUBI Partition Editor supports both NTFS and FAT32 partitions. It can generate Unallocated space on either left or right while shrinking partition. Furthermore, it can move these "unmovable" files, so it can shrink a drive to minimum size if you want.
How to shrink Server 2019 partition with NIUBI Partition Editor:
Download NIUBI Partition Editor, you'll see disk partition with structure and other information on the right, available operations to selected disk or partition are listed on the left and by right clicking.
Right click the drive that you want to shrink (here is D) and select Resize/Move Volume. In the pop-up window, you have two options.
If you drag left border towards right or enter an amount in the box of Unallocated space before: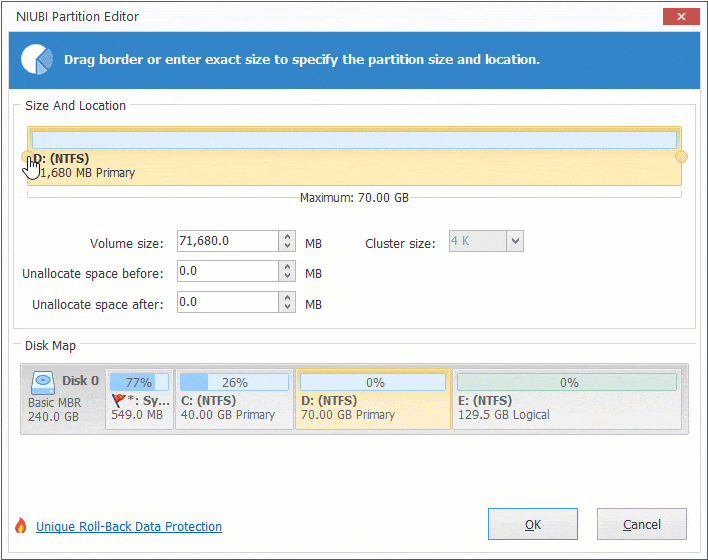 Then Unallocated space is made on the left.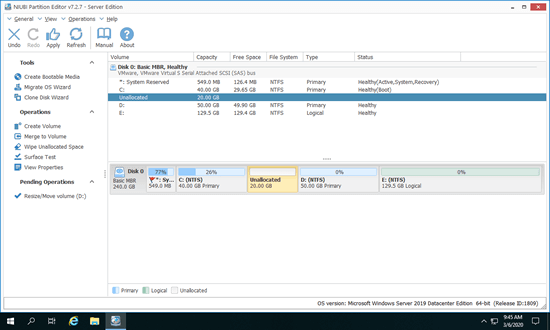 Watch the video how to shrink partition volume on Windows Server 2019: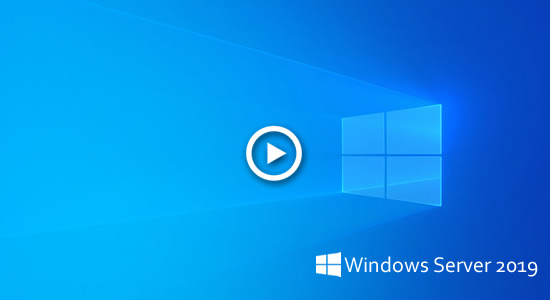 Conclusion
Windows Server 2019 Disk Management can only shrink NTFS partition and generate Unallocated space on the right side. Sometimes you can only shrink little space if there are unmovable files located in this drive. Unallocated space can only be used to create new volume(s), it cannot be extended to other partition with Disk Management, learn why.
If you cannot shrink volume with Disk Management, or if you want to extend partition by shrinking another one, you should run NIUBI Partition Editor.. To shrink and extend volume on Windows Server 2019, you just need to drag and drop on the disk map. Besides shrinking and extending disk partition, it help you do many other operations such as move, merge, copy, convert, defrag, hide, wipe, scan bad sectors.