This article introduces how to shrink C drive in Windows Server 2019 without losing data, shrink system partition to increase D or expand system reserved partition.
The most common issue in Windows Server is low disk space, especially to system C drive, so you need to expand it to larger size. But in some servers, administrators need to shrink C drive, for example: if you forget to create more partitions while installing Operating System, , you'll get a large C drive that occupies all disk space except some small partitions. In some servers, system reserved partition or data drive D is getting full, you can decrease C drive to expand these partitions. In this article I'll show you how to shrink system C drive with Windows Server 2019 native Disk Management and third party partition editor software.
Shrink C drive in Windows Server 2019 without software
Windows Server 2019 Disk Management has built-in Shrink Volume function to help decrease partition size without losing data (in most cases). Better than 3rd-party software, Disk Management can shrink system partition C on the fly (without rebooting). But, it can only shrink a partition towards left and make Unallocated space on the right. In addition, it cannot shrink C drive under some particular environment.
Steps to shrink C drive partition in Windows Server 2019 Disk Management:
Press

Windows

and

X

on the keyboard and click Disk Management in the list.
Right click C drive and select Shrink Volume.
Enter an amount of space and click

Shrink

, if you do not enter a value manually, maximum available space will be used.

In general, C drive will be shrunk in a short time.
Cannot shrink C drive in partition Server 2019 Disk Management
After the last step, my C drive is shrank to 39.4GB and there is 28.95GB free space in it. But when I shrink C drive again, the maximum available space is only 19072MB (18.63GB).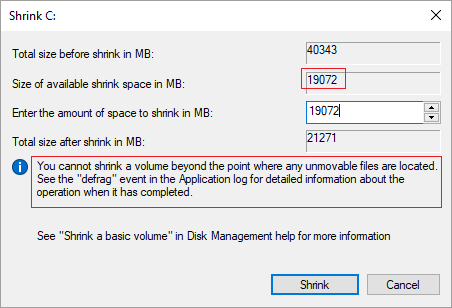 Many people feedback similar issue, some people can only shrink little space, some people cannot shrink C drive with even 1MB. Why there's such issue? If you noticed the tip in this shrinking window, you'll understand the reason. As it shows, you cannot shrink a volume beyond the point where any unmovable files are located.
For example, if there are unmovable files located in block 3, you cannot shrink C drive to block 2 or 1 even if there's free space there.

Shrink system C drive with partition editor software
Comparing with Server 2019 Disk Management tool, NIUBI Partition Editor has more advantages while shrinking partition such as:
Both NTFS and FAT32 partitions can be shrunk.
It can shrink partition and make Unallocated space on either side.
It can move these "unmovable" files, so you can shrink a volume to minimum size if you want.
The same with other software, it requires server rebooting to shrink system C: drive, but better than other tools, NIUBI Partition Editor is much safer and faster because of its advanced technologies such as:
Virtual Mode - all operations will be listed as pending for preview, real disk partitions won't be modified until click Apply to confirm.
Cancel-at-well - if you applied wrong operations, it doesn't matter, you can cancel the ongoing operations without causing damage.
1 Second Rollback - if encounter any error while resizing partitions, it automatically reverts server to original status in a flash.
Advanced

file-moving algorithm

- move and extend partition 30% to 300% faster.
Download NIUBI Partition Editor, right click a NTFS or FAT32 partition and select "Resize/Move Volume". In the pop-up window, there are 2 options.
Option 1: If you drag left border towards right or enter an amount in the box of Unallocated space before, then Unallocated space is made on the left.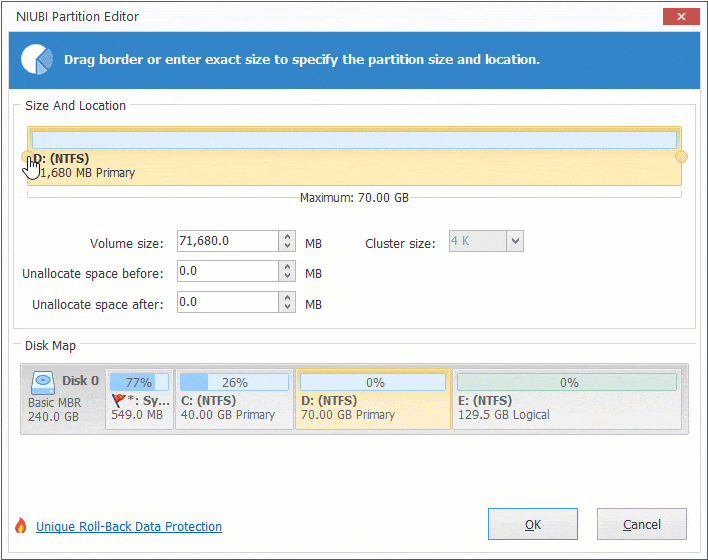 Option 2: If you drag right border towards left or enter an amount in the box of Unallocated space after, then Unallocated space is made on the right.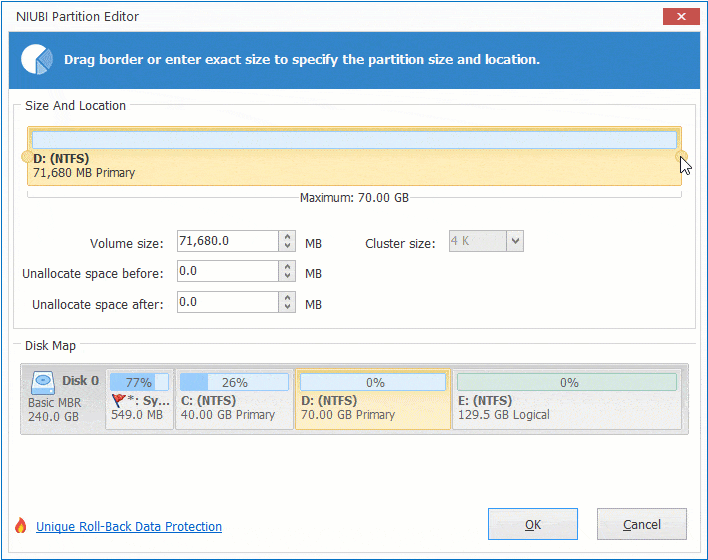 Video guide to shrink C: drive in Windows Server 2019 and expand D or system reserved partition: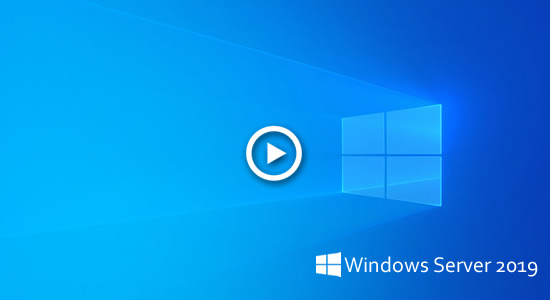 Besides shrinking and extending partitions, NIUBI Partition Editor helps do many other disk and partition management operations.