After running Windows 11 laptop, desktop or tablet computer for a period of time, you may find that C drive is getting full. Many people ask if it's possible to free up disk space on C drive to reclaim disk space. The answer is yes. To free up disk space in Windows 11 computers, you may use either native Disk Cleanup tool or third party software. In this article, I'll introduce how to free up C drive with Windows 11 native Disk Cleanup tool and additional methods.
Free up disk space with Windows 11 Disk Cleanup
The same with previous versions, Windows 11 has a native Disk Cleanup tool to help free up disk space on C: drive any other volumes. This tool is easy to use, runs fast, the most important, it's safe to delete unnecessary files in system partition C.
2 ways to start Windows 11 Disk Cleanup tool:
Open File Explorer, right click C: drive and select Properties, and click Disk Cleanup in next window.
Press Windows and R keys together, type cleanmgr and press Enter, select C: drive in next window.
How to free up disk space on C drive in Windows 11 computer:
Start Disk Cleanup with either method above.
Click the check box if front of the files that you want to delete.
Confirm the deletion in next window.
All files can be deleted without damaging operating system, but you'd better highlight each type of files and read corresponding description below. Also, you'd better first check in Recycle Bin if there are files need to be recovered.
In general, it is fast to complete freeing up disk space in Windows 11 computer. If you want to clean up C drive and get more free space, you may try additional method below.
Additional methods to free up disk space in Windows 11
1. Uninstall apps
You may uninstall some apps and games that you no longer use or that came preinstalled on your computer.
2. Move installed apps and games
Right click Windows logo on taskbar > Settings > Apps > Apps & features
Click an app or game.
Click the Move button.
Select the new location from the drop-down list.
Click the Move button.
Repeat step 2 to move more items.
3. Reset Paging File
Press Windows and R together on your keyboard to open Run.
Input

sysdm.cpl ,3

and press Enter.
Click Settings under Performance in Advanced tab.
Click Change under Virtual Memory.
Uncheck "Automatically manage paging file size" for all drives on the top.
Select D: or other drive, enter amount of Initial size and Maximum size in Customer size radio box, and then click Set.
Select C: drive and select No paging file radio box, then click Set.
Click OK. (It may requires reboot to take affect)
4. Reset Recycle Bin
Right click Recycle Bin in Desktop and click Properties.
Select a drive for Recycle Bin.
Select Customer size and enter an amount.
5. Reset System Protection
Press Windows and R keys to open Run, type

sysdm.cpl ,4

 and press Enter.
Select C drive and then click Configure
Sliding towards the left to decrease the Max Usage of disk space.
If you cannot reclaim over 10GB free space or if C drive was created small, you'd better add more free space to C drive from other partition. Although partitions are already allocated, you can resize partition without losing data.
Extend C drive after freeing up disk space in Windows 11
As the safest and fastest disk partition software, NIUBI Partition Editor helps you accomplish this task safely and easily. Shrink a partition to release free space and then add this space to C drive. After shrinking partition and extending C drive, operating system, programs and anything else keeps the same with before. To Windows 11/10/8/7/Vista/XP home computer users, there's free edition.
Download NIUBI free edition, you'll see all all physical and virtual disks with partition structure and other information on the main window.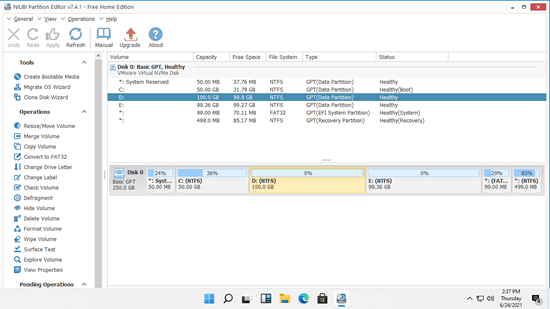 Follow the steps in the video to add more free space to C drive: