How to combine volumes in Windows 7?
All new hard disk should be initialized before using and you should create and format volume before installing Operating System and saving data. Actually, most of the computer users have to do many operations to a disk drive, such as create, delete, format, copy, convert, defrag, shrink, extend, etc. I've written many articles about these operations, today I want to share how to merge partitions. Windows 7 has been released for such a long time and many people have installed or updated to Windows 10, but there are still large amount of computers that are running Windows 7. Merge partition means combine 2 volumes together into a large drive, here you'll see the easiest way to merge partitions in Windows 7 (32 & 64 bit) with free partition manager.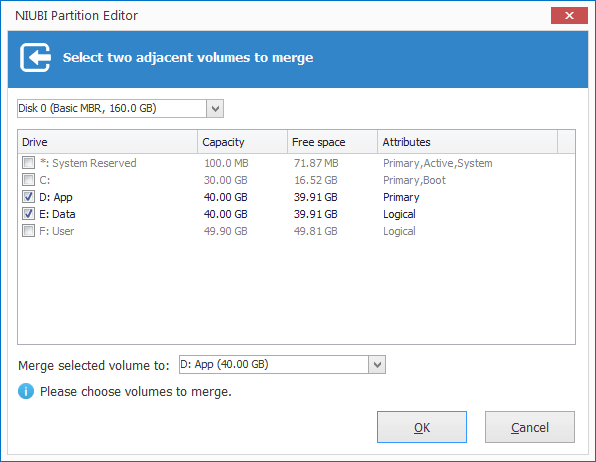 Benefits to merge disk partition
Traditional mechanical hard disk is much cheaper than before and it is very common to use a 2TB disk for home computer. To use the disk space more efficiently, many people create several volumes for different types of files. However, some people created too many drives without a label which makes it difficult to identify drive and locate files. If you want to decrease the number of drives, then merge partitions.
Another typical scenario is related to low disk space. The system C: drive and the volumes that are used for backup and database runs out of space in a certain time. If it happens, nobody likes to spend a long time to reinstall Windows or recreate partitions. By merging partitions, you can occupy free space from another drive and then this problem can be solved fast and easily.
How to combine volume D and E
Download
NIUBI Partition Editor Free Edition and you'll see the connected hard disk, disk partition layout and detailed info of each drives.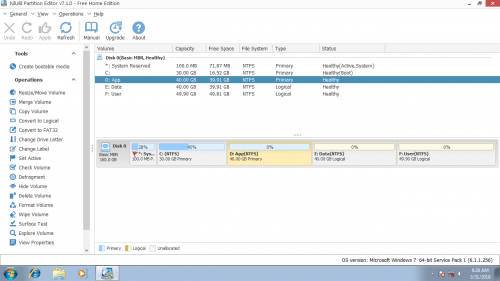 Step 1: Right click drive E or D and select Merge Volume.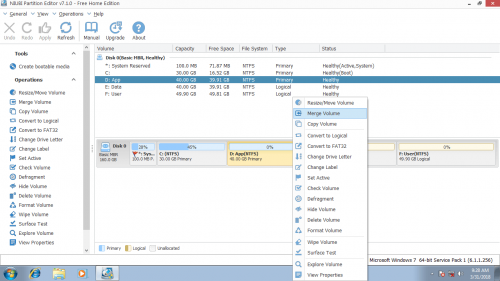 Step 2: In the pop-up window, click the check-box in front of D and E, and then click the drop-down box to select the destination partition. If you select Merge selected volume to D, volume E will be merged into D. If you want to merge D to E, select E in the drop-down list.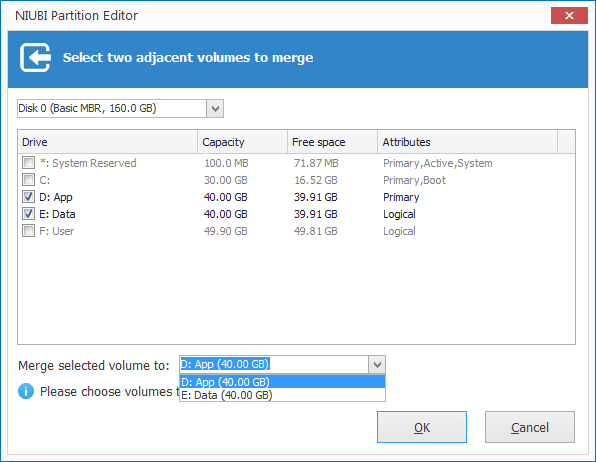 Step 3: Click OK and back to the main window, you'll see the volume merging operation is listed below Pending Operations on the bottom left corner. You may undo or redo this operation before clicking Apply on top left to proceed.
To explain the merging operation more clearly, I divided it into 3 steps, actually only several clicks are required to merge disk drives on Windows 7. When merging partitions, all files in drive E will be moved to a folder in D which is named as E to D with date and time.
How to merge partition D and C
The steps are the same to merge drive C and D in Windows 7, however, there is difference you should know.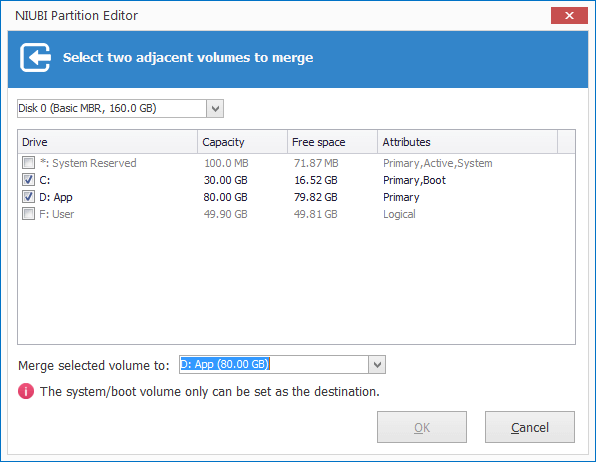 As you see, when merging C and D drive in Windows 7, if you select D as the destination drive, you'll see an error "The system/boot volume only can be set as the destination."
If you merge C drive into D, it'll cause system unbootable, so this operation is disabled. To avoid incorrect operation that leads to boot failure, System Reserved partition cannot be merged.
Defect of merging volumes
It doesn't matter if combine two data drives, but it is not a good idea to extend C drive by merging drive D. All files will be moved into C drive, so you won't lose any data, but all Windows services and applications from D will stop working. If you want to expand the C drive, resize volume instead of merging.
No matter you resize volume or merge partitions in Windows 7, there is risk of losing data with unreliable program, because all related parameters of disk and drive should be modified correctly. Thanks to the unique 1 Second Rollback protection technology, NIUBI Partition Editor can automatically roll back the computer to the status before re-partitioning in one second if any software or hardware issue occur. It is the only Windows partition software that can ensure 100% system and data intact.