How to resize partition in Windows 7 (32 and 64 bit)
To use disk space more efficiently you'd better create more than one volume especially when you have a large hard drive. Separate partition for system, programs and personal files. It is a good way to organize files and improve computer performance. However, there is an issue of disk space usage especially for system C drive, which is very likely to run out of space.
It cannot be better if you can re-size the disk volume, otherwise, you have to start from scratch to reinstall Windows. In Windows 7, partition resizing become much easier than in previous Windows versions, because Windows 7 is equipped with Shrink Volume and Extend Volume functionality in Disk Management console. However, there is still limitation that will require to use third party partition software such as NIUBI Partition Editor. In this article I'll show you how to resize partition in Windows 7 with built-in Disk Management and best free partition software.

Resize partition with Windows 7 Disk Management
Resize volume means change the size of existing disk partition, some people want to decrease partition size while other people want to increase partition size, so I have to divide into 2 parts.
Part 1 – how to shrink volume
Press Windows and R on keyboard, type diskmgmt.msc to open Disk Management.
Right click C drive and click Shrink Volume.
Enter the amount of space to shrink and click Shrink to execute.
Note: in some situation you cannot shrink large amount of space, refer to the guide of shrinking Windows 7 volume.
Part 2 – how to extend volume
Note: only when there is adjacent Unallocated space on the right side, you can expand a drive with Extend Volume, otherwise, Extend Volume is grayed out, steps:
Open Disk Management
Right click the drive that has adjacent Unallocated space and select Extend Volume.
Extend Volume Wizard will be opened, finish it.
It is very easy and fast to accomplish, but if you want to extend C drive by shrinking D, it is impossible, because the Unallocated space shrank from D is behind D, of course you cannot use it to expand C drive.
To resize Windows 7 partition, 3rd-party partition software is better choice. As the most popular partition management software, NIUBI Partition Editor Free Edition is 100% free for home users, fully working without limitation, it is also 100% clean without ads or any bundles.
Resize Windows 7 volume with partition software
NIUBI Partition Editor Free Edition is free partition manager software for Windows 10/8/7/Vista/XP (32 & 64 bit). It provides basic partition management to create, delete, format partition, change drive letter, etc. Advanced management to resize/move existing partition without data loss, copy, hide, set active, convert, defrag, check partition and much more.
Steps to resize partition in Windows 7 (32 & 64 bit):
Step 1: Download NIUBI Partition Editor, right click the adjacent volume D and select Resize/Move Volume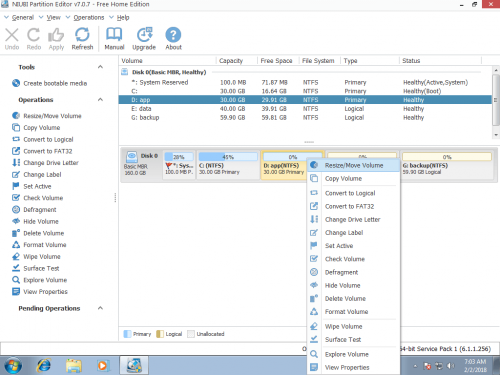 Drag left border rightwards to shrink it in the pop-up window.

Click OK, 10GB Unallocated space is generated behind C drive in the main window.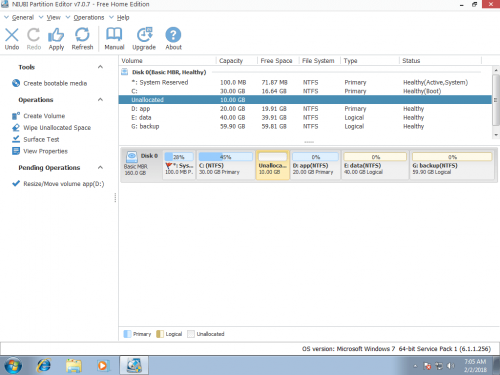 Step 2: Right click D drive and click Resize/Move Volume again. In the pop-up window, drag the right border rightwards to hold the Unallocated space.

Step 3: Click Apply on top left to execute, done. Both volume C and D are resized, C drive is extended by taking free space from D.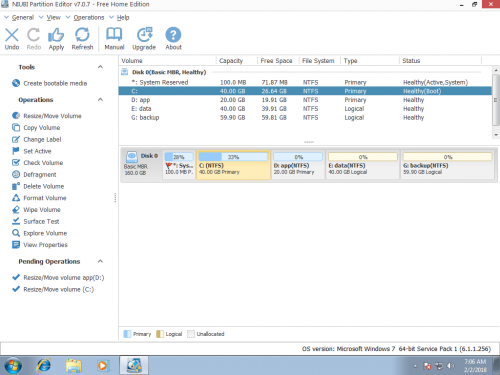 You may also get free space from other volumes such as E and G to expand C, watch the video how to do this.
Video guide of resizing partition in Windows 7
You may upgrade to Partition Editor Professional edition enjoy higher performance. It allows both home and commercial use, is able to create bootable CD/DVD/USB disc. The most important, it is integrated unique 1 Second Rollback technology to ensure 100% system and data safety while resizing volume in Windows 7 and Windows 10/8/XP.