Hard disk is an indispensable component of a computer, Operating System runs from it, it also store all kinds of electronic data. To use the disk space more efficiently, you'd better create several partitions for different purpose. The typical strategy is C drive for Operating System, D for applications and other drives for data.
However, there is common low disk space issue especially to system C drive. Most of the Windows 7 computer users have the experience that C drive is running out of space. In this situation, you need a partition manager for Windows 7 to optimize disk space usage without losing data.
Furthermore,  you can do many other basic and advanced disk partition management operations with a good partitioning tool. This article introduces the best free partition managers for Windows 7 (32 & 64 bit version).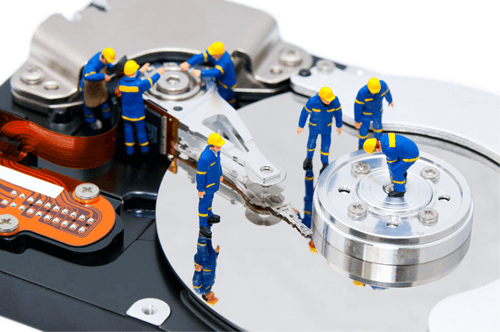 Windows 7 native partition manager
Windows 7 has built-in free partition manager - Disk Management, with which you can do some basic management such as create volume, delete volume, format volume, change drive letter and set Active partition.
To open Windows 7 Disk Management, press Windows and R together on the keyboard, type diskmgmt.msc and press Enter.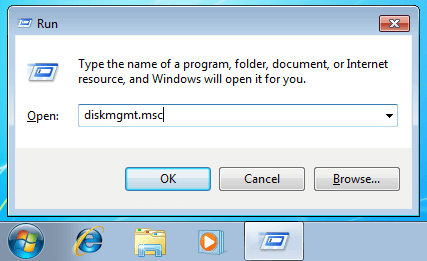 From Window 7 Disk Management, you'll see all connected hard disks with partition structure. Type, file system, status, capacity, free space and other info of each drive. Right click any one you'll see the available operations.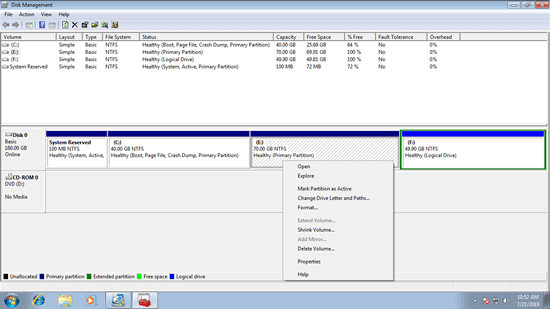 Better than previous Windows XP, Windows 7 Disk Management has new advanced functions to shrink and extend allocated partition, however, they only work under limited conditions. Learn how to run Shrink and Extend volume.
Compare with Windows 7 Disk Management, 3rd-party free partition manager is much more powerful.
Best Windows 7 free partition manager
Unlike other free partition manager for Windows 7 that disable many functionalities or bundle advertisement or plugins, NIUBI Partition Editor Free edition is 100% free for Windows 10/8/7/Vista/XP home users, 100% clean without any bundles.
Download it and you'll see the main window with 5 blocks.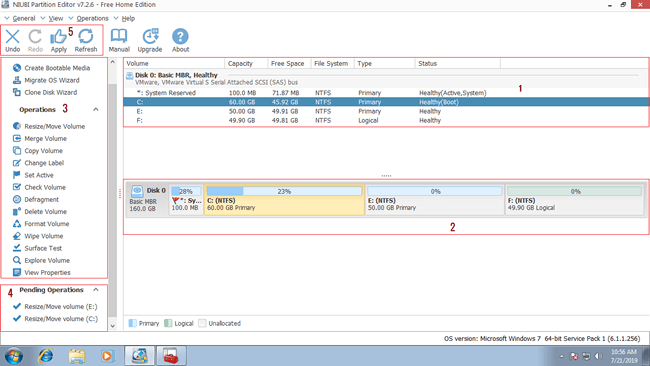 All single partitions with detailed information such as capacity, free space, file system, type and status.
All hard disks with graphical structure.
Available operations to the selected disk or partition, unavailable operations are hidden automatically.
The operations you do won't be executed immediately, instead, they'll be listed as pending.
Undo the unwanted pending operation, redo the canceled or click Apply to take effect.
Real disk partition won't be modified until you click Apply to confirm.
What does NIUBI Partition Editor Free do?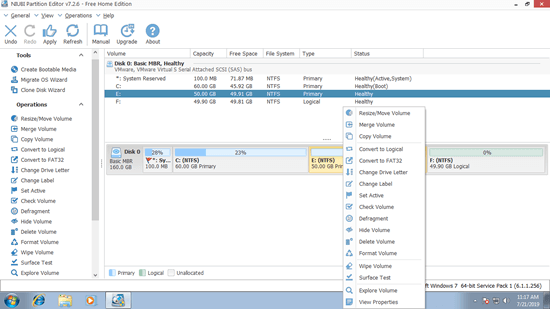 Available operations to a partition:
Resize volume (shrink and extend)
Move partition location
Merge two adjacent volumes by 1 step
Copy volume to Unallocated space
Convert partition between Logical and Primary
Change drive letter (such as D:)
Change label (add or modify name of partition)
Set as Active
Check file system integrity
Defrag to improve performance
Hide from File Explorer
Delete (files can be recovered)
Format volume to use as new
Wipe (erase data permanently)
Surface test (scan bad sectors)
Explore (view files/folders with directory)
View properties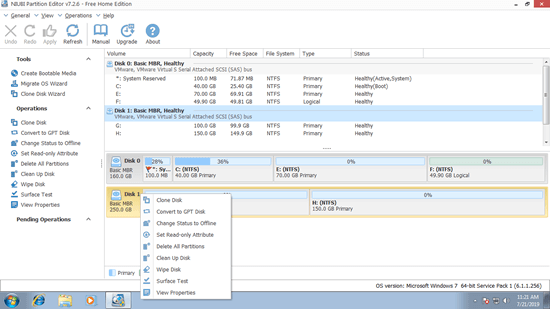 Available operations to whole disk:
Initialize brand new disk
Change status to offline or online
Set read-only attribute
Wipe disk (cannot be recovered)
Surface test
View properties
Clone disk to migrate data and OS
Delete all partitions
Cleanup disk
Why this free partition manager is best?
There are many free partition manager for Windows 7/8/10, the GUI and functions are similar, but among these tools, NIUBI Partition Editor is the safest and fastest.
Enhanced Data Protection
This free partition manager has unique 1 Second Rollback and Cancel-at-well technologies to ensure system and data intact.
Virtual mode
To avoid mistake, all operations are working in virtual mode before applying to real disk partition.
All-in-One Solution
Most of your disk partition maintenance requirements can be fulfilled.
Extremely Fast
Unique file-moving algorithm helps repartition 30% to 300% faster than any other free and commercial partition software.
Multiple Storage Supported
Hard disk, Hyper-V/VMware, USB disk/cards, all types of hardware RAID are all supported.
Extend Partition Online
Expand most of partitions without rebooting compute.
About the Rollback technology:
The unique 1 Second Rollback technology work internally, it creates snapshot of the disk partitions after starting, and monitors the whole process of partition resizing, moving, etc. If any software error or hardware issue such as power outage occur, it automatically roll back the computer to original status in a flash. If it happens, nothing will be changed.
This free partition manager supports Windows 7/8/10 and the old Windows XP/Vista (32 & 64 bit).