Add/Transfer/Move/Merge Unallocated space to C drive in Windows 7
Comparing to all previous Windows versions, Windows 7 is much more beautiful and powerful, however, the annoying disk space usage issue still exists in Windows 7. Most of the Windows 7 users have or will encounter the problem that C drive is running out of disk space. The people who created small C drive, installed large amount of programs especially for Games, Projects, Pictures, Videos, etc. are more likely to see such low disk space issue. Few people know how to get out of this trouble.
Better than previous Windows versions, in Windows 7 you can change partition size without starting from scratch. From Windows Vista, Microsoft added Shrink Volume and Extend Volume functionality in Disk Management, which can be used to decrease and increase partition size of a single volume. However, many people get in trouble of shrinking D to expand C drive, because the Unallocated space shrank from D cannot be added or transfer to C drive. So in this article I'll introduce how to move and merge Unallocated space to C drive in Windows 7.

How to generate Unallocated space
It is very easy to generated Unallocated space with Shrink Volume in Windows 7 Disk Management. In addition, you can shrink volume without reboot even for C drive, steps:
Press Windows and R key at the same time, input 'diskmgmt.msc' to open Disk Management.
Right click partition D and select 'Shrink Volume'.
Enter the amount of free space to shrink from D.
Continue to execute.
20GB Unallocated space is generated behind D.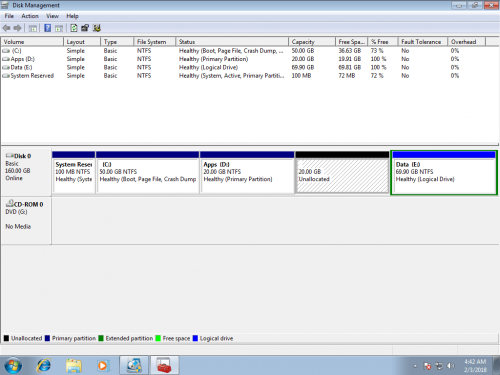 In this situation, if you right click C drive, Extend Volume is disabled, you need 3rd-party software to transfer/move Unallocated space to behind C drive.
How to transfer/move Unallocated space in Windows 7
As the most popular free partition software, NIUBI Partition Editor Free Edition helps you resize, shrink, extend, move, copy, defrag, check, convert, hide, set Active partition and much more. Downloadit and you'll see the main window including the disk and partition properties as well as the available operations.: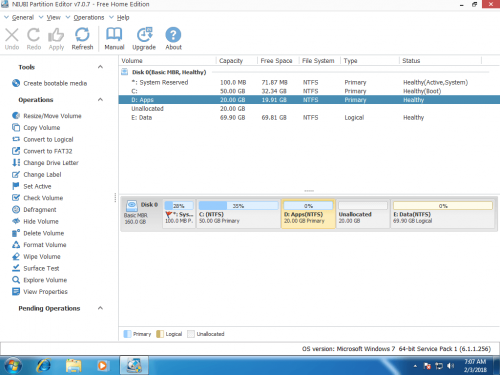 Follow the steps below to move Unallocated space in Windows 7:
Right click drive D and select Resize/Move Volume, drag middle position rightwards in the pop-up window.

Click OK, 20GB Unallocated space moved behind C drive, click Apply on top left to execute. Now you can combine the Unallocated space to C drive with Windows 7 Disk Management or Partition Editor Free.
How to add/merge Unallocated space to C drive
Right click C drive and select Resize/Move Volume again: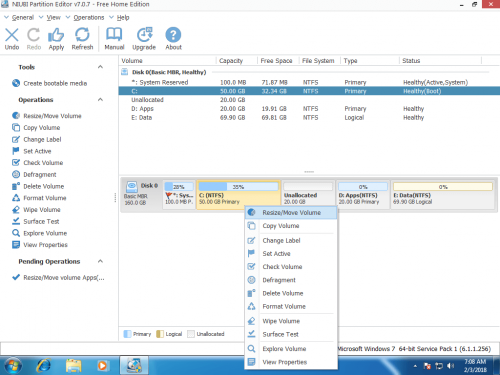 In the pop-up window, drag the right border rightwards to merge the Unallocated space.

Click OK, the 20GB Unallocated space added into C drive, remember to click Apply to execute.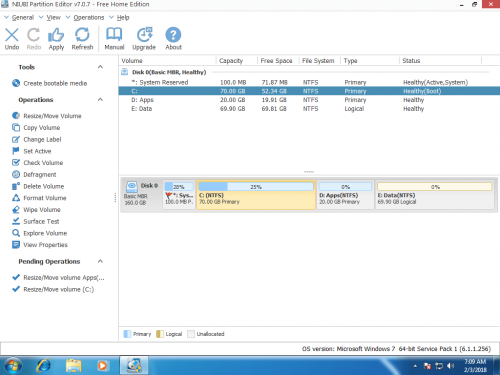 The "Resize/Move Volume" function can merge Unallocated space to C drive or other volume, no matter this space is on left or right side of this volume.
Note: to ensure 100% data safety while repartitioning hard drive, you may upgrade to the professional edition, which is integrated unique 1 Second Roll-Back technology, in addition, you can create bootable CD/DVD/USB disc to use without Operating System.