This article introduces how to increase partition size in Windows 7 32/64 bit, guide to increase size of partition C or D for Win7 computer without losing data.
The same with previous Windows XP and Vista, disk partitions in Windows 7 also run out of space, especially to system C drive and the partitions for backup, multimedia and projects. Better than Windows XP, Windows 7 native Disk Management has new feature to decrease and increase partition size without losing data. However, because of some inherent limitations, you still need professional partition software under many situations.
This article gives detailed steps to increase size of partition in Windows 7 with both native and 3rd-party software.
Increase partition size with Disk Management or diskpart
Windows 7 has 2 native tools - Disk Management and Diskpart. Disk Management has graphical interface and Diskpart works via command prompt. To increase volume size with either native tool, your disk partition must meet the requirements including:
The partition that you want to expand must be formatted as

NTFS

or without any file system (RAW).
There must be

adjacent

Unallocated space on the

right

of the partition that you want to extend.
If you want to increase C drive space by shrinking D or E, it is impossible with both native tools.
Increase volume size by shrinking other one
By shrinking partition, part of unused space will be converted to Unallocated. Generally speaking, all files keep intact in original folder. However, there's potential data loss risk with unreliable partitioning software, especially when there's some hardware issue or software error while shrinking.
Better than other software, NIUBI Partition Editor provides powerful technologies to protect system and data:
1 Second Rollback

- automatically reverts computer to original status in a flash if encounter any error.

Virtual Mode

- avoid incorrect operations by listing all as pending for preview, real disk partitions won't be modified until click Apply to confirm.

Cancel-at-well

- cancel incorrect but executing operations without causing damage.
How to shrink D to increase size of partition C in Windows 7:
Step 1: Download NIUBI Partition Editor and you'll see the main window with disk partition structure and other information.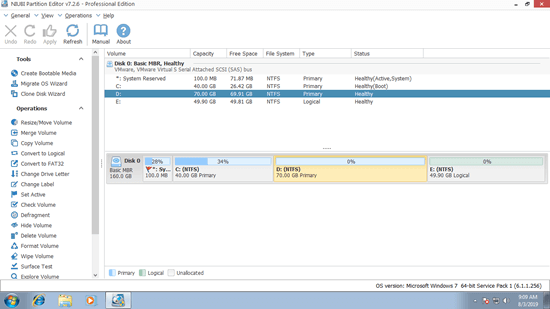 Step 2: Right click the right contiguous partition D (or E: in some computers) and select "Resize/Move Volume", drag left border towards right in the pop-up window or enter an amount in Unallocated space before.
Step 3: Right click drive C and select "Resize/Move Volume" again, drag right border towards right to combine this Unallocated space.
Click Apply on top left to execute, done.
Increase drive size by merging another one
Another method is by merging partitions together, for example: if you combine drive E to D, free space and all files in drive E will be transferred into D drive. However, 1 of the partitions will be removed, if it is a problem, follow the steps above to shrink partition instead.
How to increase volume size in Windows 7 by merging other partitions: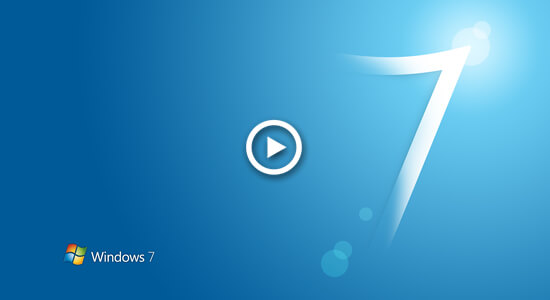 Increase size of partition by cloning to other disk
In some Windows 7 computers, system disk is small and there may be not enough free space. In that case, you can clone this disk to a larger one and increase partition size with additional disk space.
In Summary
To increase partition size on Windows 7, the built-in Disk Management or Diskpart tool only works by deleting the right contiguous partition, so you need 3rd-party professional partitioning software in most situations. Among these software, NIUBI Partition Editor is integrated with innovative 1 Second Rollback, Cancel-at-well and Virtual Mode technologies to protect system and data.