C drive is full or running out of space in Windows 7
The issue that C drive is running out of space and becomes full is most common in Windows 7 both 32 and 64 bit. It is annoying, because many people do not know why and how to fix this issue. Some people succeeded reusing disk space but C drive is full in a short time again. In this article I'll introduce the possible reasons why C drive runs out of space and how to fix C drive full issue on Windows 7 in simple way.
The symptom of C drive full in Windows 7
If C drive is running low on disk space, when you open Windows Explorer or My Computer, C drive will be shown red instead of default blue, for example: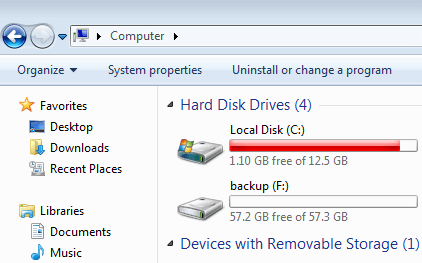 Windows pop up an alert of 'Low Disk Space' from the right side of your Windows taskbar with warning message: 'You are running very low on disk space on OS (C:), To free space on this drive by deleting old or unnecessary files, click here'.

You'd better fix C drive full issue as fast as possible, otherwise, you'll suffer from computer performance down. Your Windows 7 system runs much slower, stuck, reboot unexpectedly or even crash. Before giving specific solution, I suggest you read more about why C drive runs out of space.
Why C drive is running out of space
There could be many reasons, but the most common reasons include:
1. C drive shows full but it is not
It is a possible reason, but few people have such experience. Only one of my readers feedback such issue caused by virus, try to scan your disk with antivirus software if you think the disk space shows incorrectly.
2. C drive shows full but many folders seem empty
Many people feedback such experience: they try to check the files and folders in C drive and found many 'empty' folders that occupied much disk space. In this situation, change the folder option to show hidden files.
In any folder of Windows Explorer, click Organize on top left corner and then click Folder and search options: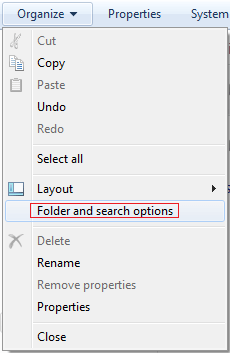 Switch to View tab, select 'Show hidden files, folders, and drives'.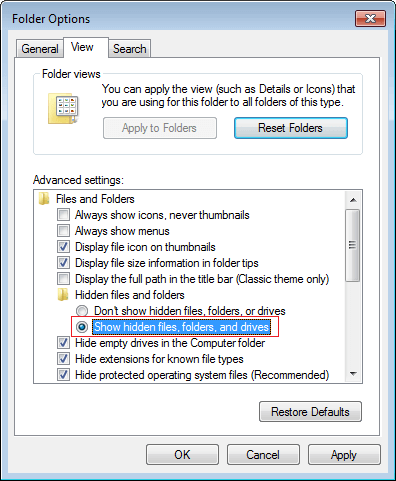 3. C drive is filling up with files
This is the most common reason why C drive becomes full. Windows Updates, 3rd-party programs and many other types of files write into C drive every day, of course it runs out of space sooner or later, no matter how big it is.
How to fix C drive full issue
To completely solve C: drive full issue in Windows 7, I listed 3 methods. I suggest finish all of them, otherwise, you may encounter this problem later.
1. Increase C drive free space
All disk partitions are created while installing Operating System or by OEM manufactures, but you can change partition size with free partition software. As the most popular free partition manager, NIUBI Partition Editor Free edition is 100% free for home users and 100% clean. It is the safest and fastest Windows partition software, with which you can increase C drive free space by taking from other volumes easily, watch the video:
2. Reclaim disk space
In system C drive, there are many unnecessary files that can be deleted such as temporary files, cache, files in Recycle Bin. You can reuse disk space by deleting these files. To reclaim disk space, you may use Windows 7 built-in Disk Cleanup utility, which is easy and safe.
Steps to free up space in Windows 7 with Disk Cleanup:
Step 1: Right click C drive and click Properties: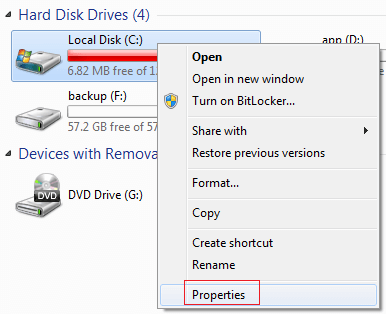 Step 2: Click Disk Cleanup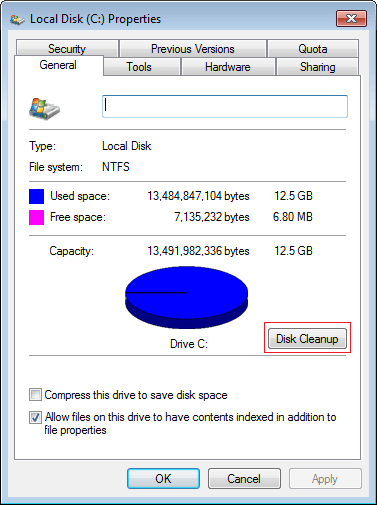 Step 3: select the files you want to delete and click OK to proceed.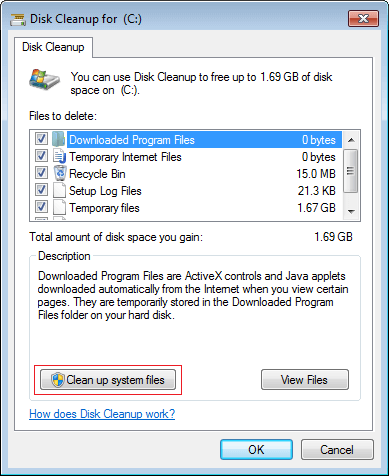 Step 4: Clean up system files in the same window.
To get more free space, you may switch to More Options tab, where you can clean up installed programs and System Restore points.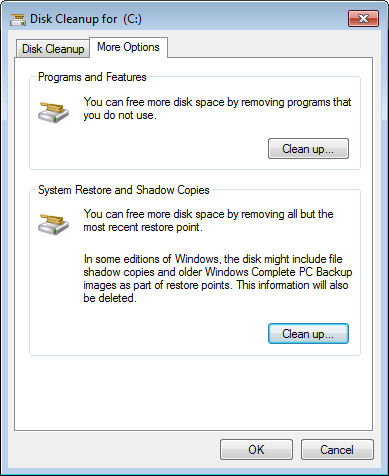 Windows 7 Disk Cleanup is very useful to the computers that never freeing up disk space.
3. Change the way using the computer
To optimize disk space usage, you may consider these options:
Create a separate partition for applications, do not throw everything into C drive.
Change the default file output location to other partitions, especially for the program for pictures, videos, games, projects, etc.
Expand C drive as large as possible. If the hard disk is small, consider replace it with a larger one.
Free up space with Windows 7 Disk Cleanup every month.
It is not difficult but costs much time to complete all these steps, however, you can fix C drive full or running out of space in Windows 7 permanently.