How to extend system C drive in Windows 7?
This article introduces how to extend C drive in Windows 7 (32 and 64 bit). Step by step guide to expand system C drive with free partition manager. To resize and extend volume for Windows 7, simply download NIUBI Partition Editor Free and drag on the disk map.

Repartition hard drive for Windows 7 ASAP
Windows 7 has been released for a long time, so many Windows 7 users encountered the Low Disk Space problem – system C drive is running out of space and becomes full. It is easy to understand: many kinds of files write into C drive continuously every day, such as Windows Updates, programs of Games, Projects, Word processor, etc. Together with other files such as temporary, cache, logs, C drive will be filled up sooner or later.
This is the reason why people want to resize partition and extend C drive on Windows 7. However, many people do not pay enough attention about the low disk space that leads to some issue occur. For example, system performance down, computer stuck, reboot or even crash, so repartition the hard drive as fast as possible when there is not enough free space in system C drive.
Then how to repartition disk without losing data? There are two choices: Windows 7 Disk Management and third party partition software such as NIUBI Partition Editor Free, but to extend C drive, Disk Management is limited.
Cannot extend C drive in Windows 7 Disk Management
Microsoft enhanced the disk partition management ability from Windows Vista. Besides basic management to create, delete and format volume, you can resize partition with Shrink and Extend volume functionality in Windows 7 Disk Management.
However as I said above, it is limited. Shrink and Extend Volume can only be used to reduce and increase size of single partition, so you cannot extend C drive by shrinking D, if you do this, you'll see Extend Volume grayed out in Disk Management. Fortunately, you can accomplish with 3rd-party free partition manager such as NIUBI Partition Editor Free, which is 100% free for home users and 100% clean without sponsored ads or bundles.

Expand C drive with free partition software
With NIUBI Partition Editor, it is very easy to resize and extend volume by simply dragging on the disk map. Let's see how to extend C drive in Windows 7 with this free partition manager:
Step 1: DownloadNPE Free and right click volume D, select Resize/Move Volume feature.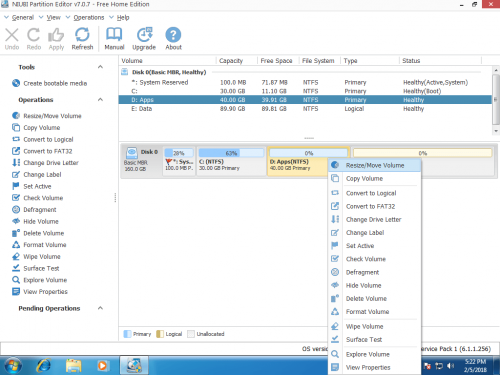 Drag left border rightwards to shrink it in the pop-up window.

Click OK, it will back to the main window, as you see 10GB Unallocated space shrank from D and is behind C drive.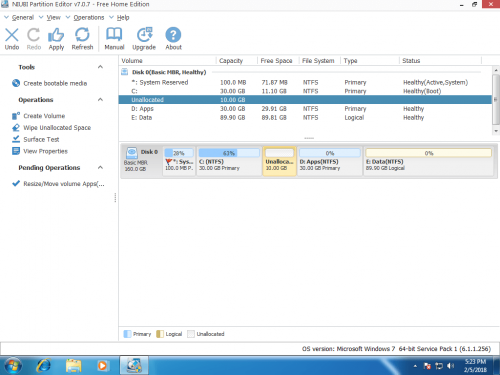 Step 2: Right click C drive and select Resize/Move Volume again, in the pop-up window drag the right border rightwards to combine the Unallocated space.

Step 3: Click Apply on top left to execute, done. (All operations before clicking Apply only work in virtual mode and list in a queue, you can preview, cancel and redo the pending operations.)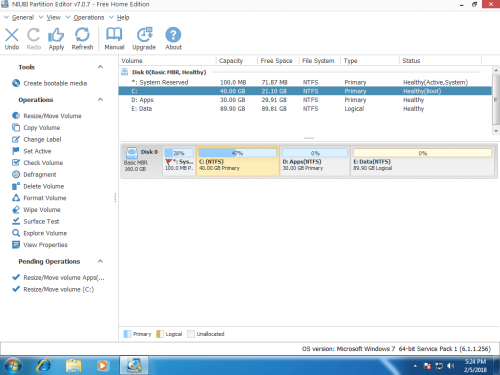 Is it easy to expand C drive in Windows 7? Simply download to try. If you still do not understand how to operate it, check the video guide.
To ensure 100% system and data safety while resizing and extending volume, you may upgrade to the professional edition, which is integrated unique 1 Second Roll-Back protection technology. It is the only Windows partition manager that can protect everything intact 100%. In addition, you can create bootable CD/DVD/USB disc to repartition hard disk without Operating System.