This article introduces how to increase disk space in Windows Server 2008 R2 without losing data. Extend disk space of system C drive with other partition or disk.
How to increase disk space of C drive (system partition)
Many types of files are writing into system partition C continuously, it will be full sooner or later. Windows 2008 servers have running many years, so most of server administrators encountered this issue. In this situation, it costs such a long time to recreate partitions and restore everything from backup.
With disk partition software, you can increase disk space of C drive from other partitions. Shrink any data volume, then part of free unused space will be converted to Unallocated. Unallocated space can be moved and combined to system C drive. By this method, you can increase C drive disk space in Windows Server 2008 (and R2) without losing data. Operating System, programs, Windows services and anything else keep the same with before.
Download NIUBI Partition Editor, you'll see all disk partitions with structure and other information on the right, available operations to selected disk or partition are listed on the left or by right clicking. In Disk 0, there is drive C, D, E and a system reserved partition, original size of partition C is 40GB.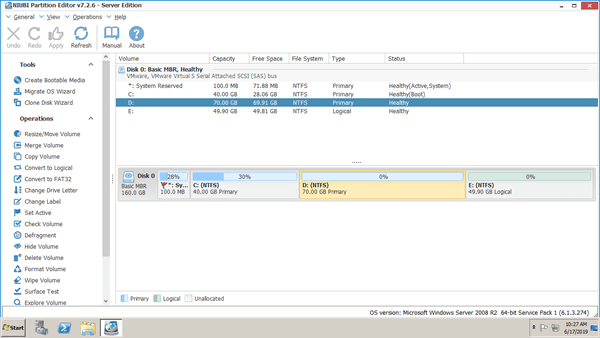 Steps to extend disk space of system C: drive in Windows Server 2008 R2:
Step 1: Right click drive D: (the right contiguous partition) and select "Resize/Move Volume", drag left border towards right in the pop-up window, or enter an amount in the box behind "Unallocated space before" (1024MB = 1GB).
Step 2: Right click C: drive and select "Resize/Move Volume" again, drag right border towards right in the pop-up window.
Step 3: Click Apply on top left to execute.
As long as there's free unused disk space in any volume, NIUBI can transfer and combine to other partition on the same disk.
If there is not enough free space in a disk, you can copy to other larger disk and extend C (or other) drive with additional disk space.
Comparing with other tools, NIUBI Partition Editor is much safer and faster because of its powerful technologies:
Virtual Mode

- all operations will be listed as pending for preview, real disk partitions won't be modified until click Apply to confirm.

Cancel-at-well

- if you applied wrong operations, it doesn't matter, you can also cancel the ongoing operations without losing data.

1 Second Rollback

- if encounter any error while resizing partition, it automatically reverts server to original status in a flash.
Advanced

file-moving algorithm

- move and extend partition 30% to 300% faster, saving much time especially if there are large amount of files.
How to increase disk space of RAID array
Some servers use hardware raid arrays such as RAID 0/1/5, if there is available free space in the raid virtual disk, simply follow steps above. Do not break array or do any operations to raid controller. There is no difference to increase disk space of raid virtual partition.
Note: No matter how many raid arrays you built with how many hard disks, the partitions that you want to shrink and extend must be on the same virtual disk. No software can increase free space of a partition from another separated disk. The separated disk means Disk 0, 1, 2, etc. shown by NIUBI Partition Editor or Windows Disk Management.
When there is no available free space in the virtual disk, you have two options to increase disk space for Windows 2008 server:
Check if your controller support RAID expansion. If yes, after rebuilding with larger disks, original virtual disk size will be increased and additional space will be shown as

Unallocated

on the end. Then follow the steps above to move and combine Unallocated space to C drive or other partition(s).
If your raid controller is old and has no such ability, original virtual disk won't be increased even if you rebuild the array with larger disks. In this case, copy original virtual disk to other physical disk or new raid array (with larger disks).
How to extend disk space of VMware/Hyper-V
The same with physical disk and RAID array, if there is available free space in original VMDK/VHD virtual disk, follow the steps above to shrink and extend partition with NIUBI Partition Editor.
If there's not plenty of free space in original virtual disk, you can increase size of this virtual disk with VMware/Hyper-V own tools. After that, additional space will be also shown as Unallocated on the end. Then you can increase disk space of the virtual partitions without copying to other disk.