This article introduces server partition manager for Windows Server 2019/2016/2012/2011/2008/2003 R2. Download and check what Partition Editor Server do.
Applies to: Windows Server 2003 (R2), Windows Server 2008 (R2), Windows Server 2012 (R2), Windows Server 2016, Windows Server 2019, Windows Small Business Server (SBS) 2011/2008/2003.
Partition manager is a kind of software that helps manage disk partitions such as create, delete, format, resize, move, merge, convert, copy partition, etc. There are many choices in the market, the functions and GUI are all similar, then which factor is important and how to choose the right partition manager for Windows server? This article introduces the server partition manager that has not the most of functions, but is the safest and fastest.
What does server partition manager do
Resize Partitioned Drive
Resize, move, merge and split partitioned volumes safely and easily, extend NTFS partition without reboot.
Copy Disk/Partition
Copy single partition or entire disk to transfer data or migrate without reinstalling everything.
Partition Management
Create, Format, Delete, Explore partition. Set partition Active. Change partition label and drive letter, etc.
Convert Disk/Partition
Convert partition between Logical and Primary. Convert MBR disk to GPT. Convert NTFS partition to FAT32.
System Optimization
Partition defragment. Fix file system error. Scan bad sectors. Initialize new disk, view disk/partition properties.
Protect Data Security
Hide partition. Set read-only attribute to disk. Wipe disk, partition, Unallocated space to erase sensitive data.
Download NIUBI Partition Editor Server and you'll see 5 blocks in the main window.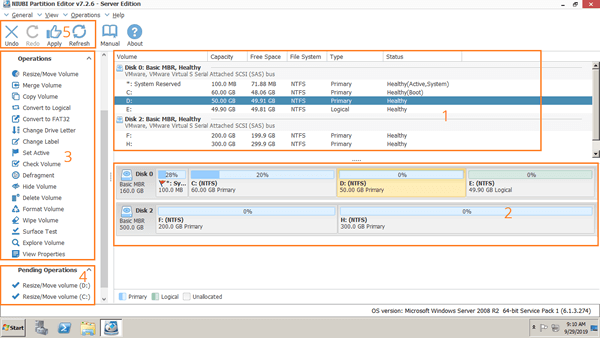 All separate partitions with detailed information such as capacity, free space, file system, type and status.
All physical/virtual/RAID hard disks and USB flash drive with graphical partition structure.
All available operations of selected disk or partition, unavailable operations are hidden automatically.
Pending operations, the operations you do won't modify real disk partition immediately. To avoid mistake, they'll be listed as pending for preview.
Undo and redo the pending operations, or confirm to modify real disk partitions.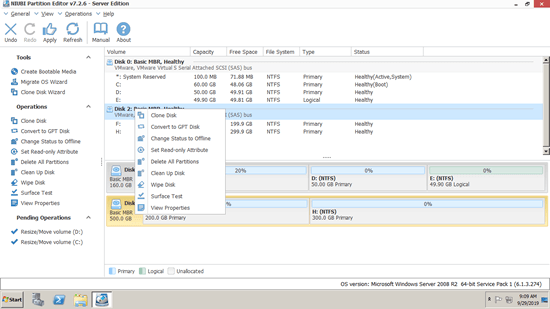 Available operations to whole disk:
Initialize brand new disk
Change status to offline or online
Set read-only attribute
Wipe disk (cannot be recovered)
Surface test
View properties
Clone disk to migrate data and OS
Delete all partitions
Cleanup disk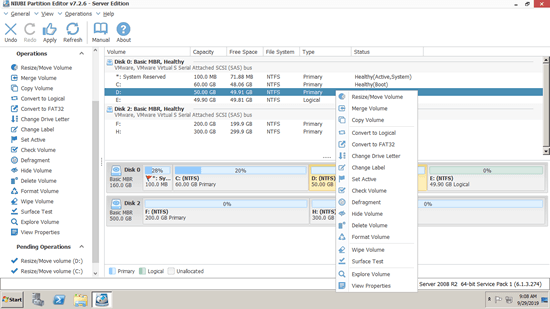 Available operations to a partition:
Resize volume (shrink and extend)
Move partition location
Merge two adjacent volumes by 1 step
Copy volume to Unallocated space
Convert partition between Logical and Primary
Change drive letter (such as D:)
Change label (add or modify name of partition)
Set as Active
Check file system integrity
Defrag to improve performance
Hide from File Explorer
Delete (files can be recovered)
Format volume to use as new
Wipe (erase data permanently)
Surface test (scan bad sectors)
Explore (view files/folders with directory)
View properties
The safest partition manger for server
What is most important to a server? Data!
Few people know that there is potential system damage and data loss risk while modify disk partitions. For example, to change size of allocated partition, all parameters of associated disk, volume and files must be modified correctly, but some software error and hardware issue such as power failure could cause part of parameters failed to be updated. If it happens, system and data will be damaged.
NIUBI Partition Editor provide 3 innovative technologies to protect system and data.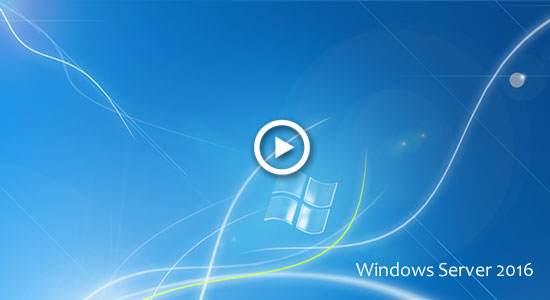 1. Virtual mode
As you see the block 4 in the main window, all operations are listed as pending for preview. You can click Undo to cancel the unwanted operation or click Redo to recover the cancelled operations. The real disk partitions won't be changed until you click Apply button to confirm.
2. Cancel-at-well technology
If you confirmed and started the changes, other server partition software don't allow cancelling the ongoing operations from the beginning or over 50% progress even if you did something wrong.
Because the cancellation causes part of parameters can't be modified, which leads to system boot failure or partition damage. Thanks to the unique Cancel-at-well technology, you can cancel the ongoing operations at any progress with NIUBI Partition Editor. Everything will back to original status in a flash.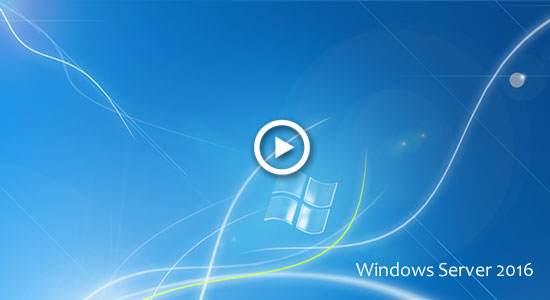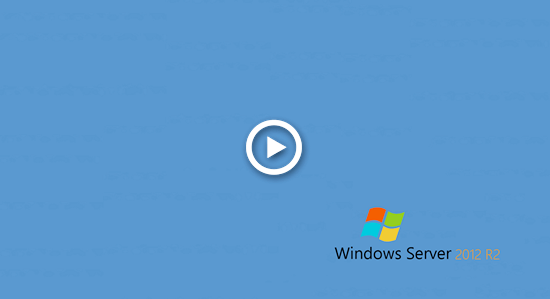 3. 1-Second Rollback
Better than other server partition manager, NIUBI Partition Editor provides another unique 1 Second Rollback technology to ensure system and data intact. If any software internal error or hardware issue such as power outage occur, it rollback the server to original status automatically and rapidly. If it happens, nothing will be changed.
With other partitioning software, if damage occur, you have to waste a long time to restore. If you have no backup, all precious data in the server will be lost.
The fastest Windows server partition manager
What is second important to a server? Keeping online!
Every server is equipped with backup software, but there is still a problem, what will you do if damage occur? Waste several hours even a whole day to restore and verify data, during this period, server is OFFLINE.
Sometimes when you shrinking a partition or moving the position of a partition, all files in this partition must be moved to new locations. A good algorithm is very helpful to reduce time, especially when there are large amount of files in this partition. Thanks to the special file-moving algorithm, NIUBI Partition Editor is 30% to 300% faster than other free and commercial partition manager.
You won't notice the performance difference if you don't compare it with other tools. If you have testing computer or virtual machine, simply compare it with other tools in same environment.

Some operations can't be executed in Windows desktop, then all partitioning software will reboot server to Pre-OS mode. In that case, the speed is particularly crucial, the faster it runs, the less offline time to the server.
Other benefits of Partition Editor Server
Easy to use
You just need to click, drag and drop on the disk map to modify disk partitions, anyone without help or experience of running such kind of software can use this program well.
All-in-One toolkit
Most of your disk and partition management requirements can be fulfilled. NIUBI Partition Editor is not the one that has most amount of functions, but because of its powerful data protection ability, fast file-moving algorithm and many other advantages, it is recommended by many professional editors as the best partition manager for Windows server.
Multiple OS & storage supported
This server partition manager is compatible with Windows Server 2019/2016/2012/2008/2003 and Small Business Server 2012/2011/2008/2003. Local/removable hard disk with any interface, all types of hardware RAID arrays, VMware/Hyper-V virtual machines, USB flash drive and memory cards are all supported.
Multiple choices
For personal or small organization, NPE server edition can be registered on 2 servers to save cost. Enterprise edition can be installed to unlimited computers and servers regardless of locations. Technician edition can be used to provide profitable IT tech services to unlimited companies and individuals.
Risk free
100% 90 day money back guarantee & 24/7 online chat support.