This article introduces how to merge partitions in Windows Server 2012 R2. 3 ways to combine partition C, D, E with Disk Management and partition editor.
Many people need to resize partitions after running Windows 2012 server for several years. By merging a partition to another one, all its disk space will be converted to part of unused space in other partition. It seems to be a good idea when a partition is running out of space. However, you'll lose one of partitions by merging them together. In this article, I'll introduce how to merge Server 2012 partitions with native and third party tools. In addition, I'll show you how to resize partitions instead of merging.
1. Merge partitions in Server 2012 Disk Management
The same with previous version, there is no Merge Volume function in Windows Server 2012 built-in Disk Management tool. If you don't want to use any third party software, the only way is running another Extend Volume to combine partitions indirectly, but before this, you must delete a partition manually.
How to merge partitions with Windows Server 2012 (r2) Disk Management:
Press Windows and X on keyboard and click Disk Management from the list.
Right click D: drive and select Delete Volume.
Right click C: drive and select Extend Volume.
Simply click Next till Finish in the pop-up Extend Volume Wizard window.
Remember to transfer all files in D before deleting, if you installed any programs or services to this partition, don't delete it.
Besides manually transfer files and deleting partition, there are other shortages when merging partitions via Server 2012 Disk Management:
It can only combine a partition to the left contiguous one, for example merging drive D to C, or combine E into D.
It cannot merge 2 nonadjacent partitions.
The destination partition must be formatted with NTFS file system, otherwise, Extend Volume is grayed out even after deleting any other partitions.
The destination partition and the one that you want to delete must be the same Primary or Logical partition.
2. How to combine drive D with C or E (contiguous)
With third party software, there are no such shortages. In addition, they are much easier to use, you just need to drag and drop on the disk map. Among these software, NIUBI Partition Editor has unique 1-Second Rollback, Virtual Mode and Cancel-at-well technologies to protect system and data.
How to merge partitions in Windows Server 2012 r2 with NIUBI:
Step 1: Download and install it, right click either drive and select Merge Volume.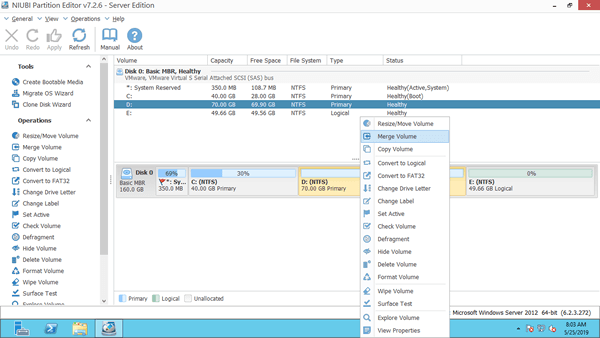 Step 2: Click the check-box of both contiguous drives, and then select the destination partition in the drop-down list.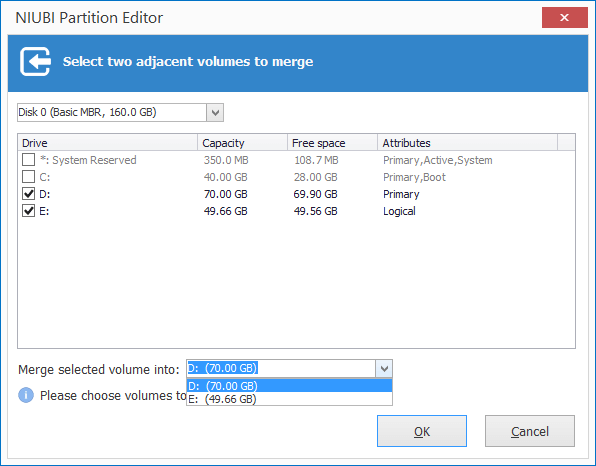 Step 3: Click Apply on top left to execute. (All operations before this step work in virtual mode only.)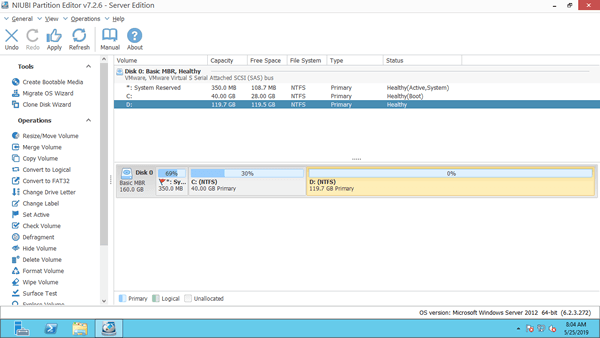 After partition merging complete, open drive D: in File Explorer and you'll see a folder named as E to D (date and time), all files in drive E are moved to this folder automatically.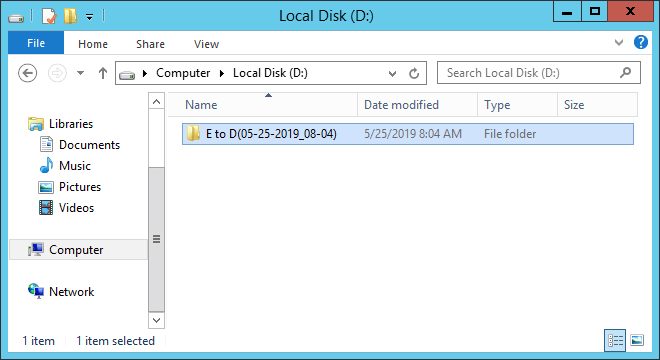 If you want to merge partition D and C in Windows Server 2012, it is similar. However, you can't select D as destination drive. Because C: drive is where Operating System located, it can't be removed.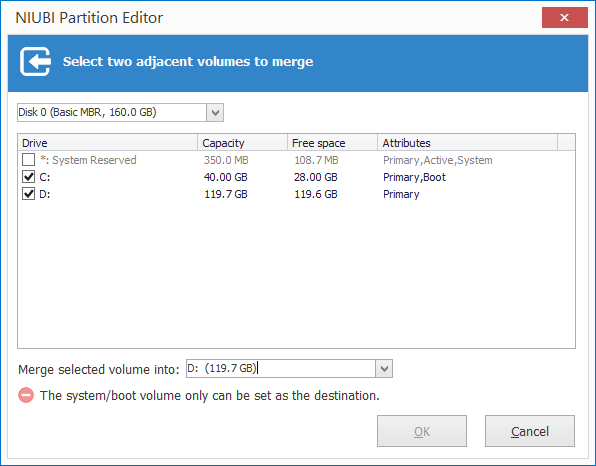 3. How to merge nonadjacent partitions C and E
As I said above, Disk Management cannot combine 2 non-adjacent partitions, because it cannot move position of any drives. Third party software can help you accomplish this task, but you need to transfer files in advance.
How to combine nonadjacent partitions C and E in Windows Server 2012 with NIUBI:
① Right click E: drive and select "Delete Volume".
② Right click D: drive and select "Resize/Move Volume".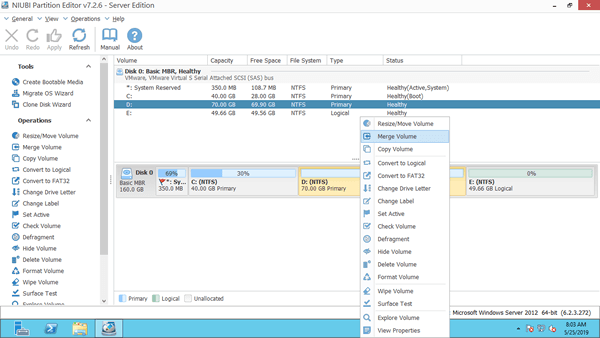 ③ Drag middle position towards right in the pop-up window to exchange the position of D and Unallocated space.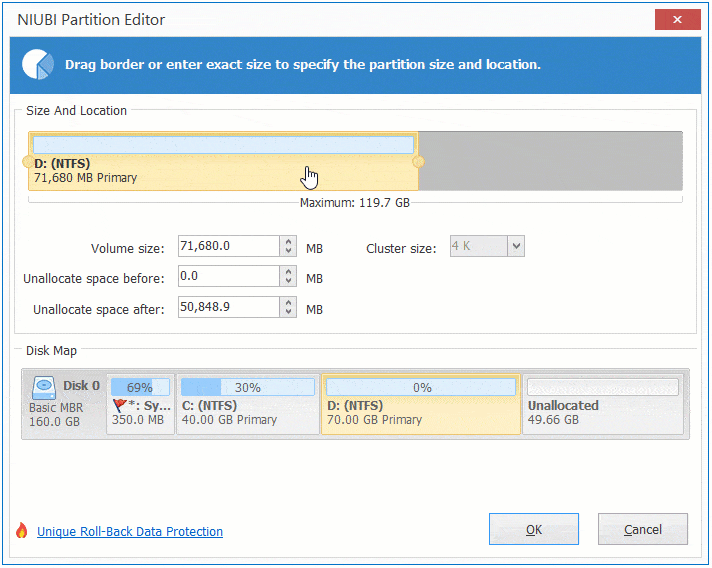 Then Unallocated space is moved to the left side.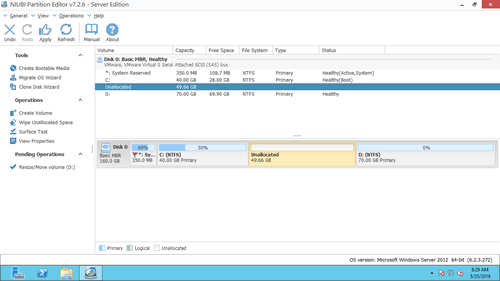 4. Resize Server 2012 partitions instead of merging
It is easy to combine partitions in Windows Server 2012, however, there is a disadvantage that one partition will be removed. If you want to extend a volume, it is not suggested to achieve by merging partitions. Instead, you'd better resize partition. That means, shrink a partition to release part of free space, and then move to the partition that you want to expand. In this way, Operating System, program and associated settings, as well as anything else keep the same with before.
Watch the video how to shrink and extend partition in Windows Server 2012: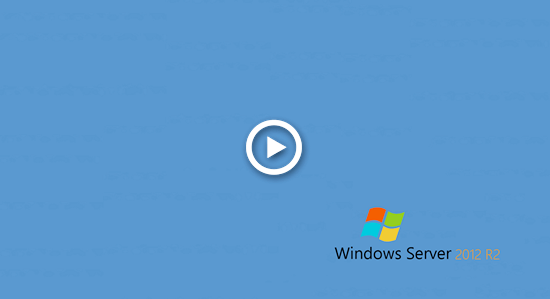 Besides shrinking, extending and merging partitions in Windows Server 2012/2016/2019 and 2003/2008, NIUBI Partition Editor helps move, copy, convert, defrag, wipe, hide, create, format partition and much more. All types of local/removable hard disks, hardware RAID arrays, VMware and Hyper-V virtual machines are all supported.