Although Windows 11 has been released, many people still use Windows 10 in their desktop or laptop. To manage disk partitions and maximum disk performance, you need a reliable partition manager for Windows 10 no matter you use mechanical HDD, SSD (Solid State Drive) or even RAID arrays. There are two types of free partition manager for Windows 10 computer.
If you just want to initialize brand new hard disk, create, delete and format partition, Windows 10 has built-in Disk Management utility to help you. If you want to do some advanced operations such as resize, move, merge, copy, convert, defrag, wipe, hide partition, etc. you need third party partition manager software. This article introduces both native partition manager and best free partition software for Windows 10 laptop/desktop.
Top 4 reasons why Windows 10 computer needs partition manager:
Before saving files to a brand new hard disk drive, you must initialize it, create new partition and then format it with a file system.
In some computers, there's only C drive on the system disk, you'd better shrink it and create new volumes for programs and personal files. To some computers that is running for a long time, there may be not enough free space in C drive, so you'd better add more free space to it from other partitions.
When you want to migrate Windows 10 from mechanical disk to SSD or replace original system disk with a larger one, you need to clone disk.
In some cases, you need to convert disk partition type, such as converting MBR disk to GPT, convert Logical partition between Primary, or convert NTFS to FAT32.
Native free partition manager in Windows 10
The sam with previous version, there's a native free partition manager in Windows 10 (32/64 bit) - Disk Management, it can create, delete, format partition, set Active and change drive letter. For advanced users, it has Shrink Volume and Extend Volume functions to help change partition size.
However, if you want to expand C drive by shrinking D or other volume, Disk Management cannot help you, because Unallocated space that shrunk from any volume is nonadjacent to C drive, so Extend Volume is greyed out. If you want to do that, 3rd-party partition software is needed.
To open Windows 10 Disk Management: press Windows + X together on your keyboard and then click it from the list.
To old Windows versions, press Windows + R keys together, input diskmgmt.msc and press Enter.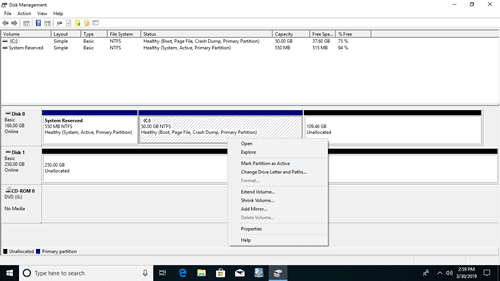 Windows 10 Disk Management can convert disk between MBR and GPT, but you must delete all partitions on this disk in advance. Right click each partition or front of a disk in Disk Management, you'll see all options, unavailable operations are grayed out.
Best free partition software for Windows 10
There are many free partition software for Windows 10/8/7 in the market, the GUI and functions are all similar, then how to select the right tool for your own computer? The most important aspect is data protection ability, because there's potential system and data damage risk while repartitioning hard disk drive. The second aspect is speed, nobody likes a tool that costs a long time to resize, move, copy or do other operations.
Among these Windows 10 partition manager software, NIUBI Partition Editor is recommended by many editors and end users. It has free edition for Windows 11, 10, 8, 7, Vista, XP (32 & 64bit) home computer users. It is 100% clean without any bundled plugins or advertisements.
Download this free partition manager in Windows 10 laptop/desktop/tablet computer, you'll see 4 blocks in the main window.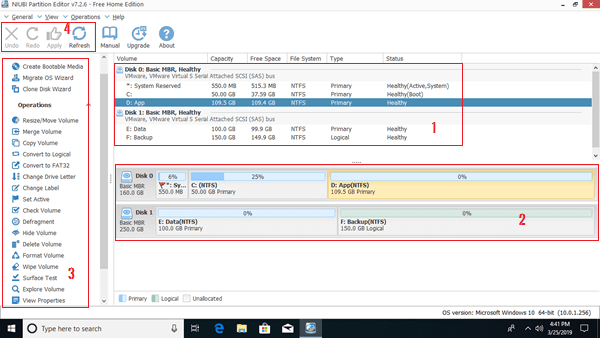 Disk model and single partitions with detailed parameters such as capacity, free space, file system, type and status.
All storage devices with partition structure. Any types of HDD/SSD, hardware RAID array, USB flash drive, Memory cards, virtual disk are all supported.
Available operations to selected disk or partition, unavailable operations are hidden automatically.
Refresh disk partition info, undo pending operations, redo canceled operations, or click Apply to modify real disk partitions.
To do any operations, you just need to click, drag and drop on the disk map. If you do not understand how to operate, check the video guide. Comparing with Windows 10 Disk Management, NIUBI Partition Editor can do much more operations.
To Unallocated space:
Create one or more volumes
Wipe data in it
Surface test (scan bad sectors)
View properties (detailed parameters)
To whole disk:
Initialize
Change status to offline or online
Set read-only attribute
Wipe disk (cannot be recovered)
Surface test
View properties
Clone disk to migrate data and OS
Convert MBR disk to GPT
Delete all partitions
Cleanup disk
To single partition:
Resize volume (shrink and extend)
Move location
Merge two adjacent volumes by 1 step
Copy to Unallocated space
Convert to Logical or Primary partition
Convert NTFS to FAT32
Optimize file system to repair error and improve performance
Change drive letter (such as D:)
Change label (add a name or modify)
Set as Active
Check file system integrity
Defrag to improve performance
Hide from File Explorer
Delete (files can be recovered)
Format volume to use as new
Wipe (erase data permanently)
Surface test
Explore (view files/folders with directory)
View properties
Unique features of this free partition manager
Comparing with other Windows 10 partition manager software, NIUBI Partition Editor is much safer and faster because of the advanced technologies and algorithm.
Unlike other free Windows 10 partition manager that locks many functions or has bundled plugins, NIUBI Partition Editor Free Edition is 100% free and clean. In addition, the same with commercial editions, it has free 24/7 live chat and remote support. The only difference with professional edition is that 1-Second Rollback technology and bootable media builder is not included in free edition.