This article introduces native and 3rd party free partition manager for Windows 10 (32 & 64 bit), the ability and comparison.
Many people have installed or upgraded to Windows 10. To reallocate partition space and maximum disk performance, you need disk partition manager no matter you use traditional mechanical disk, SSD or even RAID arrays. There are two types of free partition manager for Windows 10.
If you just want to create, delete, format partition, Windows 10 has built-in Disk Management utility to help you. If you want to do some advanced operations such as resize, move, merge, copy, convert, defrag, wipe, hide partition, etc. you need third party free partition manager such as NIUBI Partition Editor Free.
Typical disk issue on Windows 10:
Some people forget to edit and create more volumes when installing Windows 10, so all available disk space are occupied by system C drive. In that case, you can shrink C drive to create new volumes without reinstalling.
After running Windows 10 for a period of time, C drive is running out of space. In that case, partition manager software helps you get unused space from other volumes to increase C drive space without losing data.
In some special situations, you need to convert disk partition type, such as converting MBR disk to GPT, convert Logical partition from/to Primary, or convert NTFS to FAT32. Partition manager software can complete these tasks easily, too.
Windows 10 native Disk Management
Windows 10 Disk Management utility can create, delete, format partition, set Active and change drive letter. For advanced users, you may change size of allocated partitions with Shrink Volume and Extend Volume functions.
However, if you want to expand C drive by shrinking D, it is impossible, because Unallocated space shrank from D is not behind C drive, so Extend Volume is greyed out for C drive. If you want to do this, 3rd-party partition software is needed.
To open Disk Management: press Windows and X on keyboard and then select from the list.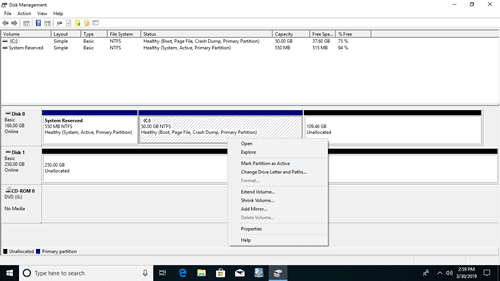 3rd party free partition manager
As the most popular free partition manager for Windows 10, 8, 7, Vista, XP (32 & 64bit), NIUBI Partition Editor Free provides basic partition management to create, delete, format partition, change drive letter, etc.
Advanced management to resize, move, merge partitions without data loss, clone disk partition to migrate OS and data, hide, set active, convert, defrag, check partition and much more.
Download NIUBI and you'll see 4 blocks in the main window.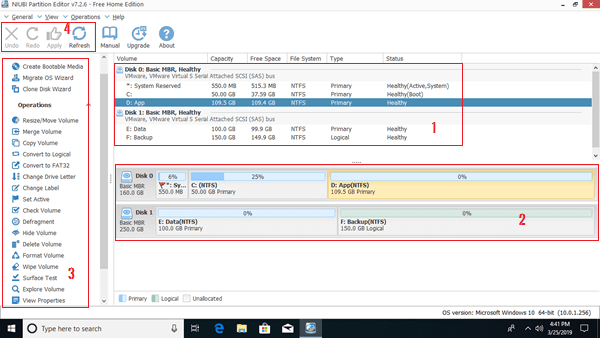 Disk model and single partitions with detailed parameters such as Capacity, Free space, File System, Type and Status.
All hard disks with partition structure.
Available operations to selected disk or partition, unavailable operations are hidden automatically.
Refresh disk partition info, undo to cancel pending operations, redo to repeat, or click Apply to modify real disk partitions.
To operate, you just need to click, drag and drop in the pop-up windows. If you do not understand how to use, simply click the link on top menu bar to open online manual.
Ability and comparison
Comparing Windows 10 Disk Management, NIUBI Partition Editor can do much more operations.
To Unallocated space:
Create one or more volumes
Wipe data in it
Surface test (scan bad sectors)
View properties (detailed parameters)
To whole disk:
Initialize
Change status to offline or online
Set read-only attribute
Wipe disk (cannot be recovered)
Surface test
View properties
Clone disk to migrate data and OS
Convert MBR disk to GPT
Delete all partitions
Cleanup disk
To single partition:
Resize volume (shrink and extend)
Move location
Merge two adjacent volumes by 1 step
Copy to Unallocated space
Convert to Logical or Primary partition
Convert NTFS to FAT32
Change drive letter (such as D:)
Change label (add a name or modify)
Set as Active
Check file system integrity
Defrag to improve performance
Hide from File Explorer
Delete (files can be recovered)
Format volume to use as new
Wipe (erase data permanently)
Surface test
Explore (view files/folders with directory)
View properties
There are other free partition software in the market, the GUI and functions are similar, but better than other software including commercial version, NIUBI Partition Editor Free is safer and faster because of some unique technologies, for example:
1 Second Rollback - automatically reverts computer to original status in a flash if encounter any error.
Virtual Mode - avoid incorrect operations by listing all as pending for preview, real disk partitions won't be changed until click Apply to confirm.
Cancel-at-well - cancel incorrect but executing operations without causing damage.
Hot-Resize - shrink and extend most of partition without rebooting computer.
Advanced file-moving algorithm - resize and move partition 30% to 300% faster.
Download free partition manager
Unlike other free disk partition manager that lock some features or bundle plugins, NIUBI Partition Editor is 100% free and clean. In addition, it has free and fast 24/7 live chat support.