This article introduces how to move partition on Windows 10 (32 & 64 bit). Move volume to left or right side, move hard drive to front, end of or other disk.
Sometimes you need to move hard drive partition on Windows 10, for example:
C drive is getting full but you cannot extend it after shrinking another one via Disk Management.
Some special program requires moving specific partition to front or end of disk.
The entire disk is full, so you may consider moving all partitions to other disk with Operating System.
Windows native tools including Disk Management cannot move partition in any way, so you need to run professional disk partition software. There are many choices in the market, but among them NIUBI Partition Editor has unique 1 Second Rollback, Cancel-at-well, Virtual Mode, Hot-Resize technologies and advanced file-moving algorithm to repartition hard drive more safely and faster. In this article, I'll show you how to move Windows 10 partition with detailed steps.
Move partition to left or right (with adjacent Unallocated space )
When you resizing partition with Windows 10 Disk Management, you cannot extend a volume (such as C:) by shrinking another one (such as D:) because of its inherent limitations. In that case, you can move partition D and make Unallocated space behind C, then Extend Volume will be enabled.
To do this: Download NIUBI Partition Editor, right click D and select "Resize/Move Volume", drag middle position towards the other side.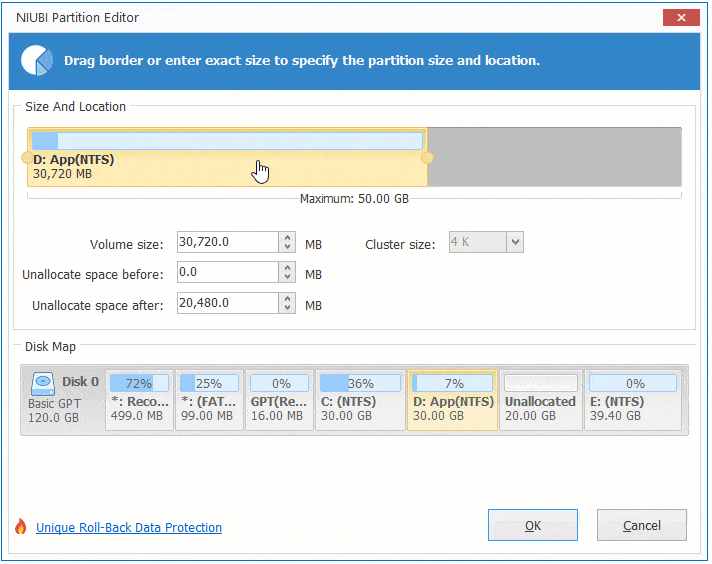 This method is used to exchange the position of a volume and adjacent Unallocated space on either side. Remember to drag the middle position to move.
Move partition to front or end of disk (over another one)
If you want to move a partition over another one, it is more complicated. No software can exchange the positions of two non adjacent partitions, because the size of them are different.
Some people want to move volume to front of disk, but others want to move volume to end of disk. In addition, number and layout of a disk, size and position of each partition are all different, I cannot give unified steps. However, after reading the example below you may understand how to do.
Example to move partition (D:) in Windows 10 to end of disk:
Step 1: right click drive E and select "Resize/Move Volume".
Unallocated space should be equal or larger than the used space of drive D. If there is not enough unused space in the last drive E, you have two options:
Transfer all files in E and then delete it to get Unallocated space.(right click it and select Delete Volume).
Shrink original drive D or any one behind it (if there is), then move Unallocated space to the end.
Step 2: right click drive D and select "Copy Volume"
If Unallocated space is larger than the used space of D drive, you may drag right border towards right to combine all Unallocated space.
Then partition D is copied to F.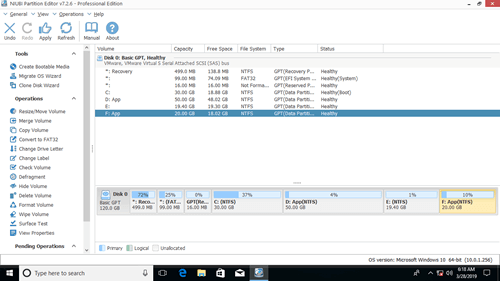 Step 3: right click drive D and select "Change Drive Letter", change it to any other one. Then change drive letter of drive F to D.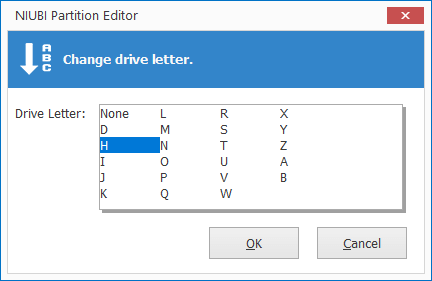 About original drive D, you have several choices:
Delete it to create new volume.
Delete it and combine Unallocated space to either contiguous partition.
Delete it and move Unallocated space to right side of E, then combine to new drive D.
After clicking Apply on top left to execute, partition D will be "moved" to end of this disk.
If the partitions are in disorder and you want to correct, you can fix this issue without moving partitions. Simply right click the partitions and select Change Drive Letter one by one.
How to move partition to other disk
If you want to move a data volume to other disk, the steps are same with above. But if you want to move system partition to other disk, it is different.
C drive is where Operating System booting from, to ensure OS bootable, you should run Clone Disk Wizard to copy entire disk. After that, replace original disk or boot from the new disk.
In Summary
This article introduces several ways to move partition volume on Windows 10. Find out your disk partition layout and decide how you want to move hard drive partitions. With NIUBI Partition Editor, you can move partition inside a disk to copy to another one.