Shrink partition on Windows Server 2008 R2
This article introduces how to shrink disk partition with Windows Server 2008 Shrink Volume feature, and the solution if you cannot shrink hard drive with this tool.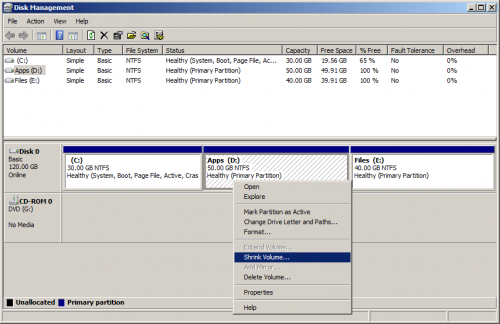 Windows Server 2008 Shrink Volume feature
Hard drive partitions are allocated while installing Operating System, but sometimes you need to change partition size, for example:
C drive occupied all disk space while installing Operating System.
Shrink a volume to create more partitions.
Shrink a large drive to expand other partition that is running out of space.
To help repartition hard drive, Microsoft added Shrink Volume in Server 2008 built-in Disk Management tool, which can shrink C drive and any data volumes safely and quickly. However, because of some limitations you still need 3rd-party software. In this article, I'll introduce how to shrink partition in Windows Server 2008 (R2) with both tools.
Steps to run Shrink Volume in Server 2008 DM:
1. Click Sever Manager on bottom left of the screen to open Disk Management.

2. Right click the partition that you want to shrink and click Shrink Volume.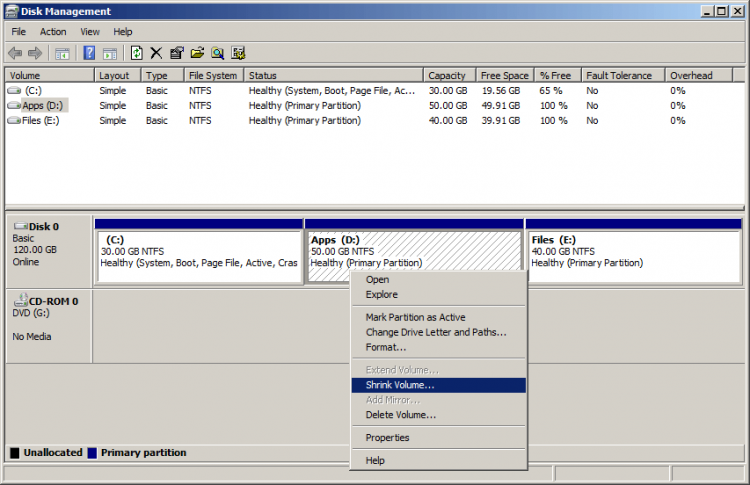 3. Enter the amount of space (1024MB=1GB) and click Shrink to begin.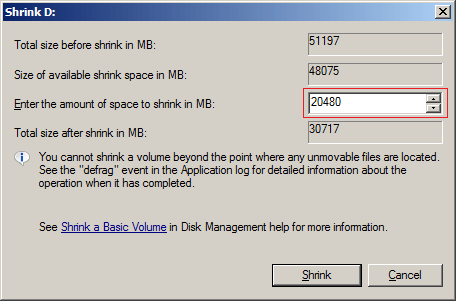 Within a short time, this partition will be shrank and part of free space will be released and converted to Unallocated space on its right side.
Cannot shrink volume in Server 2008 DM
Windows Server 2008 Shrink Volume functionality is easy and fast, also able to shrink system partition without rebooting, but as I said above, it has some limitations.
Cannot shrink hard drive towards the right
You can only shrink a drive towards the left, that means, the Unallocated space can only be generated on the right side of this drive.
If you want to expand other drives with this Unallocated space, it is impossible in Disk Management. As you see, Extend Volume greyed out for both drive C and E after shrinking D. This is because Extend Volume only works when there is adjacent Unallocated space on the right side.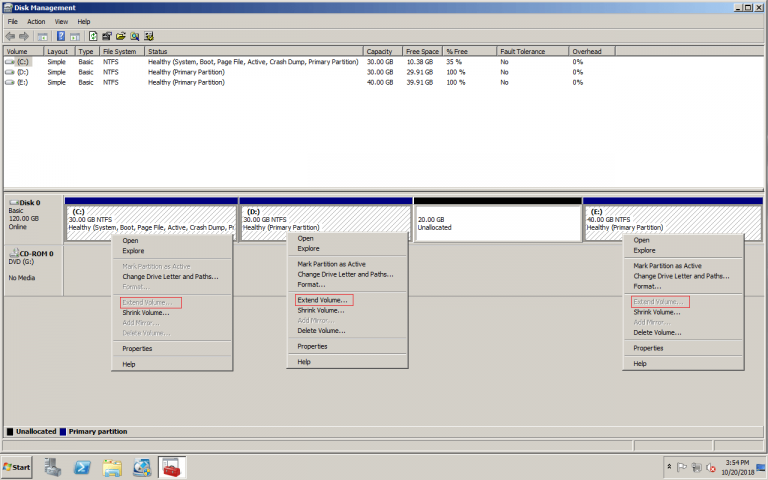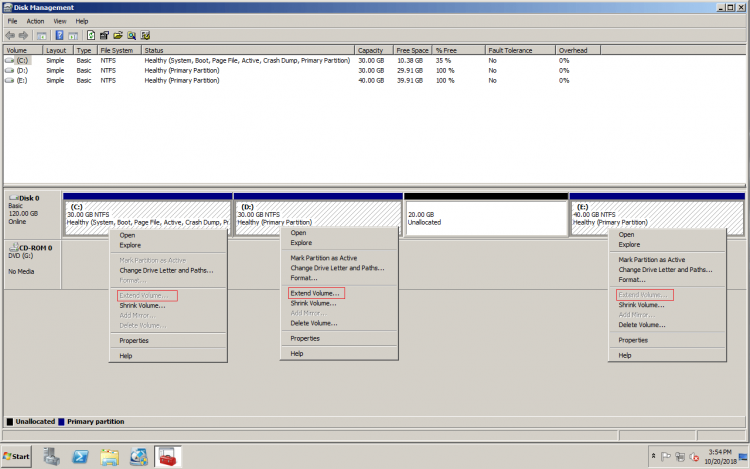 So Disk Management can only create new volumes with this 20GB Unallocated space.
FAT32 partition can't be shrank
Only NTFS partition is supported to extend and shrink. FAT32 and other types of partitions cannot be shrank. As you see, Shrink Volume is greyed out for drive D.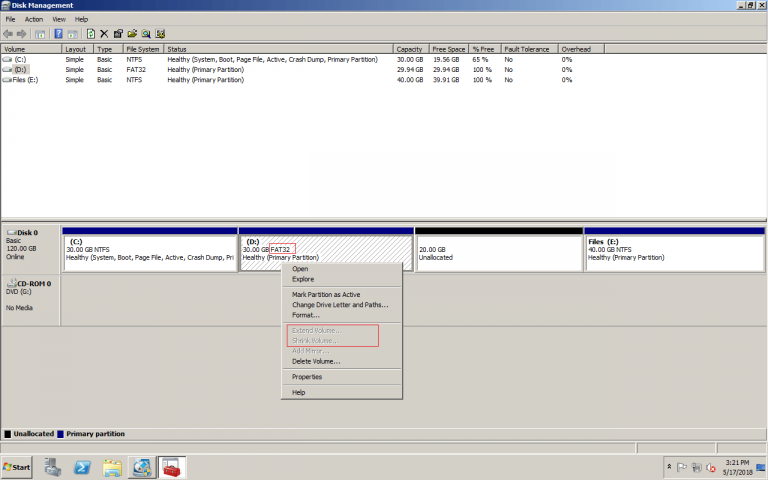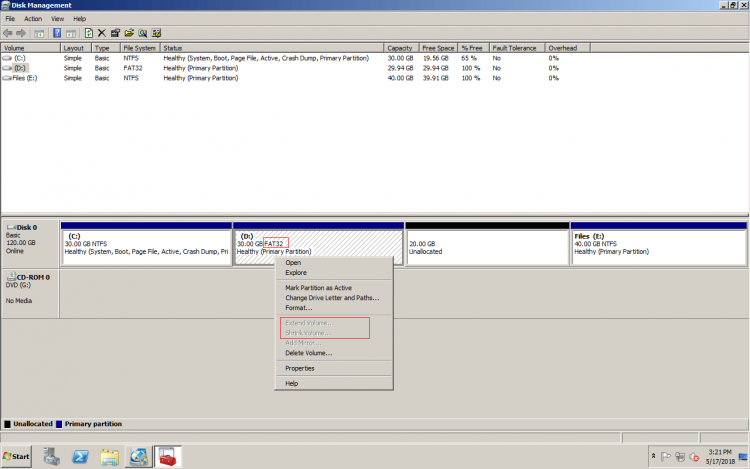 Cannot shrink volume with unmovable files
In the shrink volume window, there is a note: You cannot shrink a volume beyond the point where any unmovable files are located.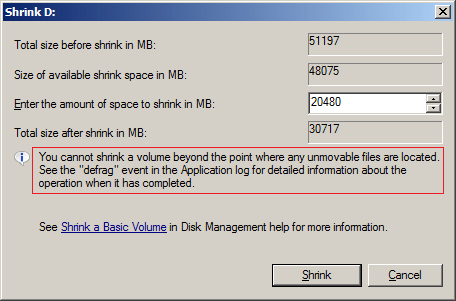 This is the reason why many people feedback that they can only shrink little space or the available space is 0.
For example: C drive is made up of 4 blocks, if the unmovable files are located in block 3, you cannot shrink C drive to block 2 or 1 even though there is free space.

With 3rd party disk partition tool, you can shrink hard drive to minimum size, because it is able to move the "unmovable" files.
Shrink hard drive with partition software
Third party software is easy and unrestricted, you can generate Unallocated space on either left or right side. NTFS and FAT32 are all supported. In addition, the Unallocated space can be used to expand other partitions no matter they are adjacent or not.
How to shrink volume on Server 2008 with software:
Download
NIUBI Partition Editor, right click the drive that you want to shrink and select
Resize/Move Volume
.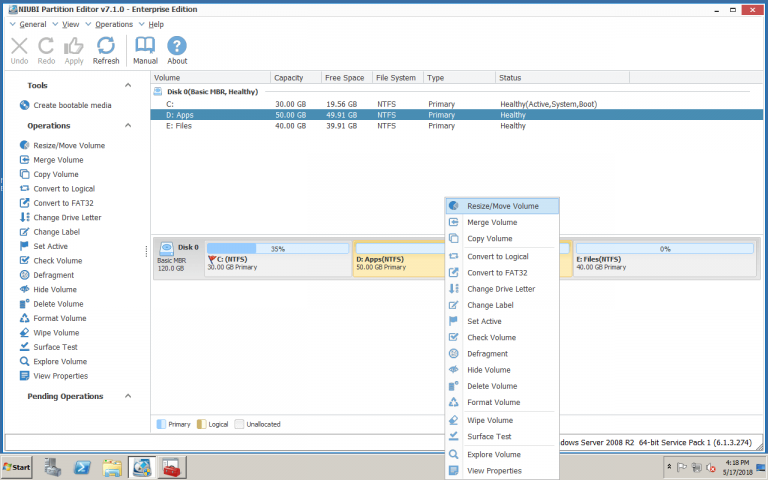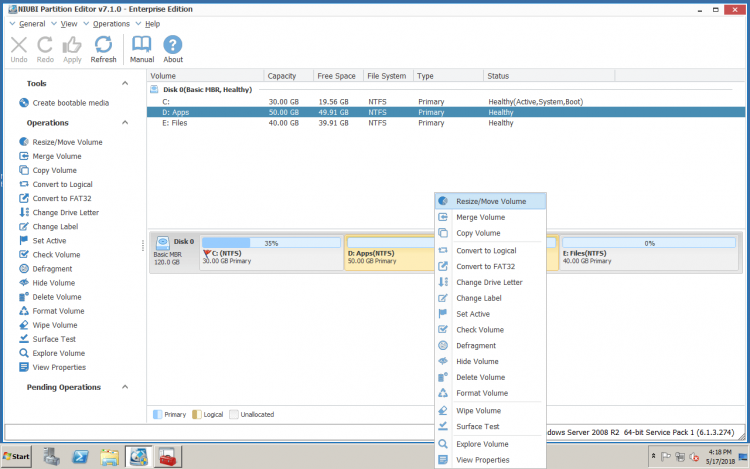 In the pop-up window, you'll see a disk map on the bottom and single partition D on the top.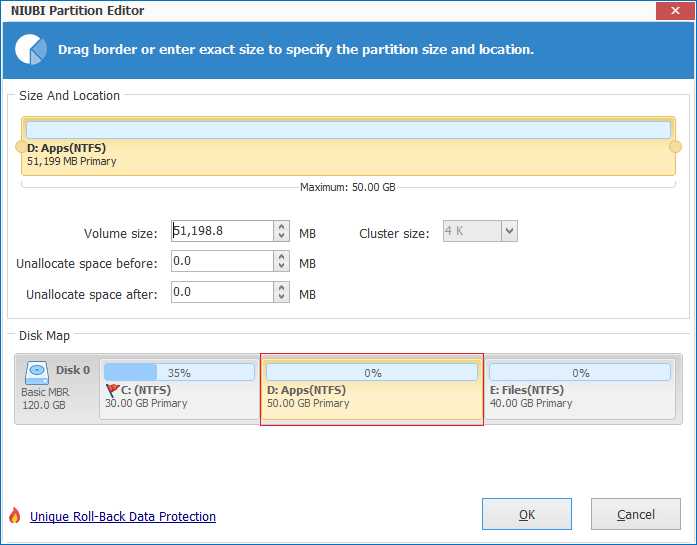 If you drag the right border towards the left, Unallocated space will be generated on the right side of D.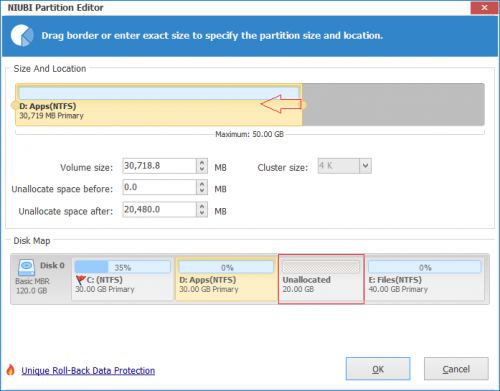 Click OK and the program will back to the main window, as you see, drive D is shrank to 30GB and 20GB Unallocated space is generated behind C drive with 1 step. Press Apply on top left to execute.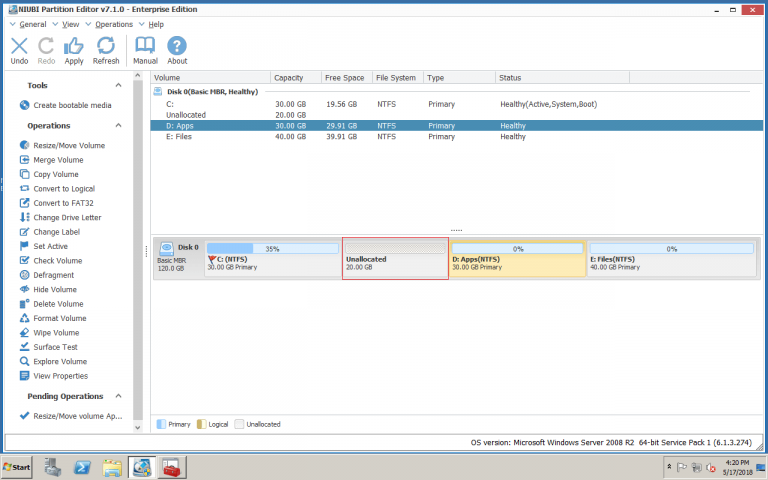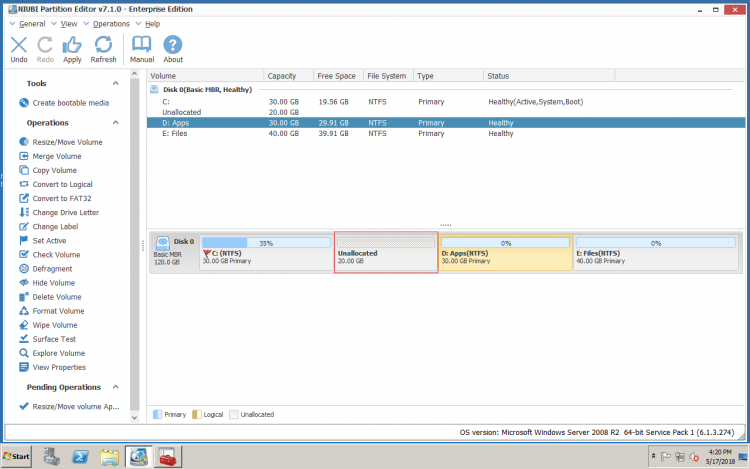 If you want to add this Unallocated space to C drive, simply run Resize Volume again to combine it.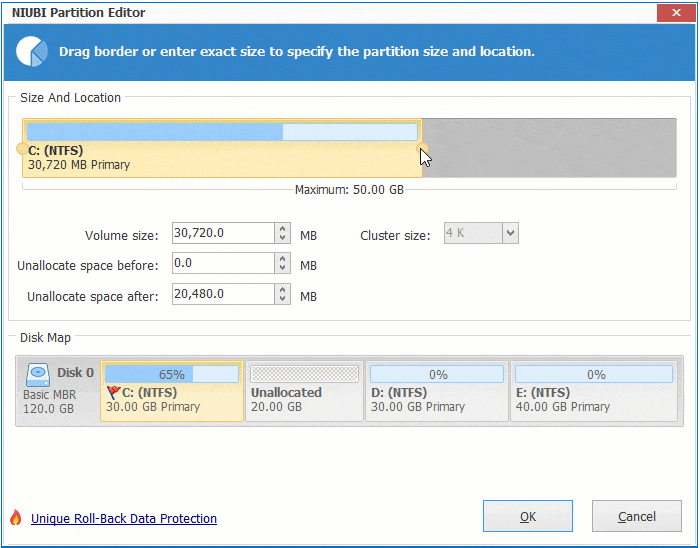 Besides extend and shrink partition on Server 2008, NIUBI Partition Editor helps do many other disk partition management operations.