This article introduces how to extend C drive in Windows Server 2008 R2 without losing data. Enlarge partition C with D or from other partition or disk.
How to enlarge C drive without any software
Windows 2008 server has been running for several years, system C drive is very likely running out of space. To solve this problem, you can enlarge C drive without wasting a long time to recreate partitions and restore from backup. To extend partition C: drive in Windows Server 2008, there are two kinds of tools - Windows native and 3rd-party software.
Windows has built-in Diskpart and Disk Management, they work in different way but they have similar restrictions. To expand C drive with either native tool, your disk partition configuration must meet the requirement: there must be adjacent Unallocated space on the right.
If you installed program or Windows service to the right adjacent partition, do not delete it.
How to extend C: drive from D or other volume
Obviously, it is better to shrink D drive instead of deleting. With NIUBI Partition Editor, you can make Unallocated space on either left or right while shrinking any volume. Unallocated space can be merged into either continuous partition by 1 step, or move and combine to any nonadjacent volume.
By this method, you can increase C drive space without losing partition or any data. Operating System, programs and associated settings as well as anything else keep the same with before.
Download NIUBI Partition Editor, you'll see all disk partitions with structure and other information on the right, available operations to selected disk or partition are listed on the left or by right clicking. In Disk 0, there is drive C, D, E and a system reserved partition, original size of partition C is 40GB.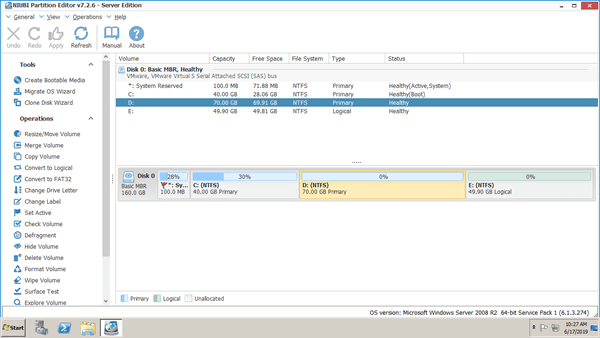 Steps to extend partition C: drive in Windows Server 2008 R2:
Step 1: Right click drive D: and select "Resize/Move Volume", drag left border towards right in the pop-up window, or enter an amount in the box behind "Unallocated space before" (1024MB=1GB).
Step 2: Right click C: drive and select "Resize/Move Volume", drag right border towards right to combine Unallocated space.
Click Apply on top left to take effect.
How to expand C: drive with other disk
If there's only single C drive in Disk 0, or there's no available free space in entire disk, no software can extend partition C with free space in other separated disk. But you can clone this disk to larger one with NIUBI Partition Editor, additional disk space will be shown as Unallocated on the end of disk.
The separated disk means Disk 0, 1, etc that are shown with NIUBI or Windows Disk Management, no matter it is physical disk or RAID/VMDK/VHD virtual disk.
Watch the video how to extend partition C: drive in Windows 2008 Server with other disk: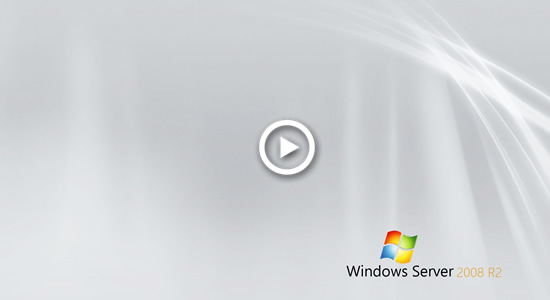 Extend C drive on RAID, VMware, Hyper-V virtual disk
If there is available free space in any partition on the same disk, you can expand C drive by following the method above and there is no difference, no matter you use any types of hardware RAID arrays or VMware/Hyper-V virtual disk.
If there is no available free space in entire disk, the method is different according to your storage device.
Find out your disk partition structure and configuration, then select the corresponding method to enlarge C drive for Windows 2008 Server. Besides shrinking, moving, extending and cloning disk partition, NIUBI Partition Editor helps you do many other operations.