Extend volume on Windows Server 2008
This article introduces how to extend volume on Windows Server 2008 R2 without losing data. 3 ways to extend partition drive with Disk Management, Diskpart command and disk partition software.
When system C drive is running out of space on Windows Server 2008, you can back up everything, delete and recreate disk partition, and then restore system and files. If you contact support from OEM server manufacturer, you'll get such solution. A whole day may be wasted if you do like this, obviously, it is not the best solution.
To help fix this issue, Microsoft provides 2 native tools in Windows Server 2008: Diskpart command prompt and GUI Disk Management.
Both tools can shrink and extend volume with some disk partition configuration, but because of many restrictions, you still need 3rd party partition software for Server 2008. In this article, I'll show you the steps and the restrictions.
How to Extend volume with Diskpart command
The same with previous Server 2003, you can extend Server 2008 volume with DiskPart.
Press

 and

 on your keyboard, type diskpart and press OK, DiskPart command prompt will be opened.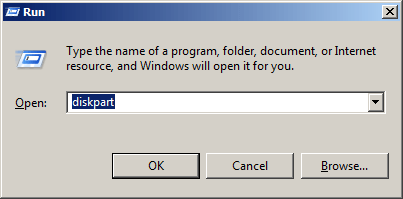 Unlike Disk Management, DiskPart only displays all single partitions, it won't show disk partition structure, in addition, Unallocated space won't be shown. So it is more difficult with this method.
The precondition to extend volume with DiskPart:
This partition must be NTFS.
There must be adjacent Unallocated space on the right side of this partition.
If your disk partition configuration meets the requirement, you can extend Server 2008 partition with only 3 commands: list volume, select volume and extend.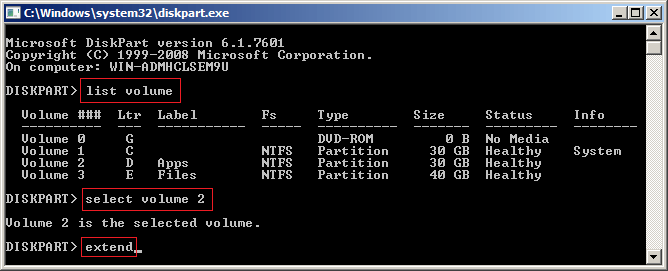 After input extend command and press Enter, partition D will be extended by merging the adjacent Unallocated space.
If partition D is formatted as FAT32, you'll receive an Virtual Disk Service error: The volume cannot be extended because the file system does not support it.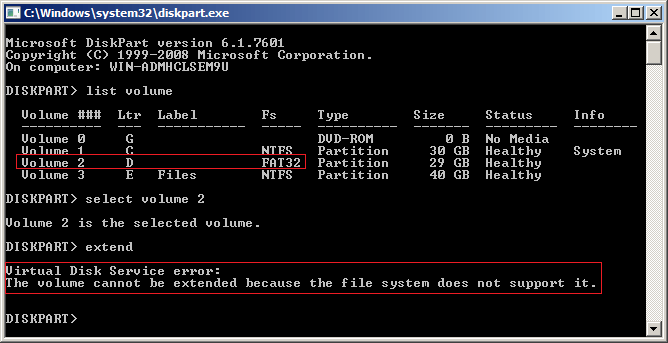 Restrictions of DiskPart to extend volume:
To extend a disk partition, there must be adjacent Unallocated space on its right side.
Only NTFS and RAW partitions can be extended.
Free space deleted from a Logical partition cannot be extended to Primary partition, Unallocated space deleted from a Primary partition cannot be extended to Logical partition.
Extend volume with Disk Management
Better than DiskPart command, Disk Management has graphical interface, you'll see which partitions are in the same disk. The most important, Unallocated space will be shown, so you'll see clearly which partition can be extended with built-in Extend Volume feature. However, Disk Management has the same restrictions with DiskPart.
Steps to run Extend Volume in Server 2008 Disk Management:
Press  and  on your keyboard, type diskmgmt.msc and press Enter.
Right click the volume and select Extend Volume.
Click Next in pop-up Extend Volume Wizard window.
Available disk and space has been selected by default, simply click Next to continue.
Click Finish in the Extend Volume Wizard window to confirm extending.

 Disk Management cannot help you extend volume by shrinking other one.
As you see, Extend Volume is disabled for drive C and E after shrinking D, because the 20GB Unallocated is nonadjacent to drive C and on the left side of drive E.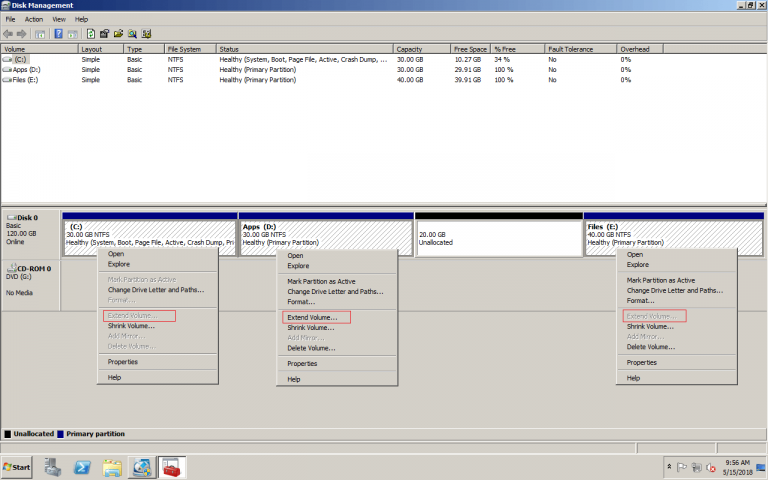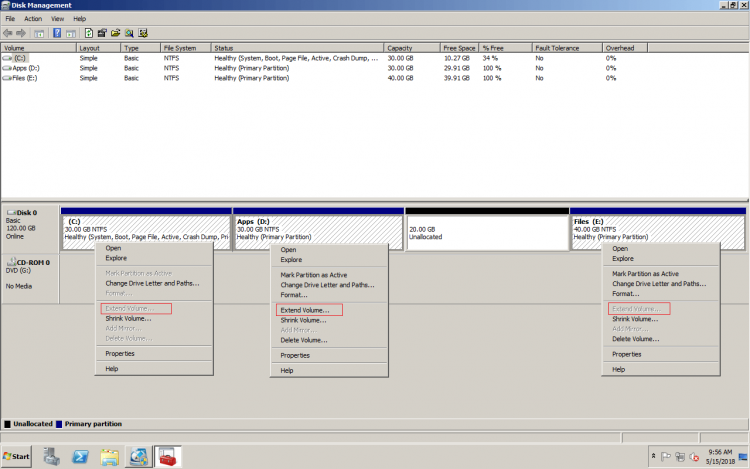 If drive D is FAT32, Extend Volume greyed out, too.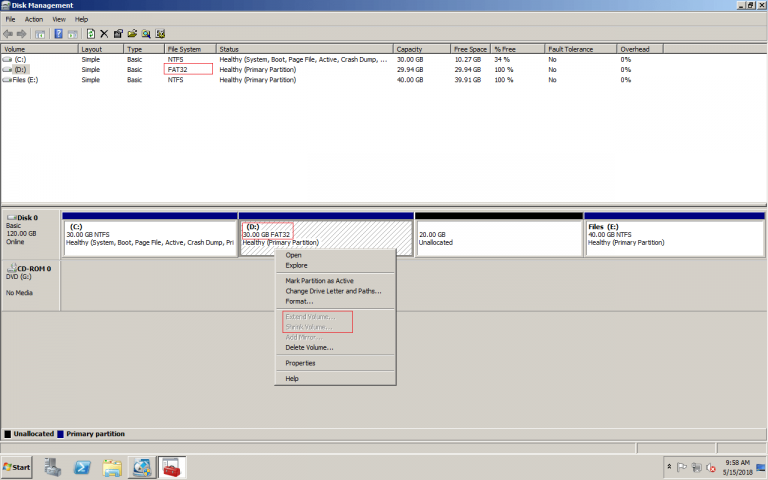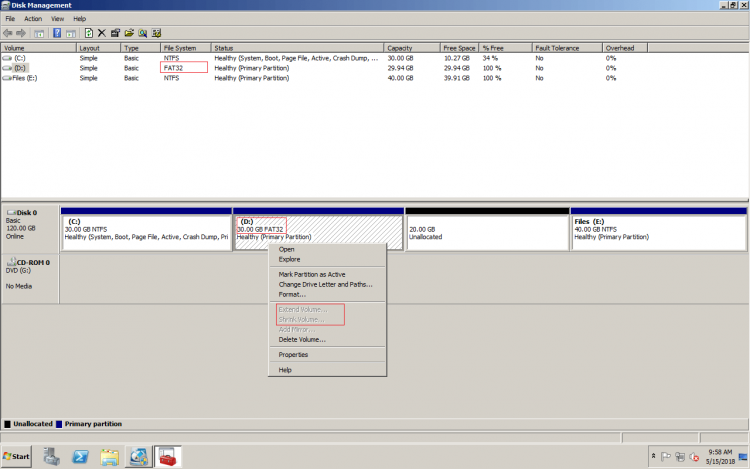 Extend volume with partition software
To extend volume on Windows Server 2008 (R2), the best way is running server partition manager software. Simply click and drag on the disk map, the most important: no such restrictions.
When there is free space in any other partitions in the same disk:
Download
NIUBI Partition Editor and follow the steps in the video.

 This program is designed to work in virtual mode, you can preview and cancel the unwanted pending operations. Real disk partitions won't be changed until click Apply to confirm.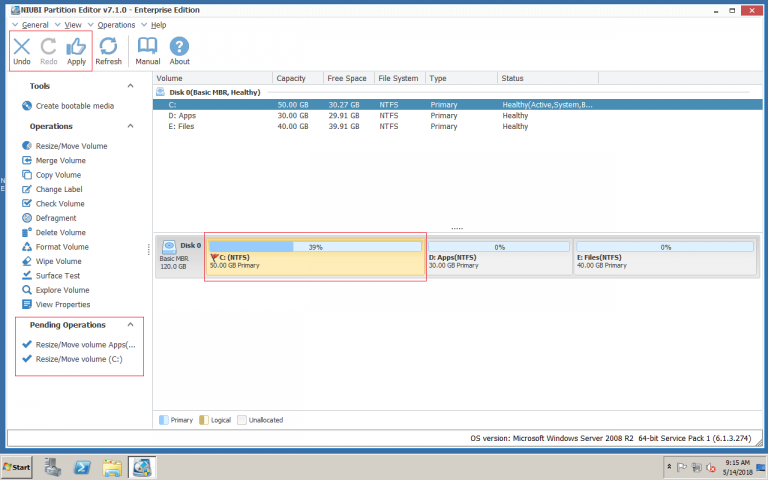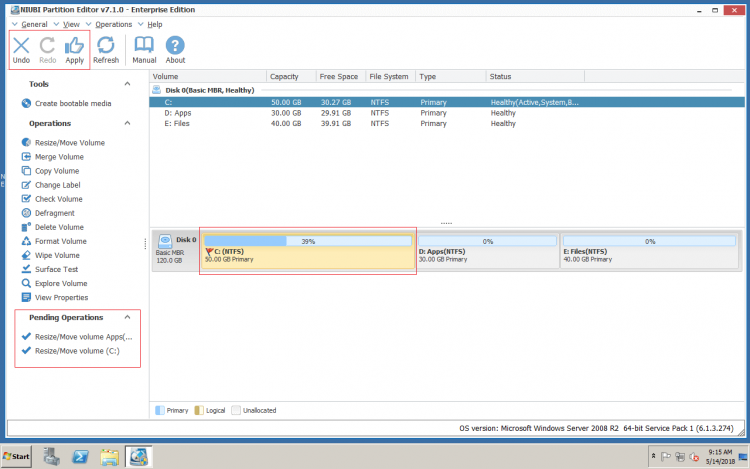 If there is no other partition or not enough free space in all other partitions in the same disk, no partition tool can extend volume by taking free space from another separated hard disk. But NIUBI Partition Editor can help you clone to a larger disk, and then extend volume with extra disk space. Watch the video:
In Summary
Both Windows native Disk Management and diskpart command can't extend volume on Server 2008 by shrinking other partitions, you'd better run partition software to accomplish this task.
However, NOT all disk partition software are safe enough to repartition hard disk drives. Some unreliable tool could cause system damage and data loss. To ensure everything intact, NIUBI Partition Editor provides unique 1 Second Rollback, Virtual Mode and Cancel-at-will technologies. Furthermore, its Hot-Resize and advanced file-moving algorithm helps resize partition much faster and without interruption.