After running a server for a period of time, you may want to shrink a large partition to create more, or expand a partition when it is getting full. To help resize partition without losing data, Microsoft added "Shrink Volume" and "Extend Volume" functions in Disk Management from Server 2008. However, both functions have many restrictions. Windows Server 2016 inherited the same functions without improvement, so many people feedback that Disk Management can't extend C drive in Windows 2016 server after shrinking or even deleting D drive. In this article, I'll explain why you are unable to extend C drive in Windows Server 2016 Disk Management and how to solve this problem easily.
Why cannot extend C drive in Server 2016 Disk Management?
Reason 1:

No adjacent Unallocated space

This is the most common reason why you cannot extend C drive in Windows Server 2016 with Disk Management. A 160GB physical disk can't be increased to 250GB, so before extending a volume, there must be "Unallocated" space on this disk. If you did not delete or shrink other volume to make such space, of course you cannot extend C: drive in Windows Server 2016.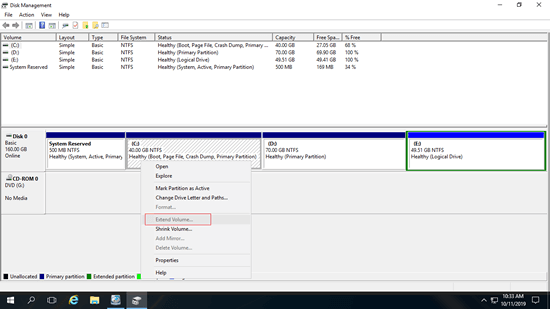 If you delete a volume, all files in it will be deleted, too. Therefore, many people tried to shrink the adjacent partition D (or E:). The problem is, Extend Volume still greyed out.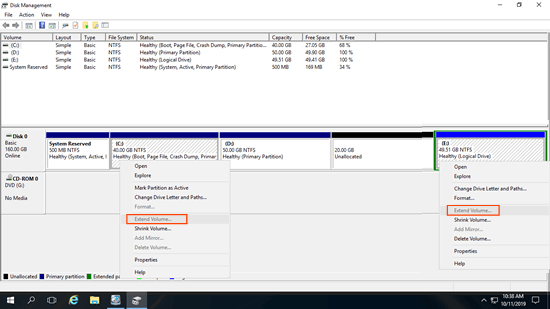 Reason 2:

Restriction between Primary and Logical partition

This issue only exists on MBR style disk. Most of C: drive are Primary partition, if the adjacent partition D is Logical, you cannot extend C drive in Server 2016 Disk Management even after deleting D.
Reason 3:

2TB restriction on MBR disk

In few servers, the system is almost full, some server administrator replace it with a large disk. If there's adjacent Unallocated space on the right of C drive, but you still cannot extend C drive in Windows Server 2016 Disk Management, check the size of C drive and the whole disk. On MBR disk, only 2TB disk space can be used. If your C drive is already 2TB, you must convert this disk to GPT in advance.
What to do if unable to extend C drive in Windows Sever 2016?
Open your own Disk Management and find out the reason, follow the corresponding method below according to your own disk partition configuration.
Method 1:

move partition and Unallocated space

If you've shrunk D (or E) drive and got nonadjacent Unallocated space, you need to move D (or E) drive to the right and make Unallocated space adjacent to C drive.
Method 2:

shrink partition with NIUBI

Steps when you are unable to extend C drive in Windows Server 2016 after deleting Logical D drive:
Right click the Free space in Disk Management and select "New Simple Volume".
Right click the new volume in NIUBI Partition Editor and select "Delete Volume" option.
Right click C drive and select "Resize/Move Volume" option again, drag the

right border

towards right to combine this Unallocated space.
Remember to click Apply to take effect.
Method 3:

convert MBR to GPT

Few people use 2TB+ disk as system disk. If you did this, to extend C drive and use full disk space, follow the steps to convert MBR disk to GPT. You can accomplish this task without any software, but firstly you should find out if your disk partition configuration meet the requirements.
Be cautions while extending system partition C
Unlike data read-only program, partitioning software will modify parameters of associated disk, partition and files, so there's potential system/data damage risk. It is important to back up in advance and run safe disk partition software.
Better than other tools, NIUBI Partition Editor has innovative technologies to protect your system and data such as:
Virtual Mode - all operations will be listed as pending for preview, real disk partitions won't be changed until click Apply to confirm.
Cancel-at-well - if you applied incorrect operations, it doesn't matter, you can cancel the ongoing operations without causing damage.
1-Second Rollback - if it detects error while resizing partition, it automatically reverts server to original status in a flash.
In addition, it is 30% to 300% faster because of the advanced file-moving algorithm, it's very useful when you shrink and move partition with large amount of files.
In Summary
Because of many limitations, Disk Management tool cannot extend C drive in Windows 2016 server by shrinking or even deleting other volume. With NIUBI Partition Editor Server, you can solve this problem fast and easily. Beside shrinking, moving and extending partition, it helps merge, copy, convert, hide, wipe partition, scan bad sectors and much more.