This article introduces how to extend C drive in Windows Server 2016 without losing data. Guide to extend C drive on local Server 2016 and RAID, VMware, Hyper-V.
The same with all previous versions, C drive in Windows Server 2016 is also running out of space. If you use traditional way to back up, recreate partitions and restore everything, it may waste a whole day. The fastest way to solve this problem is by extending C drive with free unused space in other partition.
However, some people feedback disaster while doing this. This article gives detailed solution how to extend C drive in Windows Server 2016 without losing data.
Take care of system and data before extending
Unlike data recovery software that just read information from hard disk, to extend system C: drive, partitioning software will modify the parameter of associated disk, partition and files, in some situations all files in the partition must be moved to new locations.
Therefore, there's potential system damage and data loss risk no matter you use native Disk Management tool or 3rd-party software. Some unreliable partition software are called as "data killer" by the people who have experienced such disaster.

This is a model of a MBR style hard disk, as you see, the disk, partition and files are working like a chain. GPT style disk is much better but the strategy to manage files are similar. To locate and modify a file, Operating System will read the parameters in this disk to locate the partition, then locate the file list, finally locate the data area of this file.
For example, when you shrinking D to extend volume C, the start or end position of both partitions will be changed. all files in drive D will be moved to new locations, all parameters of these files will be modified, system boot related files must be updated, too. Any incorrect modification leads to system boot failure and/or data loss.
In fact, besides software internal error, some hardware issue such as power outage causes part of the parameters failed to be modified, or files failed to be moved. If it happens, you cannot boot Windows, cannot open partitions or lose files permanently.
The first thing before extending C drive in Windows Server 2016 is backing up and running safe disk partition software.
Which tool to extend C drive in Windows Server 2016
Windows native Disk Management tool has Shrink and Extend Volume functions to help resize partition without losing data, however, it cannot extend C drive by shrinking D or any other volume.
Third party software are much more powerful, better than other software, NIUBI Partition Editor has innovative technologies to protect server system and data.
Virtual Mode
NIUBI Partition Editor is designed to work in its virtual mode. The operations you do won't be executed immediately. Instead, they'll be listed as pending on bottom left, you can preview or click Undo to cancel any unwanted operations. Real disk partitions won't be modified until you click Apply button to confirm.
Cancel-at-well
Other software don't allow you cancelling the ongoing operations even if you did something wrong, because the cancellation causes part of the parameters failed to be modified, then damage occur. But while running NIUBI you can cancel the ongoing operations at any progress without losing data.
1-Second Rollback
If any software or hardware issue occur while resizing partition and extending C drive, it automatically reverts the server to original status in a flash. If it happens, nothing will be changed, so your server could back online rapidly without damage. This is innovation in Disk Management industry.
It is also 30% - 300% faster because of its advanced file-moving algorithm, it is very useful when you shrinking or moving a partition with large amount of file, especially when this operation requires server rebooting to proceed.
How to expand C drive for physical server 2016
In most of the server machines, there is another drive D on the same disk, so you can shrink it to get Unallocated space and then add into C drive. By doing this, Operating System, programs and associated settings, as well as anything else keeps the same with before.
Download NIUBI Partition Editor, you'll see all disks with graphical partition structure on the right side. Available operations to the selected disk or partition are listed on the left and by right clicking.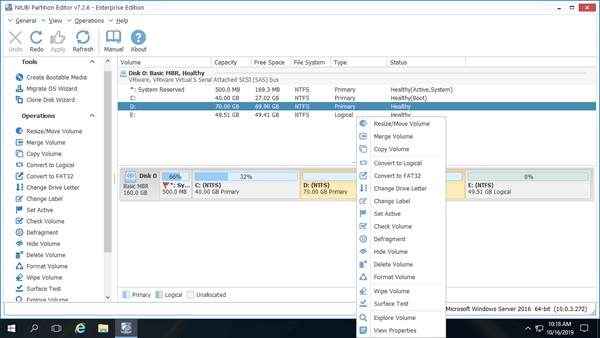 Steps to extend C: drive partition in Windows Server 2016:
Right click drive

D:

and select "Resize/Move Volume", drag

left border

towards 

right

in the pop-up window.
Right click

C:

drive and select "Resize/Move Volume" again, drag

right border

towards right to combine the Unallocated space.
If there is not enough free space in the adjacent drive D, you can shrink any other partitions on the same disk. In that case, there's an additional step to move Unallocated space from right side of D to the left.
Watch the video how to extend C drive in Windows 2016 server by shrinking other volumes: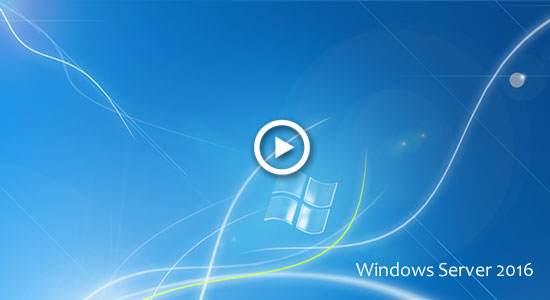 To move partition D, you need to drag the

middle

position in the pop-up window.
If you use any types of hardware RAID, do NOT break array or do any operations to raid controller, there is no difference to resize partition extend system C drive in RAID 0/1/5/10 etc.
If there's no available free space in entire disk, no software can extend C drive in Server 2016 by adding space from another

separated

disk. In that case, follow the steps in the video to expand C drive by cloning to larger disk.
How to extend system C drive in VMware/Hyper-V
If you run Windows Server 2016 as virtual machine in VMware or Hyper-V, simply follow the steps above to shrink other virtual partition to extend C drive, there's no difference.
If there's no available free space in a virtual disk, you can increase size of this virtual disk directly, then additional space will be shown as Unallocated on the end of original disk, then you can combine this Unallocated space to C drive (and other volumes). It is much easier without copying to other disk.
To resize partition and extend C drive in Windows Server 2016, NIUBI Partition Editor is the best choice, it helps complete this task easily and safely. Find out your own disk partition configuration and follow corresponding method above.