Best free partition software for Windows 10/8/7/Vista/XP.
To manage hard disk drives, there are many choices, you may use either Windows built-in Disk Management or 3rd-party partition manager software. In Windows XP Disk Management, you can do some basic management operations including create volume, delete volume, format volume, change drive letter. From Windows Vista, Microsoft added advanced function to change size of existing disk volumes – Shrink Volume can be used to decrease size of a drive and Extend Volume can increase partition size. However, due to the limitations, you cannot extend C drive by shrinking D (learn why Extend Volume is greyed out), so these two functions are useless in most conditions.
To resize volume and manage disk partition better, you need professional partitioning software. In this article, I'll introduce the best free partition software for Windows 10, 8, 7, Vista, XP both 32 and 64 bit.
100% free for home users without ads or bundles. 100% clean.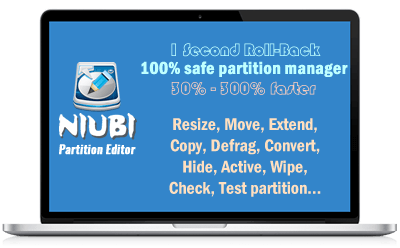 What is most important to a partitioning software
Different with read-only program such as file recovery software, the partition management software will modify disk, partition and files related parameters, so there is risk of system, disk partition and files damage when you use this kind of software. The data protection ability is most important to a partition manager software. It is useless if it cause data loss, no matter how many functions it provide or how beautiful it is designed.Some people do not pay enough attention and think it doesn't matter because they have backup. You'll be regretful if you have the same viewpoint.
To a server, it may waste several hours to a whole day to restore, verify data and back everything to normal if damage occur. Server is offline during such a long time.
To a personal computer, few people have latest backup because of the storage limitation, so you'll lose data more or less if damage occur. Nobody likes to lose the precious files such as your family pictures, work projects.
Why not use a safe partition software to resize volume or manage disk partitions? NIUBI Partition Editor is the ONLY program that can ensure 100% data safety. If any software error or hardware issue occur while resizing volumes, the unique 1 Second Rollback technology can automatically roll back the server/computer to the status before resizing in ONE second, so no longer to worry about data safety.
What does the free partition software do
Partition Resizer
Resize existing partitions safely and easily. Extend NTFS partition without rebooting.

Partition Management
Create, Delete, Format, Explorer, Copy partition. Change partition label, Change drive letter, Set Active partition.

System Optimization
Partition defragment, Fix file system error, Scan bad sectors, Initialize disk, view disk/partition properties.

Disk Partition Conversion
Convert GPT disk to MBR, Convert Logical partition from/to Primary, Convert NTFS partition to FAT32.

Bootable Media
Create bootable CD/DVD/USB disc to do disk partition management without installing (included in Pro).

Data Security
Hide partition, Set read-only attribute, wipe disk, partition, Unallocated to prevent recovering.

How to resize volume with this free partition software
Download free partition software