This article introduces how to move space from D to C drive on Windows 10 (32 and 64 bit). Move free unused disk space without losing data or reinstalling Windows.
The most common issue to Windows computer users is low disk space. Disk space is allocated while creating this partition, but the free space of it will be used up after a period of time, especially to system C drive. It can't be better if you can move free space from D or other volumes, then you can solve this problem fast without starting over.
Can't move free space from D to C with Windows 10 DM
From Windows 7, Microsoft added advanced ability to resize disk partition without losing data via Shrink Volume and Extend Volume function in Disk Management console. Is it possible to move space from D to C drive in Windows 10? It depends.
Firstly, you should know: disk space of drive D is part of the whole hard disk drive. Disk space of D drive include used space and free unused space.
If you want to move all disk space of D drive to C with Windows 10 Disk Management, yes you can but it's destructive.
If you want to move free unused space from D to C drive with Disk Management, no you can't.
By deleting a volume, all its disk space will be converted to Unallocated, all files will be deleted, too. By shrinking this volume, only part of unused space will be converted to Unallocated, all files keep intact.
How to move unused space from D to C with partition editor
In fact, it is very easy to do this via two steps by drag and drop on the disk map. Firstly, Download NIUBI Partition Editor and you'll see the initial disk partition size and configuration.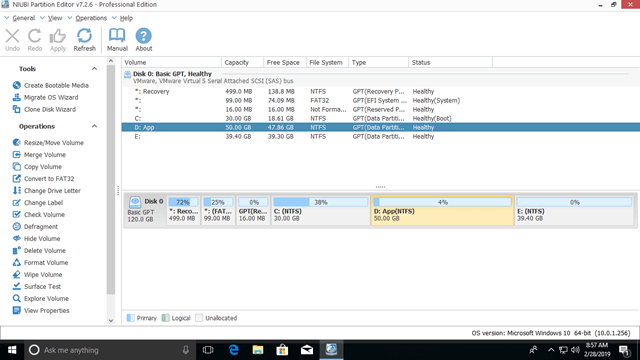 Steps to move free space from D to C drive on Windows 10:
Step:1 Right click the adjacent drive D and select "Resize/Move Volume", drag left border towards right in the pop-up window.
Step:2 Right click system partition C and select "Resize/Move Volume" again, drag right border towards right.
NIUBI is designed to work in virtual mode and all operations you do will be listed as pending on bottom left. Real disk partitions won't be resized until click Apply button on top left to confirm and execute.
If your drive D is non adjacent to C drive, simply follow Step 1 above to make Unallocated space on the left, then you need an additional option to move Unallocated space before adding into C drive.
Pay attention to data safety while moving disk space
The steps seem to be very easy, but not all software can accomplish well. There is potential data loss and/or system damage risk when you resizing and moving partition with unreliable software. Because all parameters of disk, partitions and files must be modified correctly, all files must be moved to new location, system boot related files must be updated. Even a slight error could cause damage.
Better than other tools, NIUBI Partition Editor provides unique technologies such as:
1 Second Rollback - automatically reverts computer to original status in a flash if encounter any error.
Cancel-at-well - Cancel incorrect but executing operations without losing data.
Advanced file-moving algorithm - moving partition 30% to 300% faster.
Besides resizing and moving partition, it help you copy, convert, defrag, check, scan, wipe, hide partition and much more.