Looking for a Partition Manager that working on Windows 2008 Server? In this article, I'll introduce the widely-used Windows 2008 Server partition manager.
What does Windows Server 2008 partition manager do?
Generally speaking, you need Windows Server 2008 partition manager to optimize the usage of your Windows server computer space. A typical example is that the system C drive running out of space, so you need to merge or resize partition to extend the system C drive on your Server to fix this problem.
With the advanced partition features of this Server Partition Manager, you can maximize your Server's performance, for example, copy disk/partition, hide/unhide partition, set Active partition, change drive letter, etc.
Windows Server 2008 partition manager
Partition Magic Server Edition is such magic Server partition manager and ALL-IN-ONE server disk management for Windows Server 2003, 2008, 2003 and XP, Vista, Windows 7. It performs basic and advanced hard disk partition maintenance, for example, resize, merge, shrink, extend system and data partition without losing data, etc.
The unique and most important features of this Windows 2008 Server partition manager: Enhanced Data Protection technology, with which you can merge, resize partition without data loss even when power off or hardware problem occurs.
With its Hot Resize feature, you can extend NTFS system partition without reboot to avoid Server downtime.
Due to its security, stability, easy to use and cost-effective, Partition Magic Server is recommended as the Best Server partition manager by many professionals and editors.
Other benefits of this Server partition Manager
Changes made on partitions can be previewed before applying to the hard disk to avoid incorrect operations.
Easy to use, just dragging and drawing on the disk map to resize, merge partitions.
Trusted product, many Fortune 500 companies select it to maintain their Servers.
Free lifetime Technical support and after-sale service & Fast Live Support.
How to resize/extend partition with this 2008 Server partition manager
Step 1, Launch Partition Magic Server, you'll see all disks and partitions that connected to your Server and free space, used space and other properties of each partition.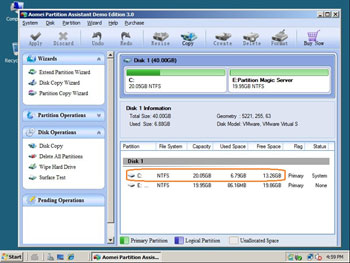 Right-click the data partition and select "Resize", in the pop-up window, drag the left border rightwards to shrink it.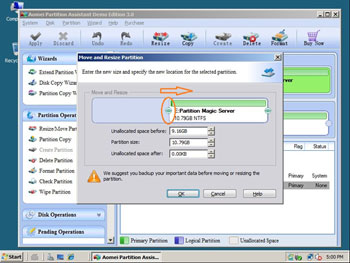 There will be some Unallocated space behind the system partition.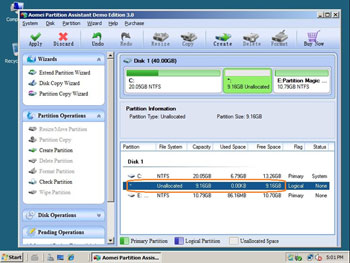 Step 2, Right-click C drive and select "Resize", in the pop-up window, drag the right border rightwards to hold the Unallocated space.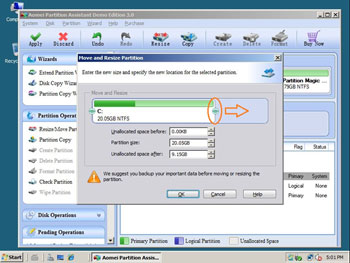 Click "Apply" to proceed, done. After several minutes, you'll have a "new" Server that can be used for a long time again.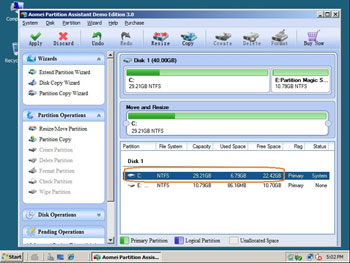 For enterprise users, Unlimited Edition allows unlimited usage within your company to save time and money.
Download free trial of these Windows Server 2008 partition manager and check how they works.