Windows Server 2019 has been released, but many companies are still running Windows Server 2008. To a server OS, the most important aspect is not the latest but reliability. Only when the current server Operating System cannot fit for new requirements, the companies will plan to upgrade. Hard disk drive is a indispensable component, so a reliable partition manager software is very important to a server. The typical example is that C drive runs out of space, with the help of partition manager software, you can increase C drive by transferring free space from other volumes. In this article, I'll introduce both Windows native and third party partition manager for Windows Server 2008 R2.
Native free partition manager for Windows Server 2008
The same with previous version, Windows Server 2008 has its built-in partition manager - Disk Management. It is able to initialize brand new hard disk, create and format partition to save files, delete partition, change drive letter and path.
Better than Server 2003, Windows Server 2008 Disk Management has new Shrink and Extend Volume functions to help resize partition without losing data (in most cases).
However, not all partitions can be resized. Disk Management can only shrink NTFS partition towards left to make Unallocated space on the right, and extend a NTFS partition by deleting the contiguous volume on the right. If you want to extend a volume by shrinking another one, this native tool cannot help you.
Disk Management is able to convert disk between MBR and GPT, convert disk between basic and dynamic. But, this is destructive, you have to delete all partitions in the disk before converting.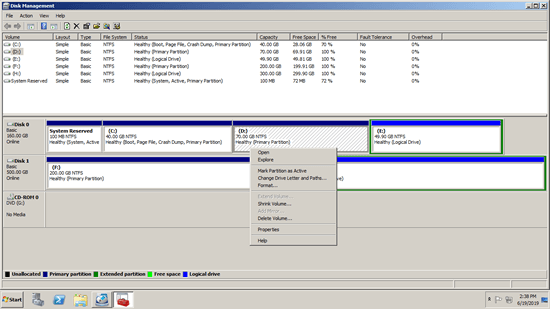 If you want to manage server disk and partitions better and more easily, you need a powerful partition manager for Windows Server 2008.
Best partition manager for Windows Server 2008 (and r2)
There are many disk partition software for Windows Server 2008, the functions are all similar. Then which aspect is most important when selecting a server partition manager, the GUI? No, it's data protection ability.
There is system damage and data loss risk while resizing partition or do other modification. For example, when resizing volumes, partitioning software will modify all parameters of associated disk, volume and files. In addition, all files in the partition that you shrink and move must be moved to new locations. Any error could cause damage. Besides software error, hardware issue such as power failure could cause disaster, too.
Better than other server partition software, NIUBI Partition Editor has advanced technologies to protect system and data.
Virtual Mode - all operations you do will be listed as pending for preview, real disk partitions won't be modified until click Apply to confirm.
Cancel-at-well - if you applied wrong operations, it doesn't matter, you can cancel the ongoing operations without causing damage.
1 Second Rollback - if encounter any error while resizing partitions, it automatically reverts server to original status in a flash. If it happens, your server could back online without modification in a short time.
Furthermore, because of the unique file-moving algorithm, NIUBI is 30% to 300% faster than any other tools. It is very helpful especially when the disk/partition modification requires server rebooting to proceed. Besides the powerful data protection and fast resizing ability, NIUBI Partition Editor has many advantages such as:
Hot Resize to extend NTFS partition without rebooting server.
It supports Windows Server 2003/2008/2011/2012/2016/2019 all editions.
All types of hardware RAID array and VMware/Hyper-V are well supported.
Easy to use with simple GUI, click, drag and move on the disk map to modify disk partition.
1 license key can be registered on 2 servers to save cost.
90 day money back guarantee and 24/7 live chat support.
How to resize and manage partitions in Windows Server 2008
Download NIUBI Partition Editor, you'll see the main window with 5 sections.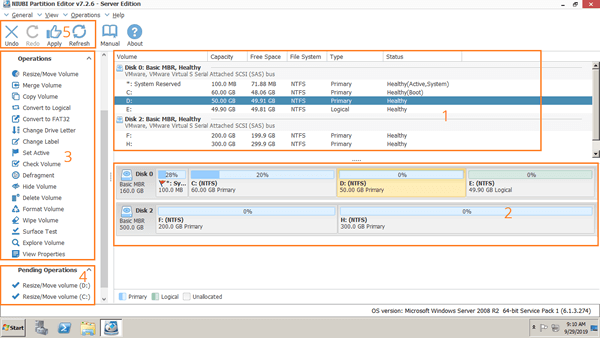 All single partitions with detailed parameters.
All physical and virtual disks (RAID array) with graphical structure.
Available operations to a selected disk or partition. (You'll see the same options by right clicking, unlike other tools, unavailable options are hidden automatically.)
Pending Operations, all operations you do won't be done immediately, instead, they'll be listed there as pending.
Cancel, redo or apply the pending operations.
Follow the video guide to shrink, extend, move, merge, copy and convert partitions for Server 2008: