How to shrink volume C in Windows 7
Many people feedback that they want to shrink volume in Windows 7, but the purpose is different. Some people forget to edit partition when installing Windows 7 on a new disk, so all disk space except the system reserved is occupied by C drive. The other people want to shrink a data volume to extend C drive. In this article I'll introduce how to reduce C drive and shrink volume in Windows 7 (32 and 64 bit).

Shrink C drive in Windows 7
To shrink partition C in Windows 7, you can accomplish with built-in Disk Management without 3rd-party partition software. The advantages include:
Shrink in Windows without reboot.
Safe (to many people who like to use Windows built-in utilities)
Fast, it can be done within several minutes.
However, there is disadvantage and I'll show you later.
Steps to shrink volume with Windows 7 Disk Management:
Step 1: Press Windows and R on keyboard, type diskmgmt.msc to open Disk Management.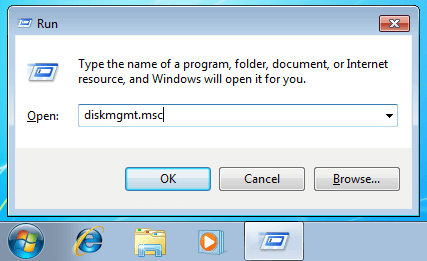 Step 2: Right click C drive and click Shrink Volume.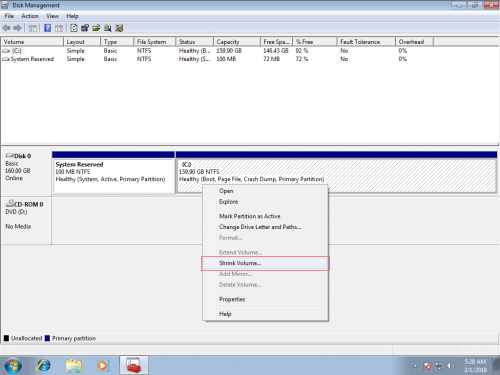 Step 3: Enter the amount of space to shrink and click Shrink to execute.
C drive will be shrank in a while.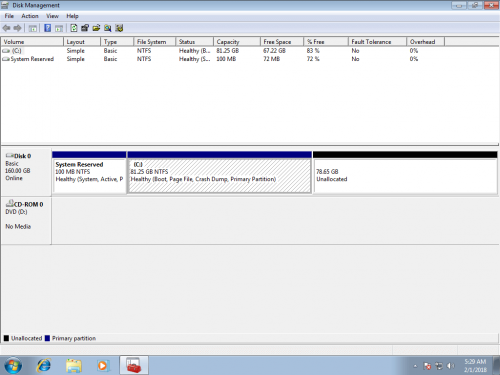 Limitation of Disk Management to shrink volume:
From the screenshot in Step 2, C drive has 146.43GB free space, but you cannot only shrink 78.65GB free space. Why you cannot shrink volume to smaller size?
Have you noticed the tip in Step 3? "You cannot shrink a volume beyond the point where any unmovable files are located." What does it mean?
For example: C drive is made up of 4 blocks A, B, C and D. If the unmovable files are located in block C, you cannot shrink volume to block B or A even though there is free space.

Then what are the unmovable files? It could be Page File, Hibernation file or other files with large size.
In this situation, you need free partition software such as NIUBI Partition Editor Free.
Shrink volume in Windows 7 with free partition software
Step 1: Download NPE Free edition, right click C drive and select Resize/Move Volume
Step 2: In the pop-up window, drag the right border leftwards.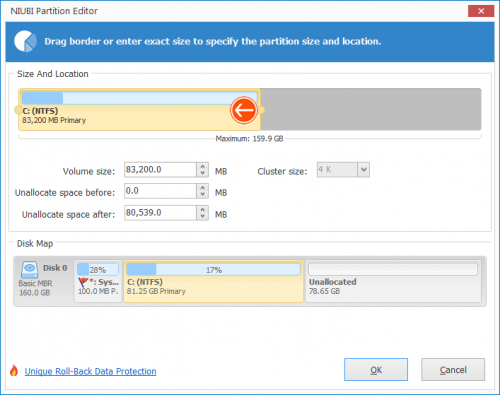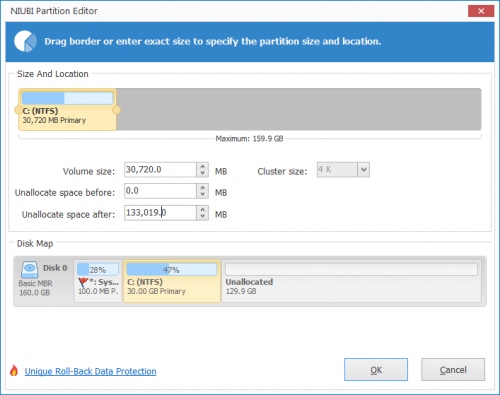 Step 3: Click OK and back to the main window, press Apply on top left to execute. C drive shrank to 30GB, actually, you can shrink it to smaller size if you want.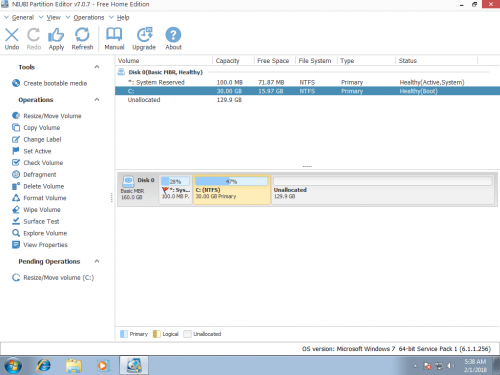 NIUBI Partition Editor Free can move the "unmovable" files when shrinking volume, so it can shrink C drive to very small size.
If you want to shrink a data volume to expand C drive, it cannot be done in Windows 7 Disk Management, because the Unallocated space shrank from the data volume is not adjacent and behind C drive, so Extend Volume function is disabled. However, it is very easy to accomplish with NIUBI Partition Editor, watch the video guide and you'll know how easy it is.
NIUBI Partition Editor Free Edition is a magic partition management software for Windows 10/8/7/Vista/XP (32 & 64 bit). It performs basic operation to create, delete, format partition, advanced management to resize/move existing partition without data loss, copy, hide, set active, convert, defrag, check partition and much more. It is 100% free for home users, 100% clean without any ads or bundles.