This article introduces how to resize system partition in Windows 7 32/64 bit, resize C drive for Windows 7 computer without losing data.
The most common disk partition issue in Windows 7 is that system partition C runs out of space. Nobody likes to start from scratch, so many people search by Google for a solution to resize system C: drive in Windows 7 without formatting, reinstalling Operating System or losing any data. This article gives detailed step how to do this with safe partition tool.
Resize system partition with Disk Management
Better than previous Windows XP, Windows 7 has new Shrink and Extend Volume functions built in native Disk Management tool. Shrink Volume can help you reduce a partition to make Unallocated space, which can be used to create volumes. Extend Volume can help you expand a partition by deleting the right contiguous one. If you want to extend system C: drive by shrinking D or other volume, Disk Management cannot help you.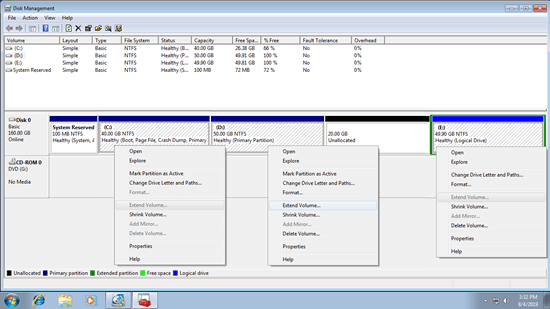 As the screen shot shows, Extend Volume greyed out for both C: and E: drive after shrinking D. This is because:
Shrink Volume function can only make Unallocated space on the

right

side while shrinking partition.
Extend Volume function can only combine Unallocated space to the

contiguous

partition on the

left

.
Drive C is non-adjacent and E is on the right of the Unallocated space, therefore, Extend Volume function is disabled.
Disk Management only supports shrink and extend NTFS partition, all other types of partitions can't be resized with it.
If the right contiguous partition D is Logical, Disk Management still cannot extend C drive after deleting D.
In Windows Disk Management, Free space deleted from a Logical drive can't be extended to any Primary partition, Unallocated space deleted from a Primary partition can't be extended to any Logical drive.
How to resize C: drive with NIUBI Partition Editor
Comparing with Windows Disk Management, NIUBI Partition Editor has more advantages while resizing partition such as:
It supports resizing both NTFS and FAT32 partitions.
It is able to make Unallocated space on either left or right when shrinking a partition.
It is able to extend Unallocated space to either contiguous partition by 1 step.
It is able to move and combine unallocated space to any non-adjacent partitions on the same disk.
You just need to click, drag and drop on the disk map to adjust partition size.
Download NIUBI Partition Editor, you'll see the main window with disk partition structure and other information.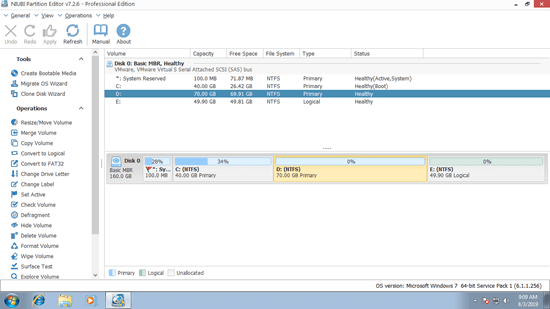 How to resize system partition C and D in Windows 7 32/64 bit:
Step 1: right click drive D and select "Resize/Move Volume", drag left border towards right in the pop-up window, or enter an amount in the box of Unallocated space before.
If you drag right border towards left or enter an amount in Unallocated space after, then Unallocated space will be made on the right of drive D.
Step 2: right click drive C and select "Resize/Move Volume", drag right border towards right in the pop-up window to combine the Unallocated space.
Step 3: click Apply on top left to execute.
Watch the video how to resize and extend system partition C in Windows 7: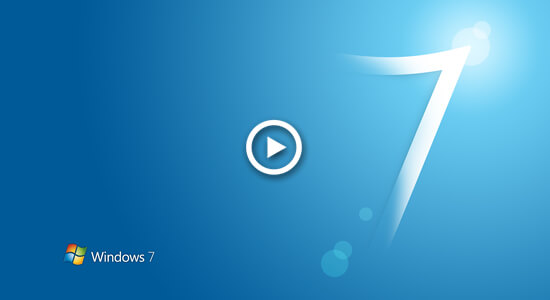 If there's no available free unused space in other data volumes on the same disk, no software can extend C: drive with free space in other separated disk. In that case, follow the step to clone disk to a larger one.
Resize C drive in VMware/Hyper-V virtual machine
If you run Windows 7 as virtual computer in VMware or Hyper-V, there are two options depends on your disk partition configuration.
If there is free space in any data volume on the same disk, simply follow the steps in the video to resize system partition C.
If there is no available free space on the same disk, you can expand original disk without copying. Additional disk space will be shown as Unallocated on the end of disk. Follow the steps above to combine Unallocated space to other partition(s).
Better than other software, NIUBI Partition Editor provides powerful technologies to protect system and data:
1 Second Rollback

- automatically reverts computer to original status in a flash if encounter any error.

Virtual Mode

- avoid incorrect operations by listing all as pending for preview, real disk partitions won't be modified until click Apply to confirm.

Cancel-at-well

- cancel incorrect but executing operations without losing data.
Besides resizing partitions, it helps you merge, move, copy, convert, defrag, hide, scan, wipe partition, etc.