How to merge partitions in Windows 10?
Merge partitions means combine 2 disk drives into a larger one. You need to merge Windows 10 partitions in two typical situations: 1, system C drive or a data volume is running out of space, by combining with other partitions you can convert the disk space to part of the free space in C drive. 2, there are too many volumes causing it difficult to identify the partition and files you want. In this article, I'll introduce how to combine partitions in Windows 10 (32 & 64 bit).

2 ways to merge disk partition
To combine Windows 10 volumes there are two choices: Disk Management snap-in and 3rd-party partition software.
Disk Management is a built-in component of all Windows Operating System, which can do some basic management operations such as create, delete and format volume. In Windows 10 Disk Management, there are advanced functions to change existing partition size. Shrink Volume can reduce size of a single partition and Extend Volume can increase size of volume. There is no "Merge Volumes" functions, but Extend Volume can be used to merge partitions indirectly.
Instead, you may use 3rd-party professional partition software. Compare with Windows Disk Management, partition software is much more powerful. It provides basic partition management to create, delete, format partition, change drive letter, etc. Advanced management to resize/move existing partition without data loss, copy, hide, set active, convert, defrag, check partition and much more.
Combine partitions in Windows 10 Disk Management
It is very easy to do this, but first you should back up or transfer files to other device. Example to merge partitions C and D:
Right click Windows on bottom left corner and select Disk Management.
Right click drive D and select Delete Volume, disk space of D will be changed to Unallocated.
Right click drive C and select Extend Volume.
Extend Volume Wizard will be launched, click Next to continue.
Simply click Next to continue if you do not want to change the selected disk and space.
Click Finish to confirm and execute.
In a while, drive D is merged into C drive.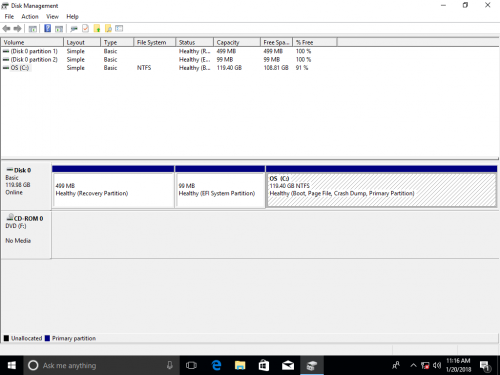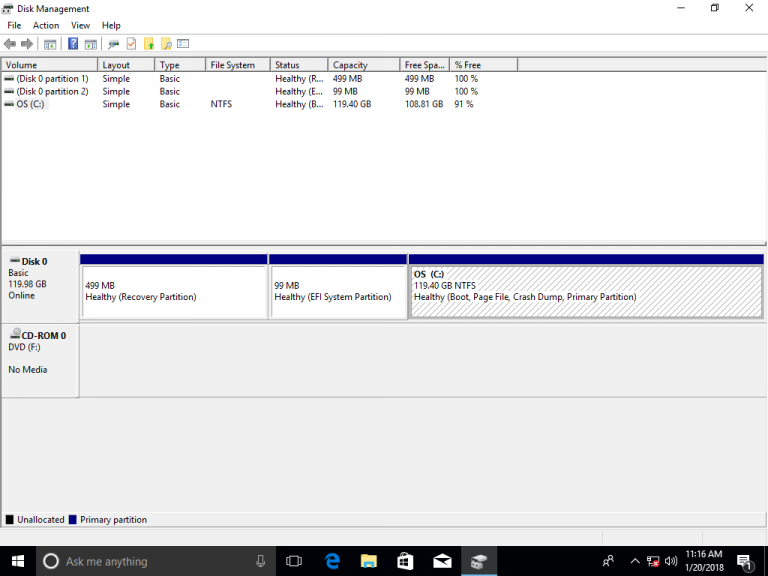 Merge partitions with partition software
To merge partitions in Windows 10, you just need several clicks with NIUBI Partition Editor, steps:
Step 1: Download NIUBI Partition Editor, right click drive C or D and select Merge Volume.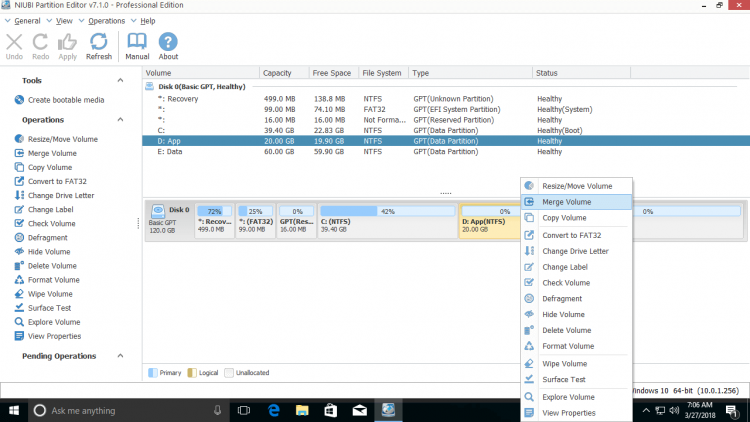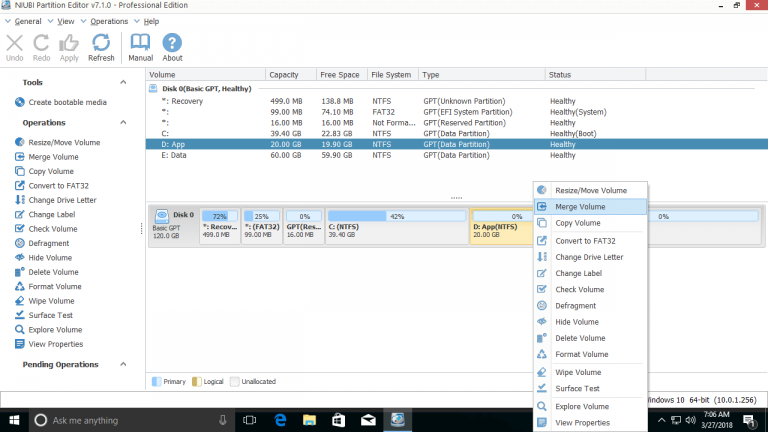 Step 2: In the pop-up window, select both drive C and D, and then click OK.
Tips: If you merge two data volumes, you can select either volume as destination in the drop-down box behind "Merge selected volume to". But when merging partitions C and D, you can only select C as destination, otherwise it'll cause system boot failure.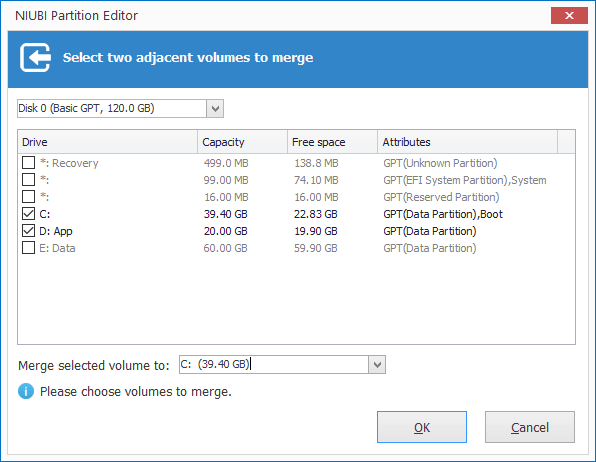 Step 2: Press Apply button on top left to execute. (This operation only works in virtual mode and physical disk drives won't be changed until you click Apply to confirm).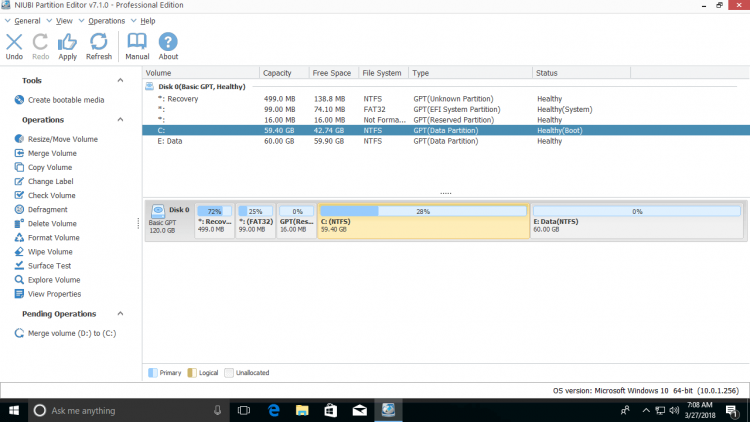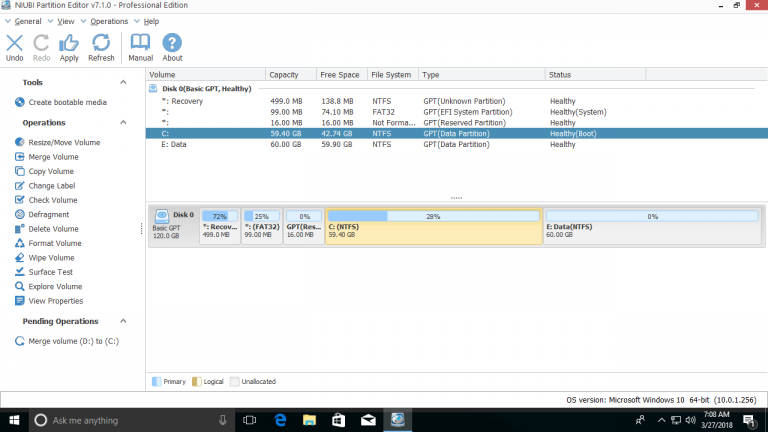 After merging volumes complete, open C drive in Windows Files Explorer and then you'll see a fold that is named as D to C(date and time). All files of D will be moved to this folder automatically.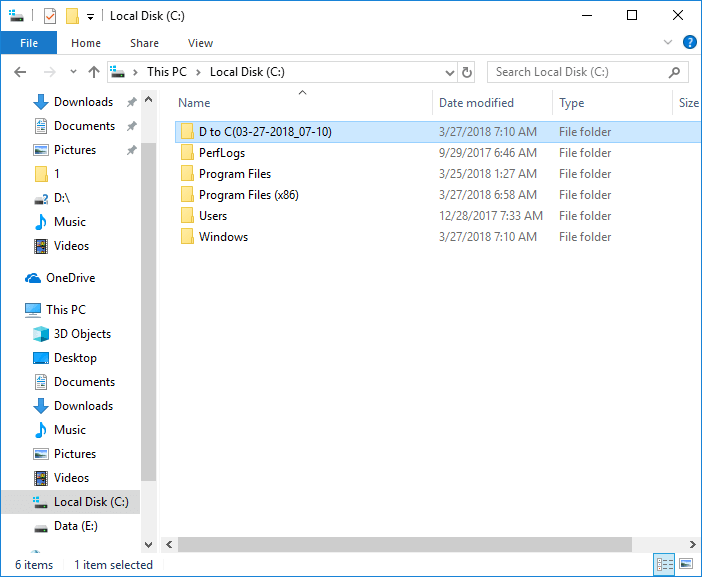 Disadvantages of merging volumes
If you want to combine two data drives in Windows 10, you may follow the steps above, however, if you want to extend C drive by merging D, it is not a good idea, because:
You'll lose data if you forget to back up or transfer data to other device. (with Disk Management)
All Windows services, application, shortcuts that point to drive D stop working after deleting.
NIUBI Partition Editor can transfer all files of D to C drive automatically, but the same with Disk Management, drive D will be deleted after merging.
If you want to extend C drive without losing D, resize Windows 10 partitions. Shrink D and then transfer the free space into C drive, so everything keep the same after resizing.
Watch the video how to resize volume on Windows 10:
Besides merging and resizing disk partition, NIUBI Partition Editor helps copy, convert, hide, defrag, check, create, delete, format, wipe partition and much more.Better than other tools, NIUBI is equipped with innovative 1 Second Rollback technology to protect system and data intact. Furthermore, it is 30% to 300% faster while resizing partitions because of its special file-moving algorithm.