This article introduces how to merge two partitions on Windows 10 (32/64 bit). To combine disk partitions, you may either use Disk Management or 3rd party software.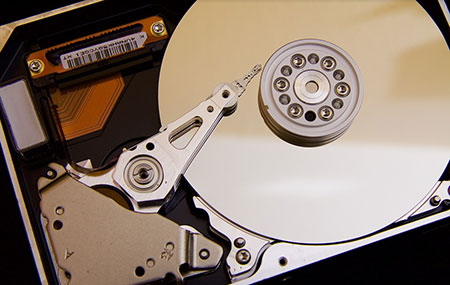 Merge partitions means combine 2 disk partitions into a larger one. Two typical situations to merge Windows 10 partitions: 1, system C drive or a data volume is running out of space, by combining with other partitions you can add the disk space to increase free space. 2, there are too many volumes causing it difficult to identify the partition and files you need.
2 ways to merge disk partition
To combine Windows 10 volumes there are two choices: native Disk Management utility and 3rd-party partition software.
Disk Management is a built-in component of all Windows Operating System, which can do some basic management operations such as create, delete and format volume. In Windows 10 Disk Management, there are advanced functions to change partition size.
Shrink Volume can decrease partition size to make Unallocated space. Extend Volume can increase partition size when there is adjacent Unallocated space on the right side. There is no "Merge Volume" function in Disk Management, merging operation is realized by Extend Volume indirectly.
However, both Shrink and Extend Volume have limitations.
Instead, you may use 3rd-party disk partition software. Compare with Windows Disk Management, partition software is much more powerful. It is able to create, delete, format partition, change drive letter, resize, move merge, copy, hide, set active, convert, defrag, check partition, etc. When merge hard drives for Windows 10, you just need several clicks.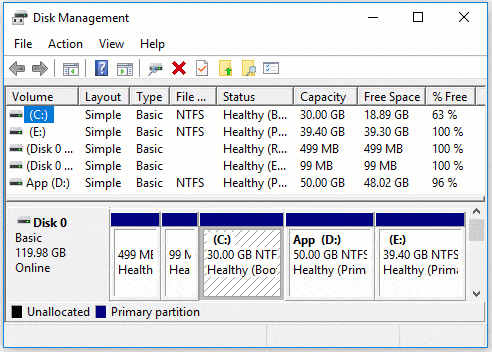 Combine partitions in Disk Management
When merging 2 partitions with Windows 10 Disk Management, one of the partitions will be deleted. Back up or transfer files in this partition before deleting.
Steps to merge partitions in Windows 10 Disk Management:
1. Press Windows and X on the keyboard and select Disk Management from the list.
2. Right click drive D and select Delete Volume, disk space of D will be converted to Unallocated.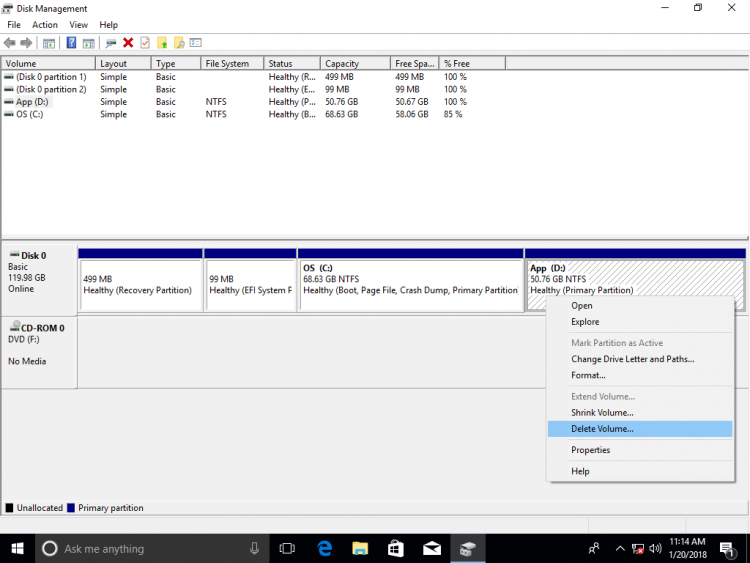 3. Right click drive C and select Extend Volume.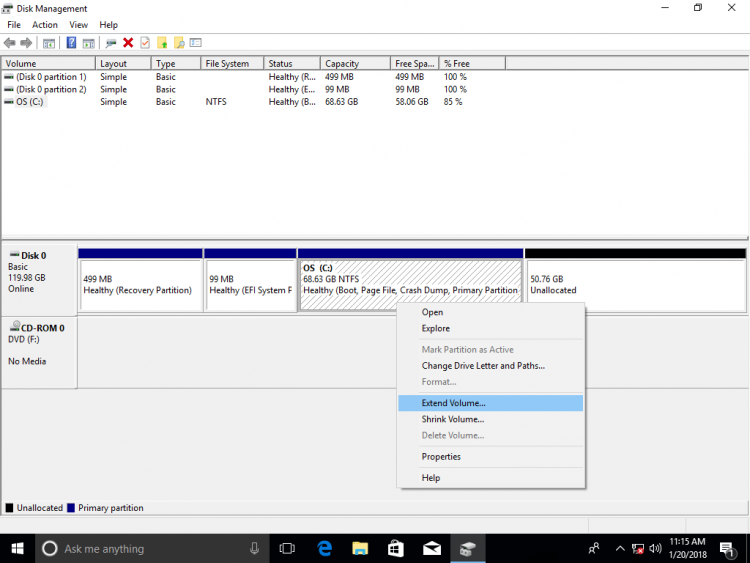 4. Click Next in the pop-up Extend Volume Wizard window.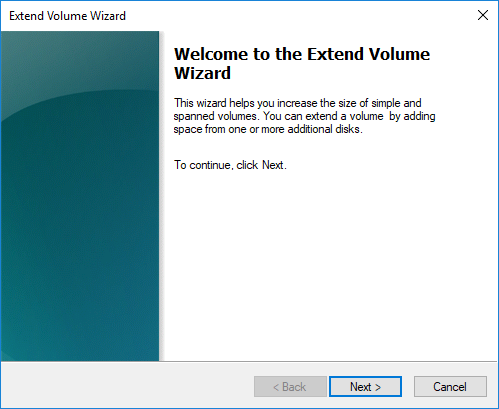 5. Click Finish to execute.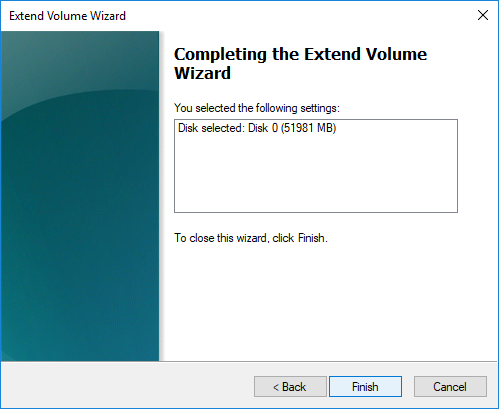 In a while, drive D is merged into C drive.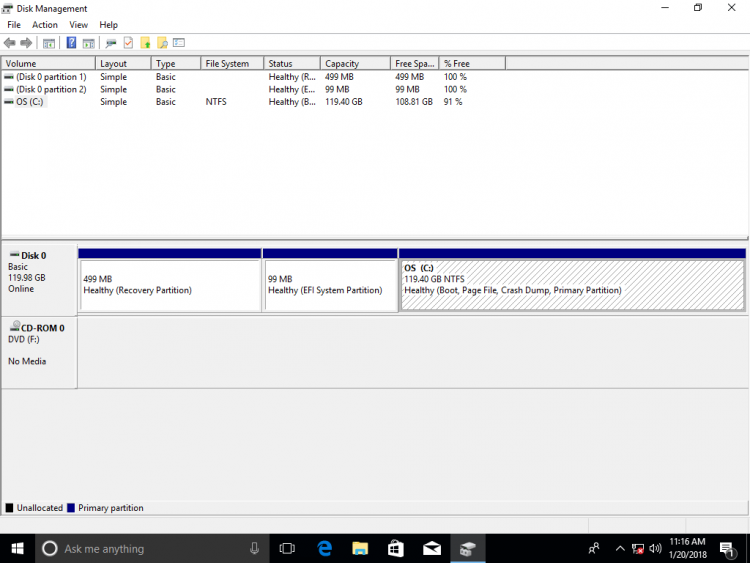 In Windows 10 Disk Management, you can only merge a volume into the left adjacent one, for example: merge drive D into C, or merge drive E into D.
Merge volumes with partition software
Better than Disk Management, third party software can merge two contiguous partitions easily.
Among these types of software, NIUBI Partition Editor provides many unique technologies to ensure system and data intact, so it is recommended to accomplish this task. It is able to move all files automatically for you while merging, and you just need to click on it.
Steps to combine volume partitions on Windows 10 with NIUBI:
Step 1: Download NIUBI Partition Editor, right click any 1 of the two partitions that you want to combine together and select Merge Volume.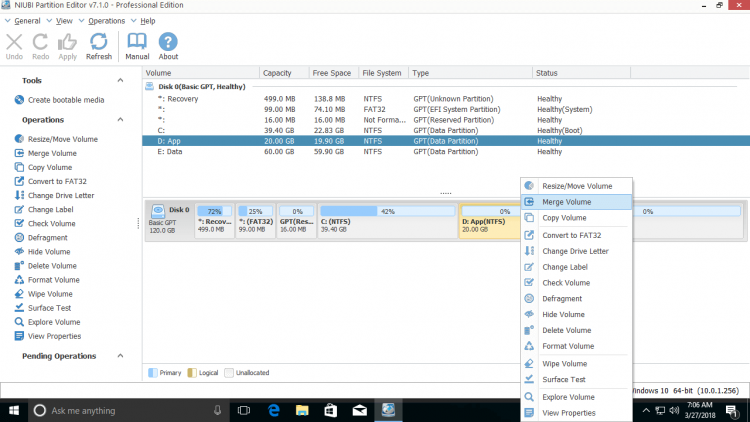 Step 2: In the pop-up window, select both partitions and then click OK.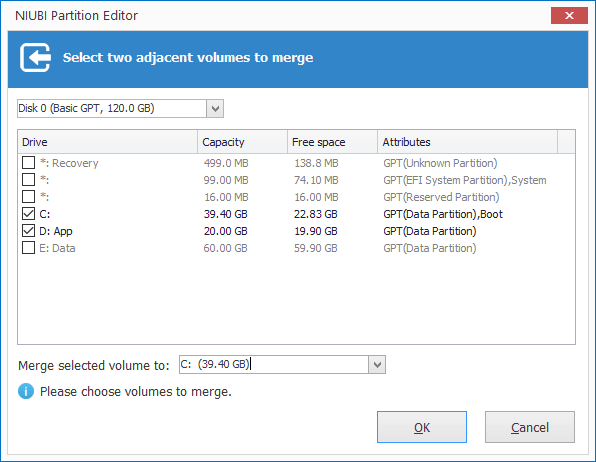 When you merge two data volumes, you can select either as destination in the drop-down box. But when merging C and D drives, you can only select C as destination, because system partition can't be deleted. So, merge system partition C: to data volume (D:) is disabled.
Step 3: Press Apply button on top left to execute. (This operation works in its own virtual mode and real disk partitions won't be changed until you click Apply to confirm).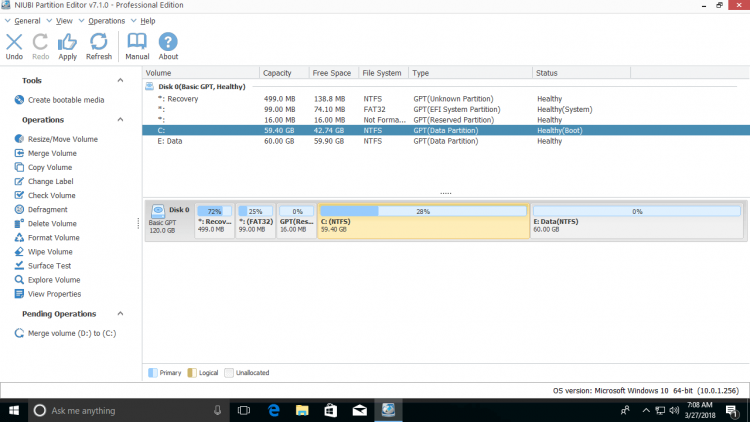 After merging volumes complete, open C drive in Windows Files Explorer and then you'll see a fold that that is named as D to C(date and time). All files of D will be moved to this folder automatically.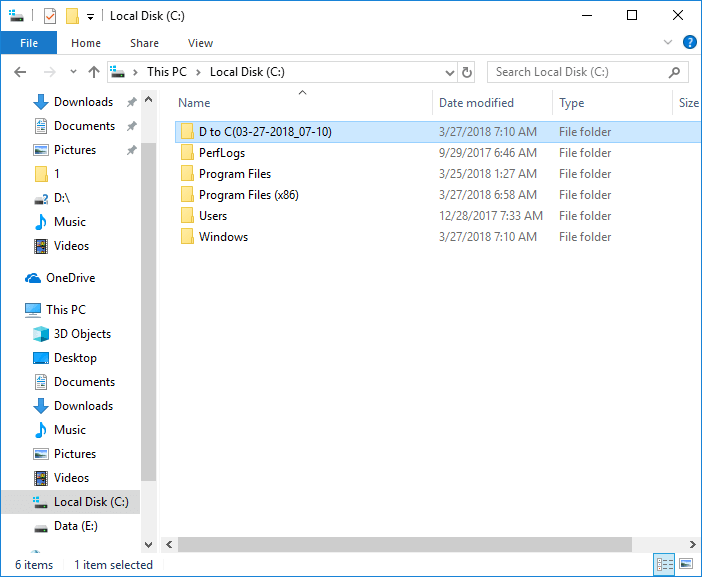 Disadvantage of merging hard drive
One of the partitions will be delete no matter which tool you use, it doesn't matter if you want to combine two data drives in Windows 10. But if you want to extend C drive by merging D, it is not recommended, because:
You'll lose data if you forget to back up or transfer before deleting partition. (with Disk Management)
All Windows services, application, shortcuts that point to drive D stop working after deleting.
In this case, the best idea is shrinking D instead. Part of unused space in drive D will be converted to Unallocated, then  combine the Unallocated space into C drive. By this method, nothing will be changed except partition size.
How to extend C drive by shrinking other volume
If you want to merge a data volume in Disk 1 to system C drive in Disk 0, NO partitioning software can do this, because the hard disk is a physical unit. If there is not enough free space inside a disk, you may copy to a larger disk with NIUBI Partition Editor. C drive and other partitions can be extended with extra disk space while copying.